Location
Trumpington Meadows local centre
Kestrel Rise, Trumpington Meadows
Trumpington
CB2 9AY
United Kingdom
Santa On Tour visiting Trumpington Meadows & Glebe Farm with a Christmas Market, Brass Band & Carols in the TM Local Centre by Sainsburys.
About this event
Come along and celebrate Christmas in the community with carols, a Christmas Market, and a visit from Santa!
Santa will go on tour around Trumpington Meadows and Glebe Farm, and there will be a Christmas Market, brass band, and carols in the local centre by Sainsbury's. Come and see:
Santa & his elves
Food Vans: Coffee Temple & HK Hitwrap
Christmas Market Stalls
If bad weather is forcast, the Market & Carols will go ahead inside the Trumpington Meadows school but the Santa Drive By date could be subject to change which will also be advertised.
All donations will be used to support the community of Trumpington Meadows.
Here is the confirmed route for Santa on Tour
Here is the link to the words for the Carols starting at 7pm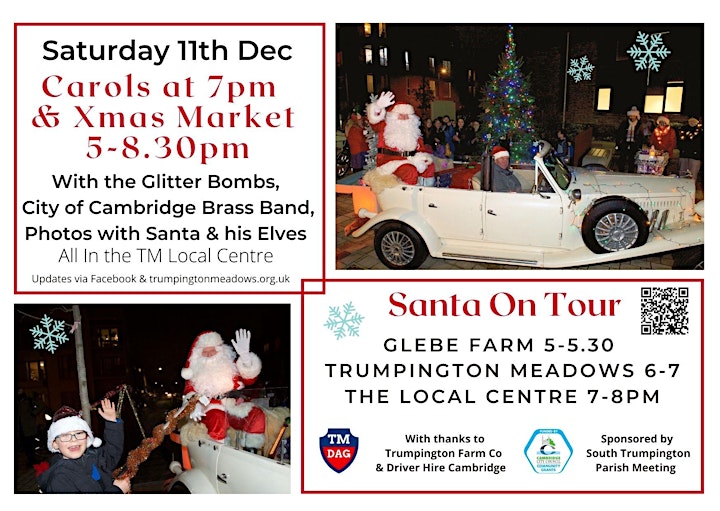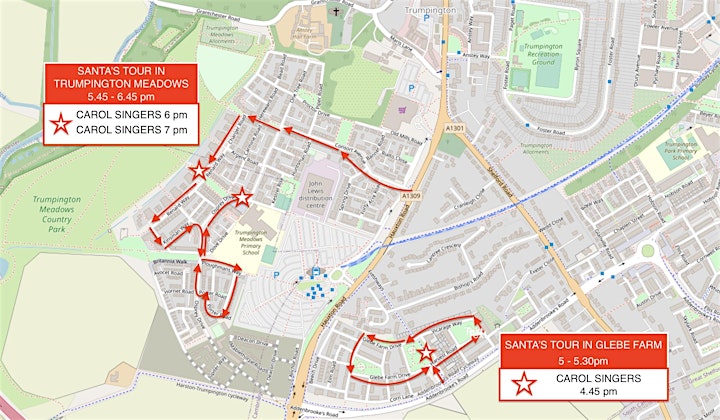 SANTA ROUTE APPROXIMATE TIMINGS
Santa - Glebe Farm Drive
5:00 Glebe Farm Drive
5:05 Harvest Road
5:10 St Michael Street
5:15 Vicarage Way
5:20 Glebe Farm Drive
5:25 Beech Drive
5:30 Glebe Farm Drive
Santa - Trumpington Meadows
5:45 Consort Avenue - Outside Barratt Sales Office
5:50 Ansty Leap
5:55 Charger Road Green
6:00 Greenway Park
Renard Way
6:10 Piper Green
Mardler Close
Kinsman Way
Falcon Road
Osprey Drive
6:25 Railway Green/Brittania Walk
Ploughman Way/
Porter Road
Osprey Drive
6:45 Local Centre to 8.30pm