Sales Have Ended
Ticket sales have ended
Thank you for joining Jingle All The Way IV for Derian House. You will receive an email confirmation, if you do not get the confirmation please email chorleycharity@virginmedia.com Keep an eye out for further information in your registered email and these following social media groups :- https://twitter.com/Chorley_Charity https://www.instagram.com/jingleallthewayderianhouse https://fb.me/e/2hyGBbfHc https://www.facebook.com/JingleAllTheWayDerianHouse Thanks Neil
Sales Have Ended
Ticket sales have ended
Thank you for joining Jingle All The Way IV for Derian House. You will receive an email confirmation, if you do not get the confirmation please email chorleycharity@virginmedia.com Keep an eye out for further information in your registered email and these following social media groups :- https://twitter.com/Chorley_Charity https://www.instagram.com/jingleallthewayderianhouse https://fb.me/e/2hyGBbfHc https://www.facebook.com/JingleAllTheWayDerianHouse Thanks Neil
Jingle All The Way V for Derian House. A 15ish mile walk dressed as Santa as we Jingle All The Way to Rivington Pike
About this event
After 4 amazing years and after missing 2020 due to Covid Chorleys Jingle All The Way for Derian House is coming back in 2021.
The 1st thing to say is that Jingle All The Way in NOT a race, it is a Jingle All The Way and a fun day out. If you want a Santa Dash or Santa race there are many other events to attend in the region.
Thanks to all the Santas, sponsors, raffles prizes and everyone who kindly donated to their time to arranging this event all the previous events, in last year we raised over £24,000 which is simply incredibly.  Meaning we have raised over £100.000 over the last 7 years with multiple events.
So Welcome Santas to "Jingle All The Way V" for Derian House.
The event will raise vital funds to help support the children and families that require the support services offered at Derian House.  For more information on Derian House, please click here - https://www.derianhouse.co.uk/
Jingle All The Way V is a sponsored walk of approx 15 miles going from Chorley to the top of Rivington Pike and back to Chorley dressed in Santa Outfits.
As said above Jingle All The Way V is NOT a race, or a dash, its not event a fast walk, it is a JINGLE ALL THE WAY.  It is a team event and EVERYONE is part of the team.  There will be a number of stops as we JINGLE ALL THE WAY while having a meeting point at the top of Rivington Pike.
The aim is that we will have a fun filled day, with lots of Ho Ho Ho's and lots of Jingles from all the Santa taking part. 
This is a SPONSORED event and we ASK that all the Santas try to raise as much money as possible which will ALL go towards Derian House.   
If we have 500 Santa taking part and everyone tries to raise £100 that will raise £50,000. If everyone signing up can attempt to raise £100, how amazing would that be.
There will be a Just Giving Page that will be created that we can all share.  There will also be paper forms available to use.
Over the last 4 years I know that all the Santas who have taken part have enjoyed the day, with lots of photos and comments being shared across all social media platforms.
It is great to see people helping to Make A Difference, so GET OUT OF BED, get DRESSED IN RED and be the one that chooses to MAKES A DIFFERENCE.
I am sure anyone who has taken part previously, will agree that everyone enjoys the day whatever the challenge has been and more importantly whatever the weather brings.
So between us WE CAN and WE WILL make a difference.....
SO GET OUT OF THAT BED AND GET DRESSED IN RED
Santas Jingle All The Way V is here so between us lets get involved and help to make a difference.
Ho Ho Ho
Neil Hailwood
All entrance fees will include a single use, one size fits all Santa Outfit (the same size for youths and adults) and a momento on the day, plus lots of other goodies.
Due to the cost of the event, no monies can be refunded.  All profit from the event will be donated directly tio Derian House,  The organiser takes no money at all from the arrangements of this event.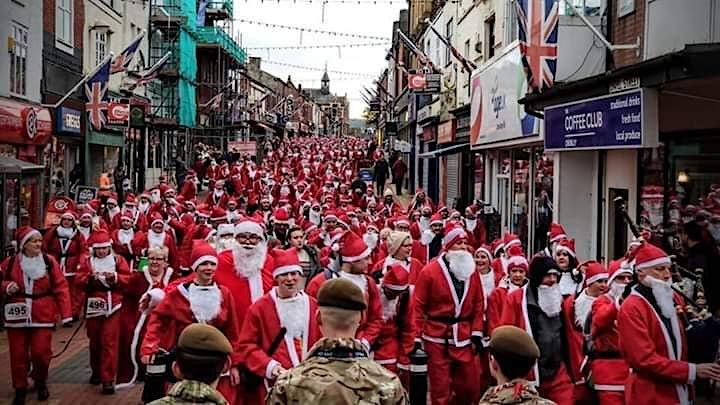 Organiser of Santas Jingle All The Way V For Derian House - Chorley