Santosh Shah at Cinnamon Kitchen City Modern Nepalese Dining
About this event
After a successful run on our TV screens, Santosh Shah – former Head Chef at Vivek Singh's Cinnamon Kitchen City – will launch a dedicated modern Nepalese pop-up series at the restaurant inspired by his time on MasterChef: The Professionals 2020.
The residency will run Wednesdays through to Saturdays evenings between 29th September and 30th October 2021 and will showcase fine-dining Nepalese dishes, rarely seen in London. Dishes are inspired by the food and heritage of Santosh's birth town Siraha in regional Nepal, but are modernised and elevated to offer a new take on the traditional cuisine of Southern Asia.
Serving just 15 guests per sitting to ensure an intimate and interactive experience at the restaurant's open plan kitchen counter, the exquisite Fifteen-course tasting menu will take diners on a culinary journey through the Himalayas.
On arrival, enjoy an AYLA cocktail, an authentic Nepalese serve made with fermented rice wine alongside canapés such as miniature lamb brain donuts and duck breast salad. The menu features innovative dishes of chicken momo – authentic steamed Nepalese dumplings transformed with added pickled cucumber and caviar – and traditionally-rooted dishes of market-style fried fish with burnt tomato chutney, and cannon of lamb with akoru rice, bone marrow sauce and mustard greens.
Desserts of Nepalese yamari - sweet dumplings filled with chocolate, chilli, cinnamon and orange - and the shows topping Kodo ko kheer and mango snowball, with mango leather, Sichuan biscuit, caramelised mango and a flourish of gold leaf finish the menu on sweet note.
Santosh Shah comments. "Having spent many happy years as Head Chef at Cinnamon Kitchen City, there was only one that I place wanted to run this pop-up, at the restaurant where I learnt so much. It was Vivek and his team who gave me the confidence to start celebrating and developing my own signature style of modern Nepalese cuisine, and cooking at Cinnamon Kitchen City feels like coming home. Vivek has been so kind in giving me the opportunity to showcase my Nepalese cuisine to diners and I can't wait to welcome guests to our pop up later in the year."
 Vivek Singh adds, ''Seeing talented chefs grow within the Cinnamon family is a pride and a privilege, and to have alumni like Santosh go on to flourish and carve their own path is one of the greatest pleasures I take from my work. Since we opened The Cinnamon Club in 2001, we have been determined to create a nursery for ideas and talent, and we truly believe in creating opportunities for those who join our family. We are so excited to welcome Santosh's modern Nepalese concept to Cinnamon Kitchen City, and know it will be a resounding success."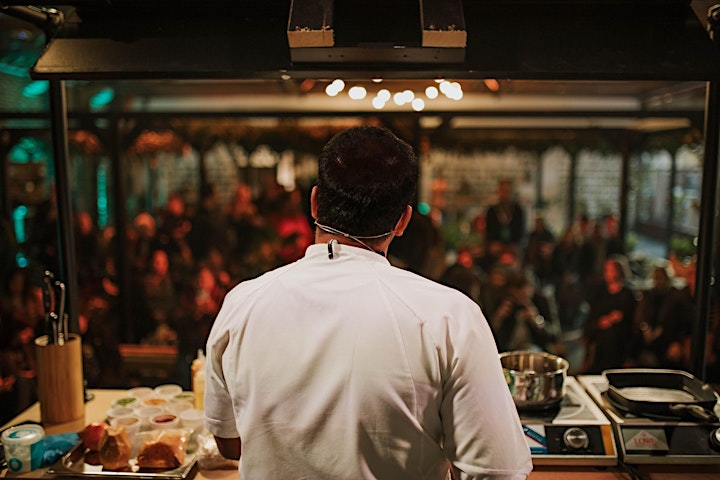 Sample tasting menu
Canapés
Sande ko bogati, merry gold flower(Tempered pomelo on fillo baskets)
Fulaura cheese, spice nettle leaf powder(Lamb brain donuts)
Egg and lamb mince bara(Lentil pancake with lamb mince and quaill egg)
Hans ko chhoila(Duck breast salad)
Dungri papad (papadum, potato pickle)
Fish
Tareko machha, puffed rice, cherry tomato chutney, aloo ko achar
Steamed
Steamed chicken momo, sauce, cucumber pickle, caviar, gold leaf
Baked
Mixed goat offal's pie, dried fish chutney
Chargrilled
Nepali spiced chargrilled octopus, bhang ko chutney, taro leaf terrine, spice yoghurt, sisnu aloo
Mains
Timur spiced pigeon breast, mixed beans, masu ko jhhol, gundruk ko achar
Cannon of lamb, mustard greens, akoru rice, bone marrow sauce, crispy onions, puri
Desserts
Chocolate, chilli, cinnamon and orange yomari
Kodo ko khheer and mango snowball, mango leather, Sichuan biscuit, caramelised mango, gold leaf
The vegetarian tasting menu is available upon request.
The 15-course menu is priced at £75 per person (booking fees are not included), and a ticket has to be purchased. The start time is 6:30 pm.
Cinnamon Kitchen
9 Devonshire Square, London EC2M 4YL, T: 020 7626 5000
Terms & conditions
We do not levy service charge.Tickets are non refundable. Beverages are not including in this tickets. Please inform one of our team of your specific allergy or dietary requirement when ordering or specify when you made booking. Our suppliers and kitchens handle numerous ingredients and allergens. Whilst we have strict controls in place to reduce the risk of contamination, unfortunately it is not possible for us to guarantee that our dishes will be 100% allergen or contamination free. We import all our spices directly from approved growers across India And Nepal. Our food suppliers have given assurances that none of our ingredients are genetically modified. Fish may contain small bones. Game dishes may contain shot.
Organiser of Santosh Shah at Cinnamon Kitchen City Modern Nepalese Dinning