Description
loving the fabric is very excited to offer an evening with Sarah Campbell. Sarah has spent a lifetime loving and creating pattern. Her starting point is the painted mark, and the relationship between hand, eye, brush and surface.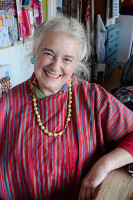 With her late sister, Susan Collier, she co-founded the internationally significant textile design company CollierCampbell. Since 2011 Sarah has pursued a solo career under her own name. She regularly paints and makes design for mainstream customers in both the US and the UK as well as painting private commissions and unique pieces. Whether for paper, cloth, ceramic, the home or apparel – Sarah is constantly developing design, pattern and colour. She also runs short courses, gives talks, and writes and illustrates an entertaining blog.
The evening begins at 6:30PM with a light reception, followed by a presentation by Sarah beginning around 7:15PM.