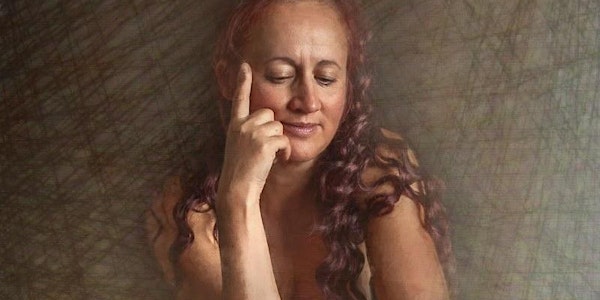 Sarah Lowndes in #PosesAndPoems hosted by Thamesmead Life Drawing
Refund policy
Contact the organiser to request a refund.
Eventbrite's fee is nonrefundable.
Thamesmead Life Drawing #posesandpoems with Sarah Lowndes
About this event
Join us for 2 hours of untutored life drawing and poetry readings on Tuesday 7pm BST with Thamesmead based life model Sarah Lowndes. This is hybrid ONLINE AND IN-PERSON EVENT.
About this Event:
Poses and Poems featuring the gentle classical stylings of Sarah Lowndes. Alongside life drawing poses of varying lengths, there will also be poetry read live by hosts Jamie Zubairi and Marcus Reeves curated and selected with the model.
6 participants will be able to draw in person at the Lakeside Centre, Thamesmead, while our online community will be able to join from Zoom.
The Zoom and the Cafe Space will be open from 6.30 for us to gather, settle into the best seats and grab a cuppa and get to know each other. Then the session starts at 7pm promptly.
It's 2 hours of poses of different lengths:
3 x 2 minute warm up poses,
1 x 5 minute poses
1 x 10 minutes poses
1 x 15 minute poses.
1 x longish pose of whatever is left on the clock.
BREAK 15 minutes. Optional unmute and connect with the other participants
10 second dash for 2 minutes
2 x 2 minute poses.
15 minute full length pose
20 minute portrait pose
There is an optional sharing of your work after the session, and talk about what you do and what you tried with each one, which one was pleasurable to do, which pose was a challenge. Not an art critique per se (I remember them being horrendous at Art School) but just a option to share your work and for us to witness.
We have stopped the regular Long Pose events but will have them once a month sporadically. These will probably be online as we open up. Have a look at the website for updates.
The Model:
Sarah is now becoming a TMLD regular for us, having modeled for us before the lockdown, as well as during. It's certainly a pleasure to have her back working with us again at Lakeside. She's a versatile model, with a range of poses and themes that go from classical styles to body painting.
Please check out her work online on her instagram:
You get the zoom link both as part of the ORDER CONFIRMATION email as well as in the various emails 2 hours and 10 minutes before the event. IGNORE THE EVENTBRITE BUTTONS and click on the text version of the link at the end of the emails. For some reason, the Eventbrite buttons put you into a web version of Zoom which is harder to use.
Venue Directions
I will be sending the in-person participants instructions via email as the venue is gated and fenced and you'll need my number to let me know you've arrived.
House Rules
ABSOLUTELY no screenshots, photography or recording of the session
Please keep your video cameras on throughout the session. This is for transparency to enable the model to see who is witnessing them and for us to monitor the session.
Some models may choose to wear masks or be semi-clothed- life modelling via the internet brings a certain amount of privacy issues compared to that of a session in person with a limited number of in-person participants.
Please include any link to your artist's website or instagram or any other social media link that you share your artwork on
It is your responsibility that no minors are present during the sessions as I have no control over who is present in your homes.
In Person Guidelines
While England's Covid guidelines are relaxed, it is my own preference that Covid Guidelines are still adhered to and that we be sensible while in an enclosed space:
Use hand-sanitiser provided upon arrival
It is essential to wear masks if you are moving about, ie to use the bathroom or to pick up paper or boards
I will bring you any more items should you need them.
If you have any covid-19 symptoms please be sensible, think about other's safety and do not come. You will be given a refund.
Please make sure that you have bought the correct ticket.