Explore careers in conservation and environmental issues that think outside the box and use skills you already have.
About this event
The '& another thing' discussion series is an honest and open place for issues in conservation.
Our new Satellite Careers Series speaks with inspirational people making change in the conservation and environmental sector in careers that think outside the box. Feeling like you don't know which career path to go down? This one is for you.
Our second event speaks with Topaz Reid, Corporate Partnerships Executive at the Zoological Society of London
Topaz will be speaking about her journey so far at ZSL and the art of seizing the right opportunities.
She'll talk more about her current role focusing on fundraising as a corporate partnerships executive, and the part she plays in helping ZSL secure its vision of 'a world where wildlife thrives'.
***This event is free. Unfortunately our running costs aren't - please consider a DONATION OF £3 to join us if you can. You can also check out our online shop!***
Please register and you will be sent a Zoom link in advance.
SIGN UP TO OUR MAILING LIST TO KEEP IN THE LOOP
More details on Instagram @andanotherplace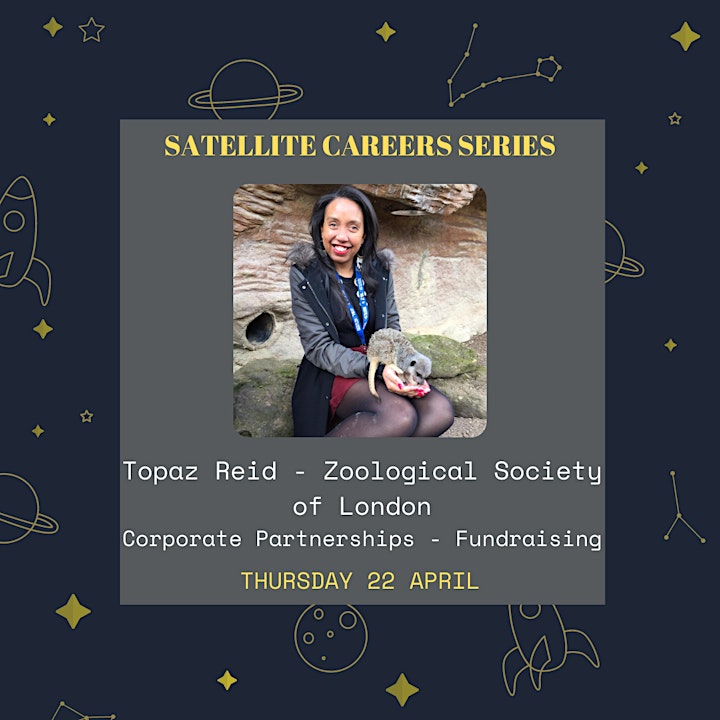 Organiser of Satellite Careers Series - Topaz Reid, Zoological Society of London