Event Information
Refund policy
Contact the organiser to request a refund.
Eventbrite's fee is nonrefundable.
As a business owner it is very important to always remember your Why? When your why is big enough you will find your how.
About this event
What Is Your Why?
As a business owner it is very important to always remember your Why? When your why is big enough you will find your how.
"My why is to help people be more connected in their life, career, and business. "To push myself to be the best version of myself . "To leave the world better than I found it and be remembered by the people whose lives I touched as a force for good in their lives.
On the 29th of May 2021 from 10 am to 11: 30 am we are inviting you to join our Saturday Business Breakfast Club and our theme is What Is Your Why?
We have over 25 years of experienced business coaches in business planning, marketing strategy, branding and financial planning.
This is a great platform for business networking and collaboration and learning how to start your business or expand on your current business.
Don't look for motivation, find your way then no excuses will come between you and your goals.
We look forward to seeing you on the 29th of May 2021.
For more information regarding the services we provide you can visit our website which is
http://startupentrepreneurcoaching.com/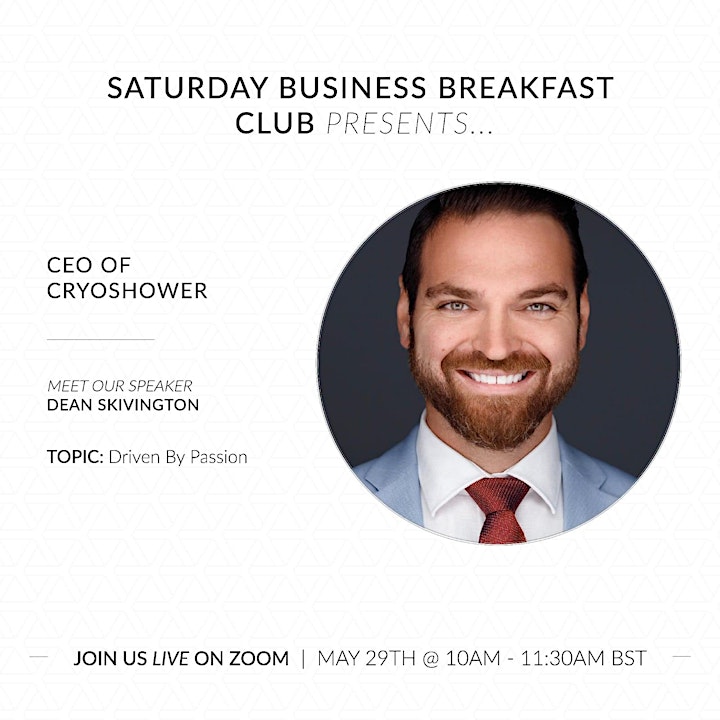 Meet our speaker for this month Saturday business breakfast Dean Skivington CEO of CryoShower, Following a life changing injury Dean had to reinvent his life, and after 12 years of recovery, pain meds and in and out of hospital. Dean had a wake up call and needed to make his recovery his main focus and to get back being him.
Since 2014 his focus has been on recovery and performance, the past couple of years Dean found cold therapy and he has not looked back since. In 2019 while in Spain Dean founded the company CryoShower a digital health tech company that helps, people track their health, pain and recovery data to get them back to where they needed to be.
Dean has a successful property investment company, but found his calling through cold therapy when he realised there was nothing on the market that allows you to cool the natural cold water temperatures to access controllable Cold Therapy, at home or on the go.
He set off and filed his first patent, and started the ground back company. Dean is also a business and mindset coach and has a passion in innovation and a desire to help people. "I told myself I would never let anyone go through what I went through.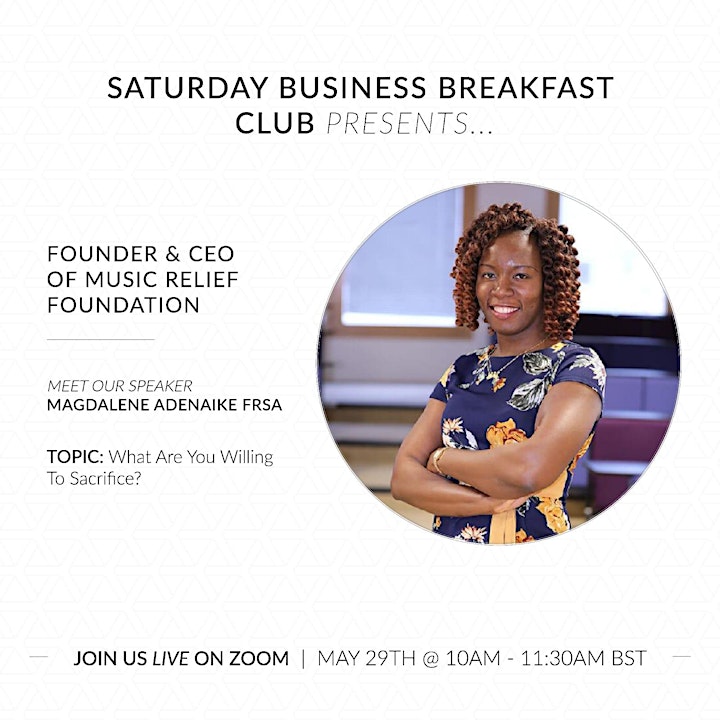 Meet our speaker for this month Saturday business breakfast club Magdalene Adenaike. She is the founder and chief executive of Music Relief Foundation, a youth charity that works and supports young people aged 11-25.
With over 9 years of experience of running a non-profit organisation, Magdalene delivers business coaching to those thinking of starting a nonprofit organisation, those juggling several ideas together and struggling to understand which one of those ideas to start with, and delivering effective training on the best practice team working. An inspirational speaker, author, and mentor.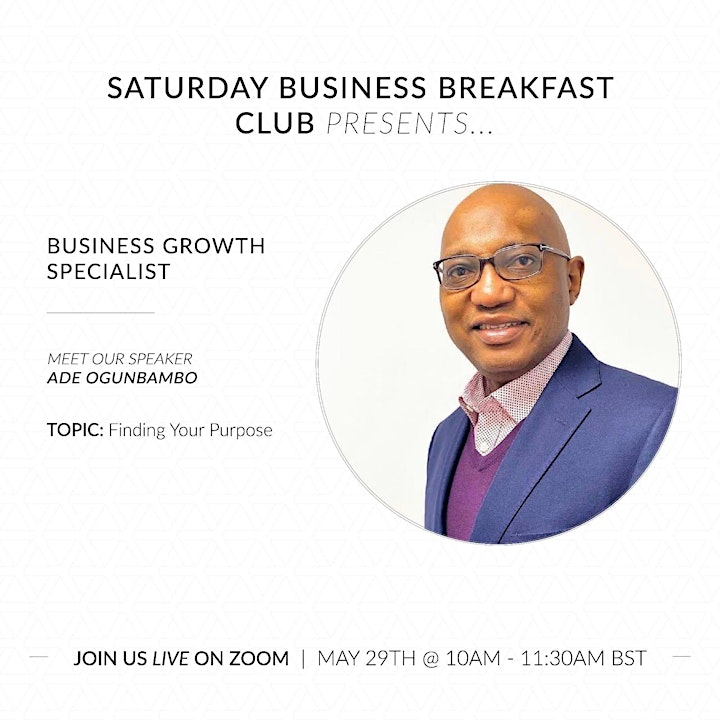 Meet our speaker for the Saturday business break and business growth specialist Ade Ogunbambo. As a business coach, his purpose is to help create a community of thriving micro, small and medium business enterprises (SMEs)to enrich society.
The rationale behind this is borne out of the fact that the UK economy is powered by a successful private sector of businesses - over 97% of these are SMEs, with London being the hub of UK business.
His a fully certified business coach and a business owner with over 20 years of success. He had great success as a franchised retailer with Esso Petroleum and Shell UK and with my training consultancy which helped to train many apprentices and interns in team leading, business administration, and management with SMEs and large employers in London.
The late Nelson Mandela said, "Education is the most powerful weapon which can change the world."As an 'educator coach', he takes the time to fill in any knowledge or skill gaps for his clients so that they can be empowered to thrive in their businesses.
Also, he believes that being in business should be fun. So, he makes his coaching sessions engaging, fun, and enjoyable for his clients. He focuses on-time productivity, building the right team for growth, and increasing their revenue and profit.
The action system he uses provides the much-needed framework and tools to help his clients and their businesses to grow exponentially.
The three words that sum up what I give to my clients are passion, enjoyment, and results.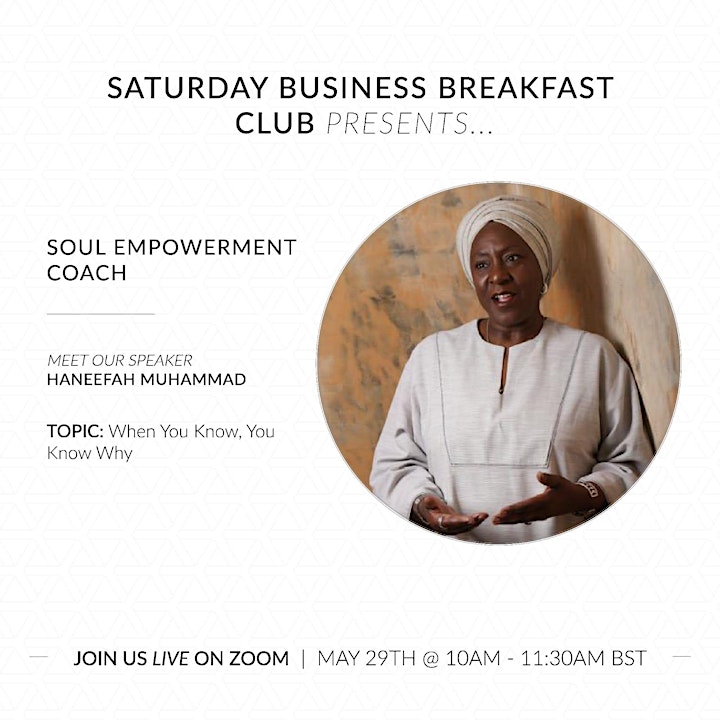 Meet our speaker Haneefah Muhammad for our for this month business breakfast club.
She is a trained Life Coach, Stress Management Adviser and a Registered Social Worker with 25+ years experience mainly as a mental health practitioner. As a Coach, she works alongside clients to help them identify and implement specific changes they want for their lives.
She also use coaching in her social work practice, supporting clients in their journey of recovery, reflection, and continual movement towards achieving a healthier, more empowered and purposeful life.
As a Soul Empowered Life Coach, She teaches her clients about the power of connecting with their inner 'knowing' (e.g. intuition or inner voice) to create meaningful relationships with their outer world.
She believes that her personal experience of childhood illness and family disruption has enabled her to build empathic and empowering relationships with clients who want more freedom, control and choice over their lives.
Coaching can also be done successfully with small or larger groups. Her company Xsel Investments Ltd provides Workshops, Training and Public Speaking events to businesses, organisations and individuals to promote mental, emotional and physical wellbeing in the workplace.
She believes that through the coaching process, clients can learn new ways of thinking and communicating, that increases their self-confidence and outcomes for their professional and personal life. Her programme 'Speaking With Soul' is for business owners, coaches and change-makers who want to attract clients effortlessly to their service or product.
She believes when you are speaking with soul you bring your whole self to the stage; you connect with your audience in a way that is meaningful, 'non-salesy' and aligned with your values and who you are. When this happens you add value and impact to the individuals, services and businesses you want to serve.
She loves writing and her first bookThe A-Z of Stress Solutions' (2014) offers effective and practical strategies to manage stress and take care of our health and wellbeing. My Soul Purpose (2019) is a collection of my poems about life, living and continuous learning on the journey to find our true selves.
She's also co-authored two further books, Life Inna Lockdown (2020) with 22 ordinary women telling our extraordinary stories of courage and resilience during the current Covid-19 pandemic. 'Emergence' (2020) was written with some wonderful women using poetry to share our stories of trauma and survival. I believe that poetry can inspire, encourage and motivate us to regain control and change our own lives and the lives of those around us.
Her style is collaborative and challenging and respects the innate creativity and resourcefulness all possess. I am committed to helping clients become the best version of themselves. Her coaching approach is based on the belief that the client is the expert in their own life; by aligning their desires with their values, they can achieve the freedom, satisfaction and happiness they want.
Meet our speaker for this month Saturday business breakfast club Veronica Ebanks BSc an Afro-Caribbean from Jamaica via London, now resident in the Midlands. Married for 39 years, four sons, and 11 grandchildren. Science and Education professional work history
After redundancy created a career as an Independent Safeguarding Consultant/Trainer
Entrepreneur Sole Trader business owner of Verelba Mind & Body, providing artisanal skincare, wellbeing items, and holistic therapy (FHT registered)
Spoken Word artist, sharing her poetry, writing, and performance poetry on stage since February 2016with radio and online appearances.
Co-author of book life Inna Lockdown 2020 - Behind Closed Doors'
Acting role in musical joseph versus Barrett'October 2020
Has love for people, literature, theatre, singing, gardening, travelling, and vintage clothing among other pursuits.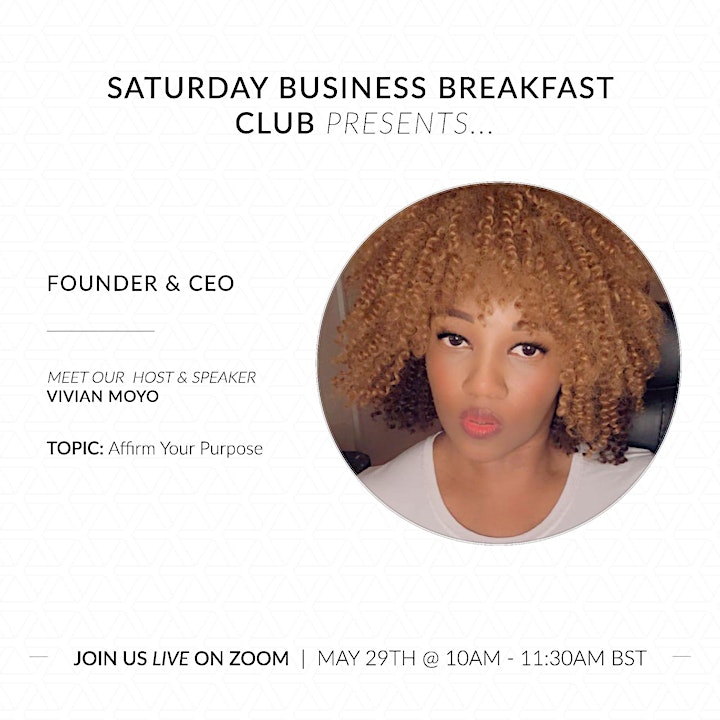 Meet Vivian Moyo is the founder of Start-Up Entrepreneur Coaching ,The You Are Beautiful Project and the Saturday breakfast club.
She grew up rejected, abandoned, unloved, and lonely, and by the age of 24 years old she had lost two kids.
She is passionate about helping people find their purpose and unleash their dreams. This lead her to create a platform for inspiring and enabling business ideas to come to reality.
Date and time
Location
Refund policy
Contact the organiser to request a refund.
Eventbrite's fee is nonrefundable.