Event Information
Refund policy
Contact the organiser to request a refund.
Eventbrite's fee is nonrefundable.
You will get the opportunity to share or learn about new ideas, mix with your peers and other like- minded people.
About this event
If you are self employed, running your own business or just wanting to expand your current business Join our Saturday Business Breakfast Club.
The Saturday Business Breakfast Club provides a networking platform that helps business owners, freelancers to meet potential clients, suppliers, business coaches and business partners.
You will get the opportunity to share or learn about new ideas, mix with your peers and other like- minded people , so that you do not feel isolated. Find out what your competitors are up to, form relationships with potential partners.
Our events our educational, inspirational and fun at the same time. Just ask anyone who's been to them before.
This month our theme is Consistency Is key and we have amazing guest speakers and our in house business coaches who will teach and inspire us to stay consistency.
A preview on us on the topics that will be share on Consistency are as follows
- "Systems for Consistency "
-"Consistency To Your Vision"
- "Consistency In Building Your Brand"
- "Consistency In Social Media Content
- "Consistency Is More Important Than Perfection
Our purpose is to provide a Gateway for connecting the people who can help budding entrepreneurs to develop their business ideas into a thriving business. We can help someone who is either looking to start their business from scratch or who has recently started but would like expert help to grow.
Our programmes for helping Start-Ups include the following:
• Introduction to starting a business – idea generation, funding ideas etc
• How to write a business plan
• Marketing Strategies for beginners
• Branding your business – visions & strategy
• Financial planning for business
• 1-2-1 bespoke coaching for business growth.
To find out more information regarding the services we can offer you, please visit our website which is http://startupentrepreneurcoaching.com/
We look forward to seeing you on the 26th of June from 10am to 11:30am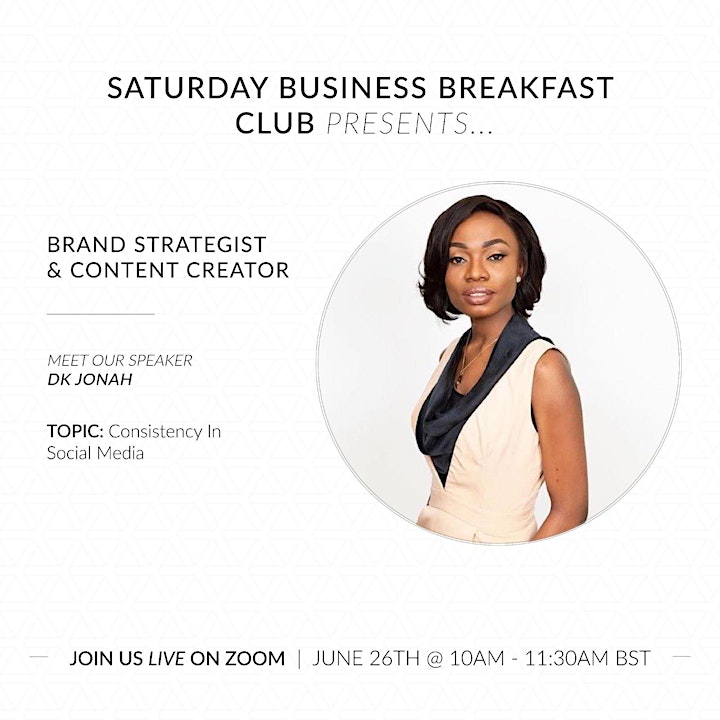 Meet our speaker for this month business breakfast DK Jonah. She is a Brand Strategist , Content creator, Podcast Host and Multimedia specialist.
It's 5 years since DK turned her back on an academic path and fell into the world of creative services. Her passion for connecting branding and content creation makes her an exceptional force in the creative services industry. She combines her passion for media , productivity and digital marketing to help people bring their creative ideas to life and create the brand that encompasses their vision.
DK's approach to branding is life changing because she is unassuming, and guides you to discover and build the brand of your dreams. She runs The Restorative Brand Agency and uses her experience and knowledge to create brands that would
DK Jonah is a brand strategist and an online engagement coach committed to equipping people with the skills and resources required to gain brand clarity and create brand visibility in a very competitive market. She simplifies the branding process from conception of ideas to completion.
She also creates content marketing strategies because content marketing is a must in today's world; it's a proven strategy to generate ongoing traffic, build trust and increase sales.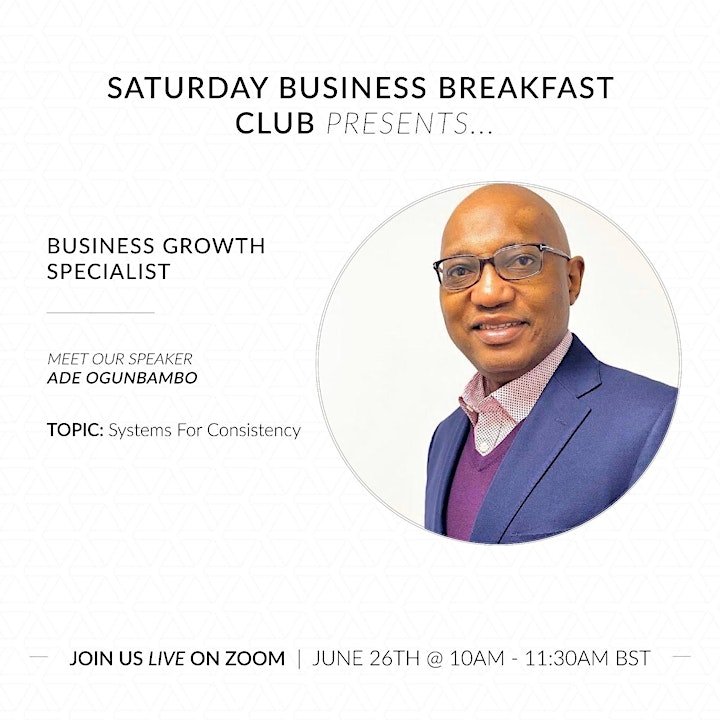 Meet our speaker for the Saturday Business Breakfast Club and business growth specialist Ade Ogunbambo.
As a business coach, his purpose is to help create a community of thriving micro, small and medium business enterprises (SMEs)to enrich society. The rationale behind this is borne out of the fact that the UK economy is powered by a successful private sector of businesses - over 97% of these are SMEs, with London being the hub of UK business.
His a fully certified business coach and a business owner with over 20 years of success. He had great success as a franchised retailer with Esso Petroleum and Shell UK and with my training consultancy which helped to train many apprentices and interns in team leading, business administration, and management with SMEs and large employers in London.
The late Nelson Mandela said, "Education is the most powerful weapon which can change the world."As an 'educator coach', he takes the time to fill in any knowledge or skill gaps for his clients so that they can be empowered to thrive in their businesses.
Also, he believes that being in business should be fun. So, he makes his coaching sessions engaging, fun, and enjoyable for his clients. He focuses on-time productivity, building the right team for growth, and increasing their revenue and profit.
The action system he uses provides the much-needed framework and tools to help his clients and their businesses to grow exponentially.
The three words that sum up what I give to my clients are passion, enjoyment, and results.
Meet our speaker Sabrina Durant for this month Saturday Business Breakfast Club . She is the Owner and Creative Director of Sabrina Yvonne Ltd, an Interior Design Company based in London, UK.
After acquiring a BA (Hons) degree in Interior Design at The Cass School of Art, Architecture and Design, she went on to work in some of London's prestigious and cultural design studios.
Although her journey to success seems clear cut, her story is far from perfect, she came from a background of abuse, was involved in gangs, guns and drugs. It took her 8 long years to complete her university degree after finding out she was pregnant and juggled life as a student, employee and being a single parent.
Today she is on the journey to living the life she always dreamed of.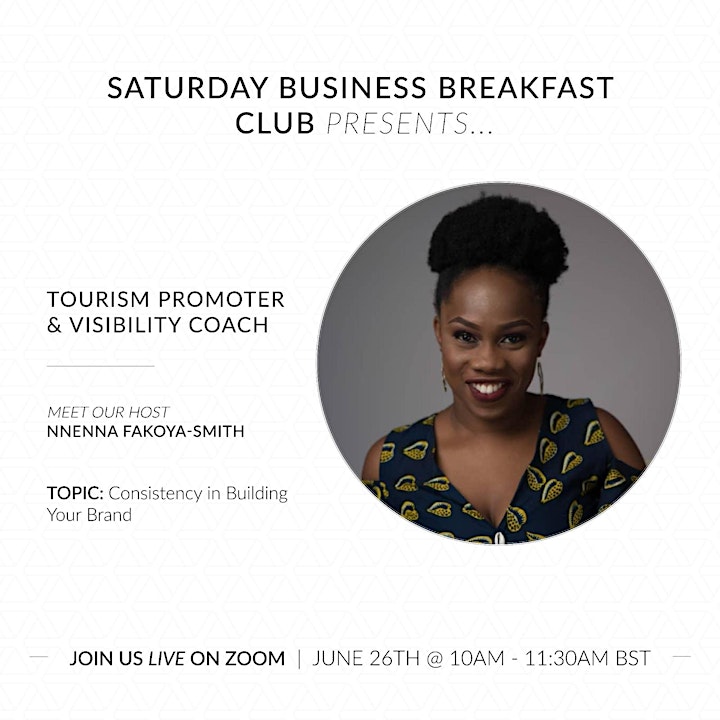 Meet our host Ajala Nene, NnennaFakoya-Smith for this month is Saturday Business Breakfast Cub. She is the founder of Nene-Uwa Hub Ltd, a tourism company that helps Tourism Entrepreneurs build a visible and sustainable tourism business through online strategies. As a Visibility Coach, she helps small business owners build brand visibility and sustainability through her signature program called the Audience Builder Process ™️.
She has been recognized as one of the "Young Tourism Personalities of the Year" and "30 Top Influencers in Tourism and Hospitality in Nigeria''. She has been nominated for the "Rising Star of the Year (Tourism)" and "Best Tourism Innovation Through Technology (Tourism Virtual Summit)".
Nnenna's hobbies include collecting postcards, stamps, coins, and banknotes, which got her featured on Forbes African as one of Africa's Aficionado Collectors; traveling and exploring cultures; sporting activities, arts, and singing. She is also an Afrocentric Enthusiast who loves to display her African roots.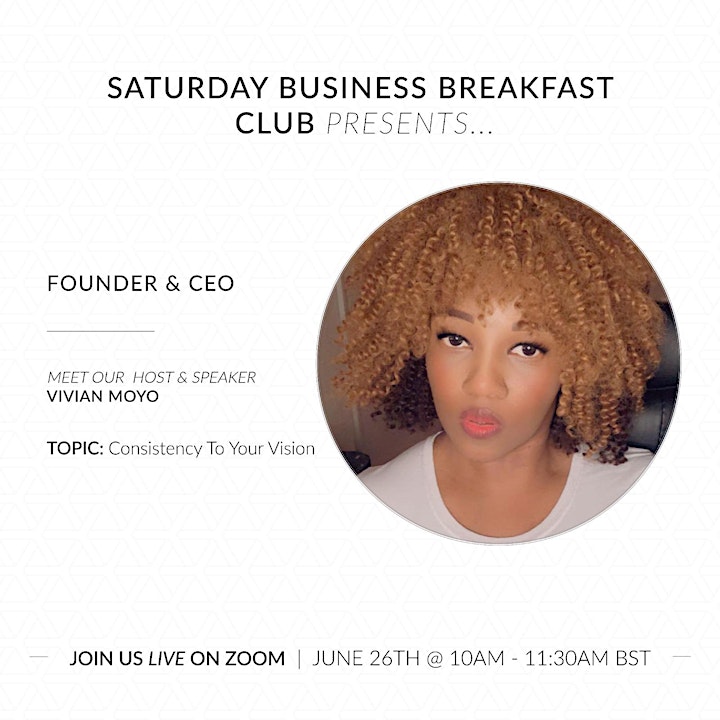 Meet our founder and speaker Vivian Moyo for the Saturday Business Breakfast Club.
She grew up rejected, abandoned, unloved and lonely. Her mum died when she was three years old and her father rejected her when she was still in her mother's womb. By the time she turned 25 years old she had lost two children.
Sometimes it takes things falling apart for better things to actually fall into place. Sometimes it takes the most uncomfortable path to lead your life to the most beautiful place.
Her weakness became her strength which became her mission to help people unleash their personal development/mindset, career and business goals.
She went on to build a platform for connecting the people who can help budding entrepreneurs to develop their business ideas into a thriving business.
Her aim is to partner with like-minded organisations to get access to prospective clients who might need our advice, support and guidance in starting their businesses.
For more information regarding the services we offer please visit our website which is
http://startupentrepreneurcoaching.com/
Date and time
Location
Refund policy
Contact the organiser to request a refund.
Eventbrite's fee is nonrefundable.