Event Information
Refund policy
Contact the organiser to request a refund.
Eventbrite's fee is nonrefundable.
Scaling a business means setting the stage to enable and support growth in your company.
About this event
The aim of the Saturday Business Breakfast is to provide a networking platform that helps business owner, freelancers to meet potential clients, suppliers, business coaches and business partners.
Coming up with a business idea and starting a business can seem overwhelming and complicated. There are so many things you have to consider from coming up with an excellent idea to registering a company, all the way to business planning , fundraising and much more.
Every month we provide the club with business coaches that are qualified in business planning, branding, marketing strategy and financial planning.
This will help you as a business owner to gain more experience and knowledge in business planning and so much more.
You are invited to join us on the 31st of July for our Saturday Business Breakfast Club from 10am to 11:30 am. Our theme for this month is Scaling Up.
Scaling a business means setting the stage to enable and support growth in your company. It means having the ability to grow without being hampered. It requires planning, some funding and the right systems, staff, processes, technology and partners.
There is an old Africa proverb that says if you want to go quickly go alone. If you want to go far, go together.
In business it is difficult to scale up without a team. If you want to grow you will have to start to invest in people and build a team that understands the vision.
To find out more information regarding the services we can offer you, please visit our website which is http://startupentrepreneurcoaching.com/
We look forward to seeing you on the 31st of July 2021.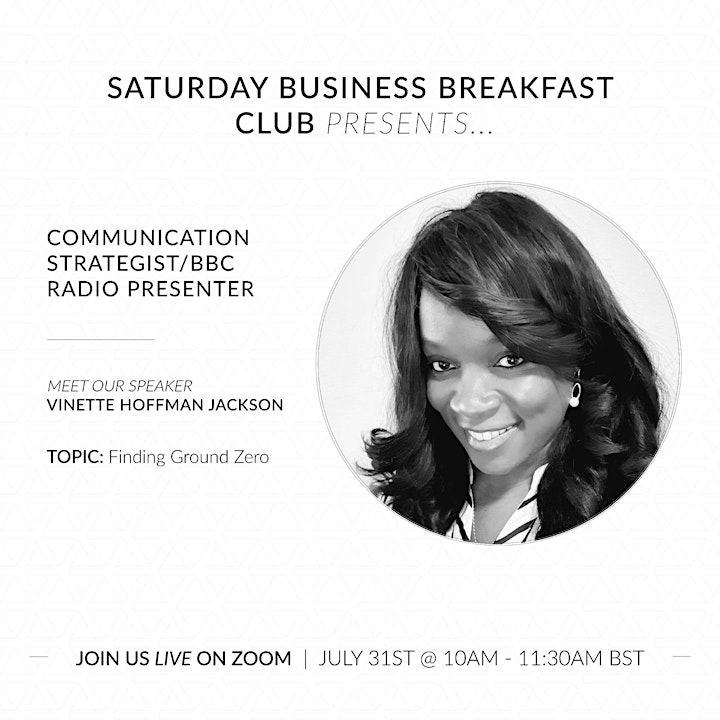 Meet our speaker Vinette Hoffman- Jackson for this month Saturday Business Breakfast Club.
Vinette is a multi-faceted, multi talented inspirational speaker. Her list of achievements and accreditations include:
- An Assistant Head teacher and * Academic Mentor .
- Team Leader at Cambridge International. Examinations, UK
- Past Chair of Governor, UK
- UK & Ireland International Speech and Impromptu Speaking Champion 2017/2019 representing UK& Ireland in Canada .
- BBC radio presenter
- BBC New Voice Winner 2019
- London Professional Speaker Association 'Speaker Factor' winner (2016)
- TEdx Speaker
- LUR radio Presenter and 'Behind my Smile' Chat show host
- Award winning Author and Poet (Did the Right Sperm Win? Bks 1&2, Behind my Smile, Vinette Vignettes and Journeys)
- Division Director, Toastmasters Internationsl
- Co-founder Nubian Women's International Conference
- Author and poet
She is also a contributor to business magazines like Endizine, New business and Networkshe. She is focussed , goal-oriented and embrace new challenges.
Vinette regularly runs workshops for corporate and individuals in 'Effective presentations & How to write great speeches, Equity & Diversity and Strategiez for dealing with difficult people. She has spoken all over the world including France, Jamaica, Canada and Austria.
Vinette oozes confidence and is a fantastic speaker. Not only is she truly motivational but she uses her sharp wit and humour to disseminate her message and make it memorable. Audiences respond to Vinette with mixed emotions including laughing, inspiration and awe.
~ Nigel Oseland, Director, Workplace Unlimited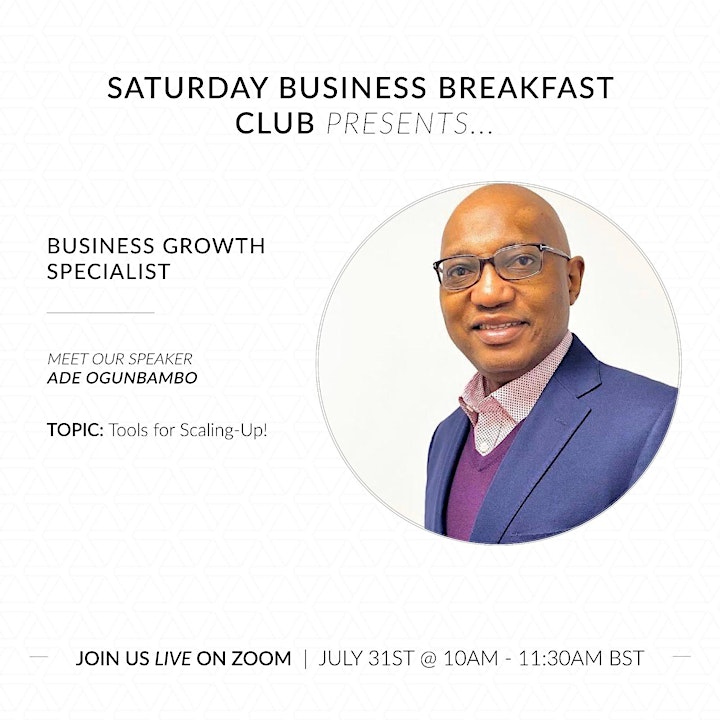 Meet our speaker for the Saturday Business Breakfast Club and business growth specialist Ade Ogunbambo.
As a business coach, his purpose is to help create a community of thriving micro, small and medium business enterprises (SMEs)to enrich society. The rationale behind this is borne out of the fact that the UK economy is powered by a successful private sector of businesses - over 97% of these are SMEs, with London being the hub of UK business.
His a fully certified business coach and a business owner with over 20 years of success. He had great success as a franchised retailer with Esso Petroleum and Shell UK and with my training consultancy which helped to train many apprentices and interns in team leading, business administration, and management with SMEs and large employers in London.
The late Nelson Mandela said, "Education is the most powerful weapon which can change the world."As an 'educator coach', he takes the time to fill in any knowledge or skill gaps for his clients so that they can be empowered to thrive in their businesses.
Also, he believes that being in business should be fun. So, he makes his coaching sessions engaging, fun, and enjoyable for his clients. He focuses on-time productivity, building the right team for growth, and increasing their revenue and profit.
The action system he uses provides the much-needed framework and tools to help his clients and their businesses to grow exponentially.
The three words that sum up what I give to my clients are passion, enjoyment, and results.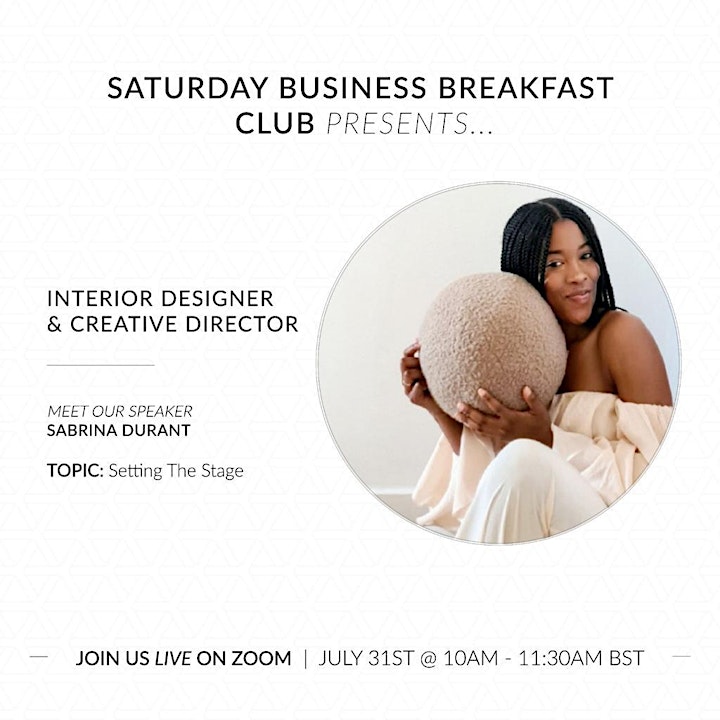 Meet our speaker Sabrina Durant for this month Saturday Business Breakfast Club .
She is the Owner and Creative Director of Sabrina Yvonne Ltd, an Interior Design Company based in London, UK. After acquiring a BA (Hons) degree in Interior Design at The Cass School of Art, Architecture and Design, she went on to work in some of London's prestigious and cultural design studios.
Although her journey to success seems clear cut, her story is far from perfect, she came from a background of abuse, was involved in gangs, guns and drugs. It took her 8 long years to complete her university degree after finding out she was pregnant and juggled life as a student, employee and being a single parent.
Today she is on the journey to living the life she always dreamed of.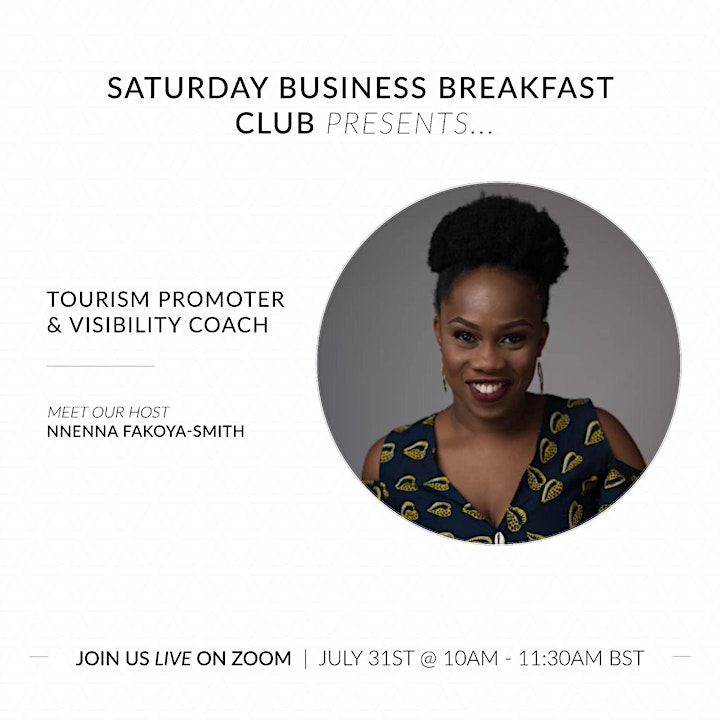 Meet our host Ajala Nene, NnennaFakoya-Smith for this month Saturday Business Breakfast Cub. She is the founder of Nene-Uwa Hub Ltd, a tourism company that helps Tourism Entrepreneurs build a visible and sustainable tourism business through online strategies.
As a Visibility Coach, she helps small business owners build brand visibility and sustainability through her signature program called the Audience Builder Process ™️.
She has been recognized as one of the "Young Tourism Personalities of the Year" and "30 Top Influencers in Tourism and Hospitality in Nigeria''. She has been nominated for the "Rising Star of the Year (Tourism)" and "Best Tourism Innovation Through Technology (Tourism Virtual Summit)".
Nnenna's hobbies include collecting postcards, stamps, coins, and banknotes, which got her featured on Forbes African as one of Africa's Aficionado Collectors; traveling and exploring cultures; sporting activities, arts, and singing. She is also an Afrocentric Enthusiast who loves to display her African roots.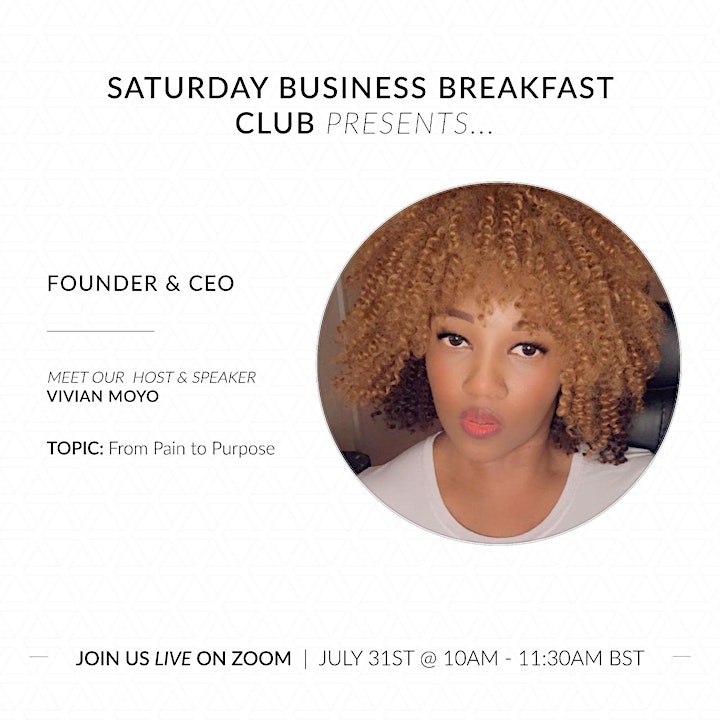 Meet our speaker and founder for this month Saturday Business Breakfast club. Vivian Moyo grew up rejected, abandoned, unloved and lonely.
Her mum died when she was three years old and her father rejected her when she was still in her mother's womb. By the time she turned 25 years old she had lost two children.
Her weakness became her strength which became her mission to help people unleash their personal development/mindset, career and business goals.
She went on to build a platform for connecting the people who can help budding entrepreneurs to develop their business ideas into a thriving business.
The Saturday Business Breakfast Club provides a networking platform that helps business owners, freelancers to meet potential clients, suppliers, business coaches and business partners.
During our business breakfast club you will get the opportunity to share or learn about new ideas, mix with your peers and other like- minded people , so that you do not feel isolated. Find out what your competitors are up to, form relationships with potential partners.
We have unlimited spaces left and to avoid any disappointment reserve your space now by using the link below.
https://www.eventbrite.co.uk/.../saturday-business...
For more information please visit our website which is http://startupentrepreneurcoaching.com/
Date and time
Location
Refund policy
Contact the organiser to request a refund.
Eventbrite's fee is nonrefundable.