Saturday 19th June 2021 @ 6.00 pm - 12th Sunday in Ordinary Time
About this event
Registration for Saturday Mass
Opens on Wednesday @ 6.00 pm and closes on Friday @ 6.00 pm.
Due to the limited number of seats available not everyone will be able to attend Mass every week. To give everyone an equal opportunity to attend, we ask you to consider registering for a Mass every alternate week. However, if places are still available just before registration closes (Friday 6.00 pm) then feel free to book it.
The parish is taking all reasonable measures to prevent a case of COVID-19 from entering our site, however, there is still an element of risk. For contact tracing purposes, we will need the contact number of one person from every household that attends. Before making a booking we recommend that you take into consideration your own personal situation especially if you have any pre-existing medical conditions or if you fall into a high risk category. After booking and you find you are unable to attend, please let us know as soon as possible; Mass places are limited and releasing your seat could give someone else an opportunity to attend. Please stay at home if you or anyone in your family is feeling unwell. Thank you for helping us keep everyone safe.
Seating Plan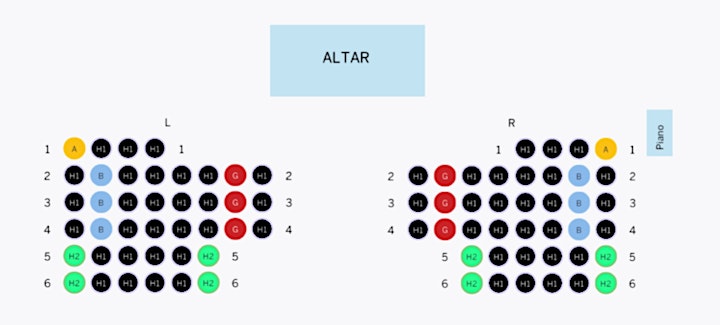 The seating plan is colour coded to reflect the different lengths and the number of people from different households we can safely accommodate on our benches. The black circles represent the distance necessary to maintain social distancing between different households.
Blue circles - seats designated for 1 Person.
Red circles - seats designated for 2 Persons (2 adults or 1 adult + 1 child). Singles may book this seat if blue circles are not available.
Yellow circles - bench designated for family groups with 3 or more people. Booking a yellow circle is equivalent to booking the whole bench. Singles or Couples may book a yellow circle if blue or red circles are not available.
Green circles - are for telephone bookings.
Selecting your Seat
1. Click the Green 'Register' Button.
2. Then use the 'Buy on Map' button to select your seat.
3. Booking for:
a) ONE PERSON
Book 1 Blue Circle. If blue circles are unavailable you may book 1 Red or 1 Yellow Circle.
b) TWO PERSONS (or 1 Adult + 1 child)
Book 1 Red Circle. If red circles are unavailable you may book 1 Yellow Circle. Please DO NOT book any blue circles even if they are available.
c) FAMILY (with 3 or more people)
For Row 1: Book 1 Yellow Circle.
For Rows 2 to 4: Book 1 Red Circle + 1 Blue Circle from the SAME bench (select the appropriate circles using the Buy on Map). This will ensure that people living in the same household are seated together.
4. Please fill in your contact number (home or mobile) when placing your booking. If you are helping to book for someone else please put in their name and contact number in the contact details.
If you have trouble booking online or are unsure how to go about it, please email: saintjosephretford@gmail.com or call the number below.
Telephone Bookings
Call or Text 07486891967
Please provide your name, number of people attending and your contact number. If there are people from a different household in your group, please also give their name and contact details.