Saturday Morning Animation Club presents a screening of 'Androids Dream' by David Blandy
About this event
Saturday Morning Animation Club presents a screening of 'Androids Dream' by David Blandy, followed by an artist's walkthrough and Q&A with the audience.
Showcasing five films by people who wield the dual powers of being an artist and a nerd, Saturday Morning Animation Club is a celebration of anime, games and the perspectives fandom allows for. Refusing to downplay their enthusiasm each artist takes us through iterations of animatic worlds, on- and off-screen, with or without player input.
Screening #3: 'Androids Dream' by David Blandy
In 'Androids Dream', Blandy deconstructs the cyberpunk aesthetic first prototyped by Gibson's Neuromancer (1984) and Scott's Blade Runner (1982), and which has continued to be repeated and become ever more ossified. Formed of multiple simulacra, the work involves Unreal Engine assets, uses Kojima's Snatcher - itself a replay of Blade Runner in videogame form - and even deploys an algorithmic mimesis of the artist's own voice. Breaking down the aesthetic form, the film in turn breaks down, repeats, refracts, and goes into reverse.
Other screenings (10am weekly):
Saturday Morning Animation Club is produced in collaboration with isthisit? and Off Site Project. Attendees of all five screenings will be rewarded with a special prize.
Videos were commissioned using funding from Arts Council England as part of On Animatics, a cross-disciplinary project exploring the murky overlapping areas of contemporary art, animation, fandom, avatars and virtual worlds. To conclude the project, the book WEEB THEORY will be released later this year with Banner Repeater, edited by Petra Szemán and Jamie Sutcliffe.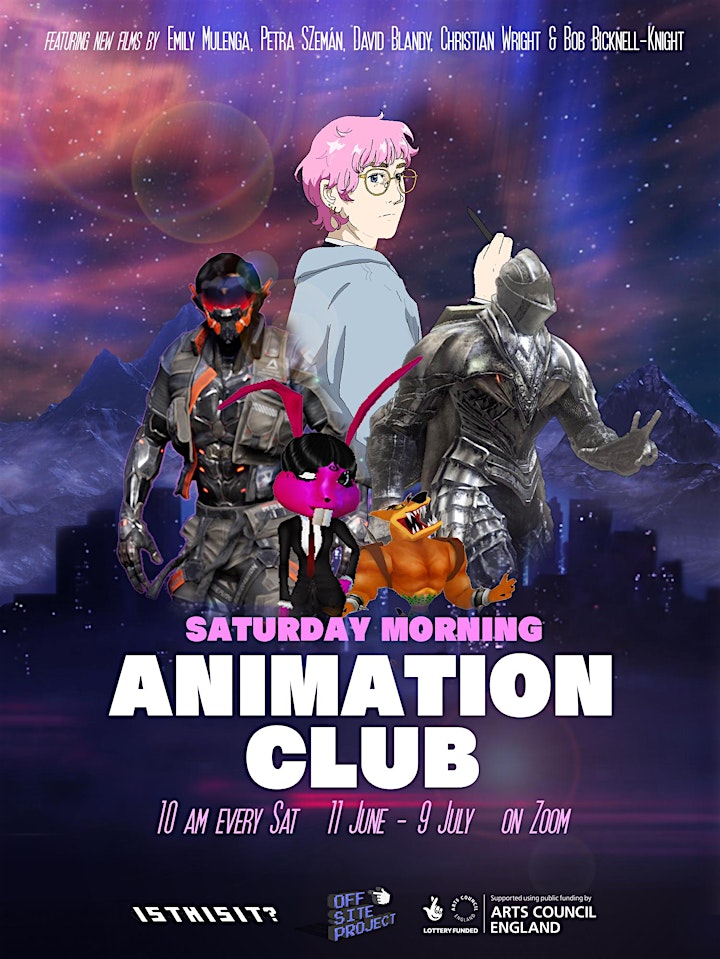 David Blandy (b. 1976, Brighton) investigates the stories and cultural forces that inform and influence our behaviour. Through a gaming art practice he has written original RPGs that address issues of social justice, climate change and our potential posthuman futures. Collaboration is central to his practice, used as a means to examine communal and personal heritage, as well as forms of interdependence. His practice ranges from installation, performance, writing, gaming and sound. He has had national and international solo exhibitions, and is represented by Seventeen Gallery, London.