Saturday Morning Animation Club presents a screening of 'Body Language' by Christian Wright
About this event
Saturday Morning Animation Club presents a screening of 'Body Language' by Christian Wright, followed by an artist's walkthrough and Q&A with the audience.
Showcasing five films by people who wield the dual powers of being an artist and a nerd, Saturday Morning Animation Club is a celebration of anime, games and the perspectives fandom allows for. Refusing to downplay their enthusiasm each artist takes us through iterations of animatic worlds, on- and off-screen, with or without player input.
Screening #4: 'Body Language' by Christian Wright
Primarily shot within the video game Dark Souls III (2016), 'Body Language' tells the story of an epic encounter between two online players. Focusing on how the combatants communicate via the limited body language afforded to them by the game design and the performative traditions of gaming communities, Christian's film combines the grandiosity of cinema with the janky awkwardness of gameplay. The result is both reminiscent of videos produced and shared in insular fan communities, while also relating to a burgeoning contemporary art and academic context.
Other screenings (10am weekly):
Saturday Morning Animation Club is produced in collaboration with isthisit? and Off Site Project. Attendees of all five screenings will be rewarded with a special prize.
Videos were commissioned using funding from Arts Council England as part of On Animatics, a cross-disciplinary project exploring the murky overlapping areas of contemporary art, animation, fandom, avatars and virtual worlds. To conclude the project, the book WEEB THEORY will be released later this year with Banner Repeater, edited by Petra Szemán and Jamie Sutcliffe.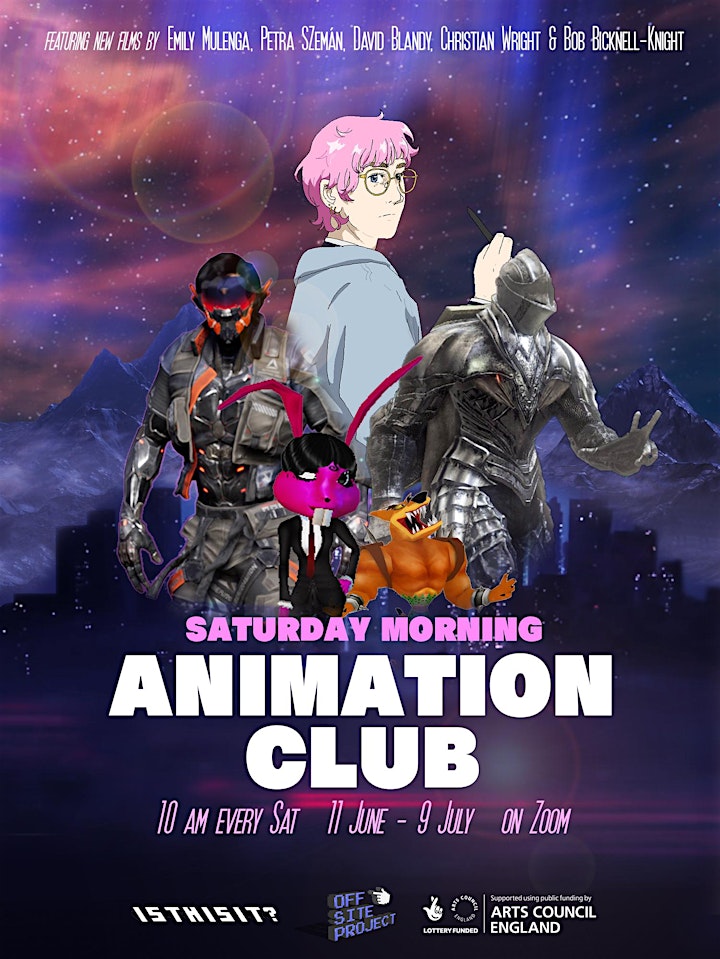 Christian Wright (b. 1993, Newcastle upon Tyne) is a digital media artist working with video games and animated assets to blend cinematic and machinima visual languages. Through this frame, he looks at how the boundaries of normal play are stretched by the performative actions of players themselves. Whether it be the intimate physical interactions of online multiplayer, the choreographed quest for perfection of speedrunning, or the mimetic act of digital cosplay within character creators, Christian places community driven gestures at the forefront.