Saturday Morning Animation Club presents a screening of 'Main Character' by Emily Mulenga.
About this event
Saturday Morning Animation Club presents a screening of 'Main Character' by Emily Mulenga, followed by an artist's walkthrough and Q&A with the audience.
Showcasing five films by people who wield the dual powers of being an artist and a nerd, Saturday Morning Animation Club is a celebration of anime, games and the perspectives fandom allows for. Refusing to downplay their enthusiasm each artist takes us through iterations of animatic worlds, on- and off-screen, with or without player input.
Screening #1: 'Main Character' by Emily Mulenga
'Main Character' centres around the Bunny as she experiences the abrupt end of her relationship, set against the backdrop of her life in a cyberpunk city and her evening gig as a singer. Whilst the event tears a hole in the fabric of her reality, it leads to reflections on the nature of being and what can be discovered underneath surface appearances. Flipping between 3D visuals, 2D animation and live action footage, Emily's film takes inspiration from cartoons, video games and music videos as means to navigate the character's relationship to life.
Other screenings (10am weekly):
Saturday Morning Animation Club is produced in collaboration with isthisit? and Off Site Project. Attendees of all five screenings will be rewarded with a special prize.
Videos were commissioned using funding from Arts Council England as part of On Animatics, a cross-disciplinary project exploring the murky overlapping areas of contemporary art, animation, fandom, avatars and virtual worlds. To conclude the project, the book WEEB THEORY will be released later this year with Banner Repeater, edited by Petra Szemán and Jamie Sutcliffe.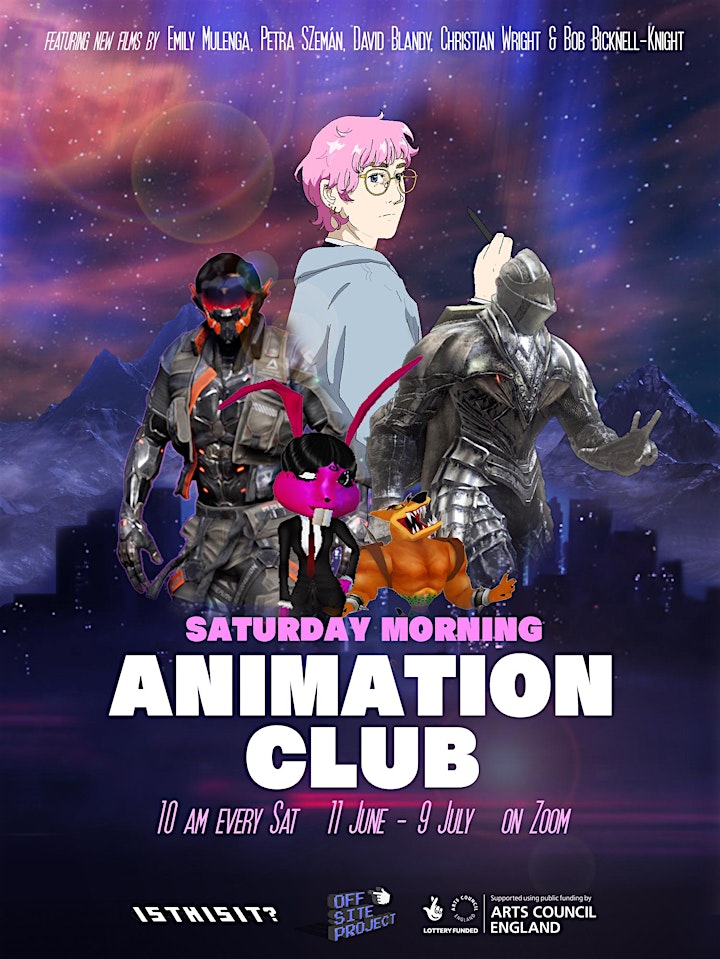 Emily Mulenga (b. 1991, England) is a multimedia artist who imagines what a digital utopia might look like from a feminist and milennial perspective. Her output is the result of a ravenous media diet, blending the high polish aesthetics of MTV with the jagged polygons of early PlayStation games; mixing YouTube video conventions with lo-fi social media posts of her online contacts. Contributing to the excessive circulation of digital matter, she considers how the blurring between human and machine changes experiences of womanhood, and how becoming cyborg is both a fantasy and reality, the future and the present.