Saturday Morning Animation Club presents a screening of 'Non-Player Character' by Bob Bicknell-Knight
About this event
Saturday Morning Animation Club presents a screening of 'Non-Player Character' by Bob Bicknell-Knight, followed by an artist's walkthrough and Q&A with the audience.
Showcasing five films by people who wield the dual powers of being an artist and a nerd, Saturday Morning Animation Club is a celebration of anime, games and the perspectives fandom allows for. Refusing to downplay their enthusiasm each artist takes us through iterations of animatic worlds, on- and off-screen, with or without player input.
Screening #5: 'Non-Player Character' by Bob Bicknell-Knight
A looping CGI video, Bicknell-Knight's 'Non-Player Character' explores the NPC as a vehicle by which we can understand human navigation of an increasingly codified and controlled existence. Controlled by the AI software, NPCs have predetermined sets of behaviours. Doomed to repeat the same day their lives revolve around the player, waiting for interaction. Bicknell-Knight's film images what enemy NPC are thinking and feeling, forced to be defeated over and over, until their data becomes unreadable. In turn the player is asked to question their own personal version of the creator and ruler of their universe.
Other screenings (10am weekly):
Saturday Morning Animation Club is produced in collaboration with isthisit? and Off Site Project. Attendees of all five screenings will be rewarded with a special prize.
Videos were commissioned using funding from Arts Council England as part of On Animatics, a cross-disciplinary project exploring the murky overlapping areas of contemporary art, animation, fandom, avatars and virtual worlds. To conclude the project, the book WEEB THEORY will be released later this year with Banner Repeater, edited by Petra Szemán and Jamie Sutcliffe.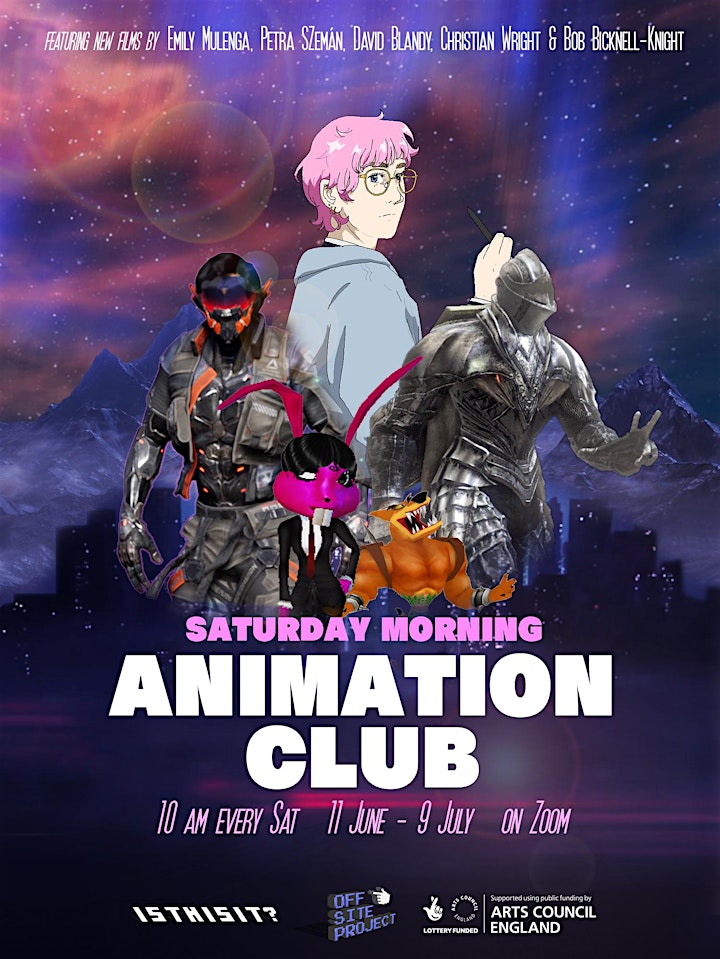 Bob Bicknell-Knight (b. 1996, Suffolk) is a multidisciplinary artist, curator and writer influenced by surveillance capitalism and responding to internet hyper consumerism, automation and technocratic authoritarianism. Within his practice he harnesses different processes and materials to create both physical and digital artworks, including fabric printing, painting, ceramics, bookmaking, 3D printing technologies and game development software. Key subjects of investigation include our complicity with corporate giants, the sculpting of online identities and the prescient qualities of dystopian science fiction.