Saturday Morning Animation Club presents a screening of 'Openings !!!' by Petra Szemán
About this event
Saturday Morning Animation Club presents a screening of 'Openings !!!' by Petra Szemán, followed by an artist's walkthrough and Q&A with the audience.
Showcasing five films by people who wield the dual powers of being an artist and a nerd, Saturday Morning Animation Club is a celebration of anime, games and the perspectives fandom allows for. Refusing to downplay their enthusiasm each artist takes us through iterations of animatic worlds, on- and off-screen, with or without player input.
Screening #2: 'Openings !!!' by Petra Szemán
Other screenings (10am weekly):
Saturday Morning Animation Club is produced in collaboration with isthisit? and Off Site Project. Attendees of all five screenings will be rewarded with a special prize.
Videos were commissioned using funding from Arts Council England as part of On Animatics, a cross-disciplinary project exploring the murky overlapping areas of contemporary art, animation, fandom, avatars and virtual worlds. To conclude the project, the book WEEB THEORY will be released later this year with Banner Repeater, edited by Petra Szemán and Jamie Sutcliffe.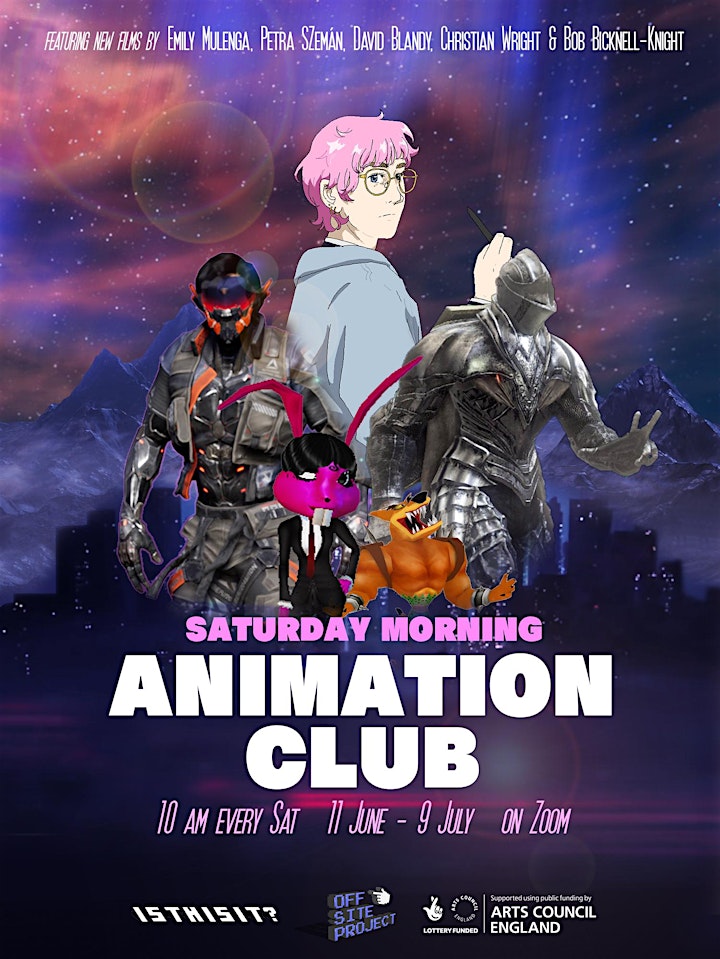 Petra Szemán (b. 1994, Gateshead) is a moving image artist whose practice focuses on the murky borderlands along the arbitrary separation of the real and the fictional. Using a virtual version of themself as a protagonist journeying through animatic realms, they explore liminal spaces and threshold situations, looking to dissect the ways our memories and selves are constructed within a fictionally oversaturated landscape (both on- and off-screen). Turning away from considering cyberspace as a radically 'other' realm, Petra walks the line between dystopian and utopian frameworks, eyes set on new queer horizons.