Description
This is a guided 5Rhythms Wave, beginners and experienced movers welcome alike.

Due to the Covid-19 spatial distancing, this is now online.
Please register for this event: https://zoom.us/meeting/register/u50rcu6qqDwtlDXlj5no0cGBHDxH7Yhz6A
What is an online class?
We will use Zoom, it can be accessed from a computer, iPad or iPhone. If you have a computer, choose that over the iPad or iPhone, not only will the sound be better but also you can interact more and see more of others.
At the beginning of the class time, click the Zoom Meeting ID (further down in this email)
This will take you to a window where each of us can see each other in a grid on the computer. This link takes you to a short video introduction to joining a Zoom Meeting: https://youtu.be/hIkCmbvAHQQ

The class time is 7.30–9.30pm.
Come at 7.15pm to settle in, especially if you are new to this technology to make sure your video and audio is working.

What do I need?
✧ You'll need a computer, ipad or iphone, a good internet connection. If you have speakers, plug them in.
✧ Some space to dance. Clear a space, you might make it lovely with candles or artwork or whatever makes it feel welcoming for you. If you are in a shared space you might find a room to yourself so you can dive into your own dance unselfconsciously. Or invite your friends/family to join you.
✧ Minimise other distractions (doorbell / washing-up / notifications) so that you can be as present in the dance as possible.
✧ Wear comfy clothes to move in (yes, even pj's!)
✧Perhaps bring some water or a cup of tea.
✧Perhaps bring a blanket to wrap yourself up after dancing. The last half an hour of the class will be check-in talking, bring something to keep warm.

How do I pay for this class?
If you can pay the normal cost for the class, £12¬–£16 then please do. Many of us are financially hard hit during this Pandemic. I'd rather you came and danced, however that would be possible for you. You to choose if or how much you pay. To pay, please paste this link into your browser:
paypal.me/SarahDanceDavies
What will happen?
We'll begin with a short orientation to Zoom, to settle into the technology.
There will be a warm-up, an introduction to the dance and then we'll go into the Wave: Flowing, Staccato, Chaos, Lyrical and Stillness. After dancing we'll have check-in in small groups and we'll be finished by 9.30pm.
Will it be recorded?
No, this is an in-the-moment event.
Can I invite someone who hasn't come to the class but wants to dance?
Yes you can, all who want to dance are welcome, please forward them the registration link: https://zoom.us/meeting/register/u50rcu6qqDwtlDXlj5no0cGBHDxH7Yhz6A

I might be late, can I still join?
Please be there on time. You can arrive 15 mins early, from 7.15pm so that we're all ready by 7.30pm. Please stay to the end of the session if you can. Your presence really makes a difference.
I hope this will be a way we can continue to dance, connect and be creative in these unpredictable and unprecedented times.
The information below is relevant when we're back in our gorgeous venue. ---->

Come and spread your wings in the huge and lovely gym at Michael Hall School. It is a glorious space, a great group that has built up over many years. Join us!
To see what others have said see our video here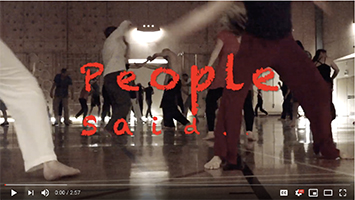 1st Saturday of the Month
7.30–9.30pm (doors open 7.15, class starts at 7.30, doors closed 7.45)

Cost: £16 / £14 / £12 - early purchase is cheaper.

The Gym, Michael Hall School, Kidbrooke Park, Forest Row RH18 5JA. Parking is plentiful, it is easy to find the gym door from the car-park.

These are all drop-in classes. No need to book. Just come along.

Wear comfortable clothes to move in. Dance barefoot or in soft-soled indoor shoes.
Date and Time
Location
Refund Policy