Event Information
Location
FREE DIAL-IN-NO: 03309981261
ACCESS CODE: 301993
Description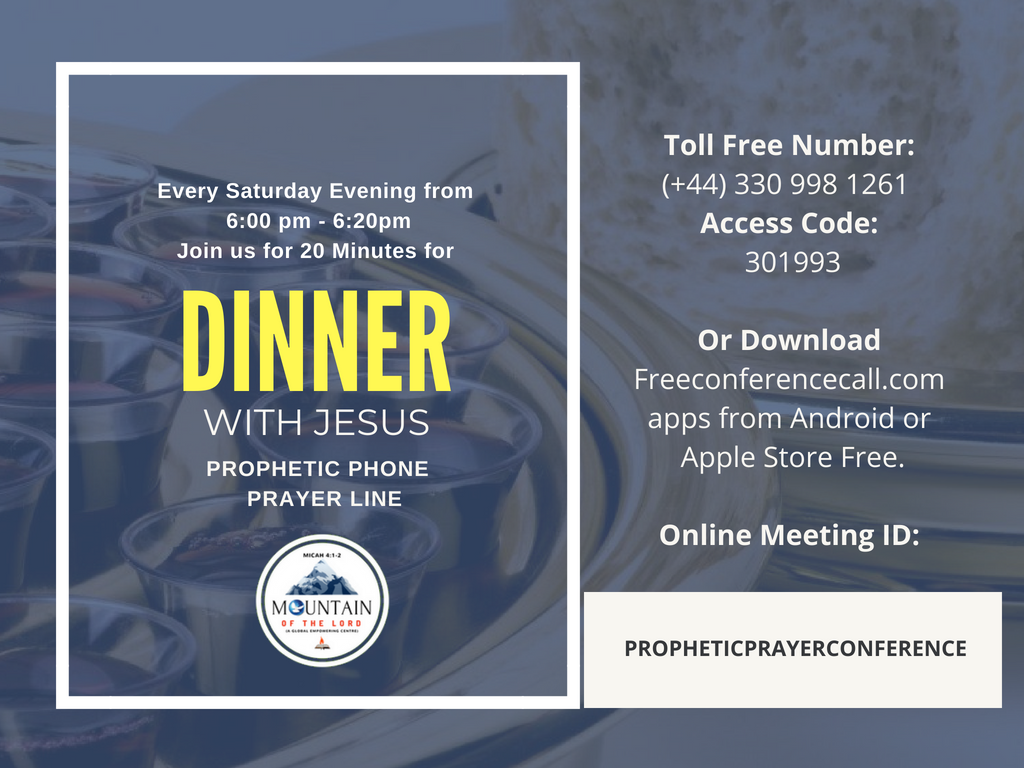 Do you believe in the Power of Prayer and Need a place

to Fellowship with God Intimately?

Do you seek to Rekindle the Holy Fire of God in your life?

Do you seek Divine Strategies, Prophetic, Insights,

and Directions?

Our Prayer Mountain is open and invites Everyone to join us and spend some quality time with God.
ABOUT US:
Our Prayer Mountain is established under the Divine instruction of God, with a vision of it being a 'House of Prayer' (Isaiah 56:7) for all nations to come in and encounter with God's miraculous power, like those in the Bible; either on Individual basis, or for National growth and the Global Revival of the Church.
WHAT WE DO!
Our Prayer Mountain provides an atmosphere of Praise, Worship, and Prayer. At our meetings; Blind eyes are open, the Deaf hear, the Dumb speak, the lame walk, Financial Breakthroughs are obtained, the sick are healed, broken hearts are mended, hope is restored, faith is ignited, Prophecies are fulfilled... in God's presence.
DO YOU NEED DEDICATED PRAYER PARTNERS?

We invite you to join us every Saturday Evening @ 7:00 pm Prompt on the Prophetic Prayer mountain where our Intercessors and prophets team will minister to your individual need.


HOW TO JOIN
Dial Number: 03309981261
Access Code: 301993

or Download
(freeconferencecall.com apps)
from the android store or Iphone store Free

or Visit website
www.global-empowering-center.org
Click: Join Prayer Mountain

Please use Meeting ID: propheticprayermountain
Location
FREE DIAL-IN-NO: 03309981261
ACCESS CODE: 301993