Discover how to make your very own krauts and kimchi, giving you the confidence and knowledge you need to explore the world of fermentation!
About this event
FERMENTATION IS FUN!!
We know it, we love it and we want to pass on the bug to you. In this 2 hour workshop we'll power through two different veggie ferments: sauerkraut and kimchi.
This workshop will give you the know-how so that you can experiment at home with your very own krauts and kimchis, safe in the knowledge that you know what you're doing. We'll make sure of that ;)
Fermentation is also a delicious and nutritious way to use up spare fruit and veg. You'll learn how you can make the most out of precious food, by providing another tool in the fight against food waste!
WHAT DO I BRING..?
Nothing! Well maybe some clothes - knives and nakedness tend not to mix...
Seriously though, we'll provide you with everything you need (including some tasty samples to try mmm)
WHERE IS IT HELD?
We'll be holding the workshop out of the charity CFINE's excellent community kitchen (Cook at the 'Nook), which just so happens to be Crafty Pickle HQ - how handy!
WHAT DO YOU GET?
- Expert instruction and guidance on how to produce your own sauerkraut and kimchi at home, safely and effectively.
- Tastings of Crafty Pickle Co. fermented foods (and more!)
- Knowledge of fermented foods by nutrition professionals! We both have an MSc in nutrition and are Registered Associate Nutritionists. We are here to explain why fermented foods can be so good for us, how they can be included in a healthy balanced diet and what the current science says about these foods.
- To bring home a jar each of your very own, handcrafted sauerkraut and kimchi!
See you there!
With Kimchi & Kisses,
Madi & Arthur - The Crafty Pickle Co.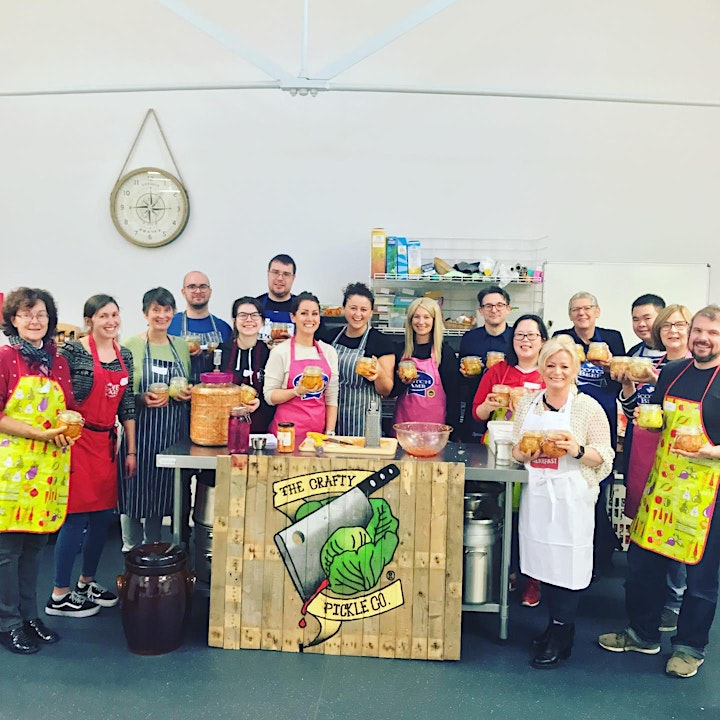 Organiser of Sauerkraut & Kimchi Master Class with The Crafty Pickle Co.
We handcraft kick-ass, gut healthy live fermented food products in Scotland. We have a mission to reduce food waste by using as much PERFECTLY EDIBLE, imperfect, surplus produce as possible to create our raw, vegan, naturally nutritious fermented food products. 
A percentage of ALL sales goes to addressing food insecurity. As a couple of fermentation-crazy nutritionists we also love to teach the powerful skill of fermenting through workshops and events!
#FermentsFightingFoodWaste