5x LIVE 20-minute trainings, where I'll help you to create a customised and actionable plan to get more done, save time and reduce stress.
About this event
Starting on 6th June, I'm hosting 5x LIVE 20-minute trainings, Each day introduces a few simple actions, which gradually allow you to improve your results, your relationships, take away stress and increase your wealth.
It's amazing what you can achieve in such a short space of time!
You'll also get access to your editable Challenge Workbook right away to keep track of everything in the challenge and help you to optimise your results.
"If I realised how simple this would be I would have done it years ago..."
Join the 5-Day Challenge for zero-cost! You have nothing to lose: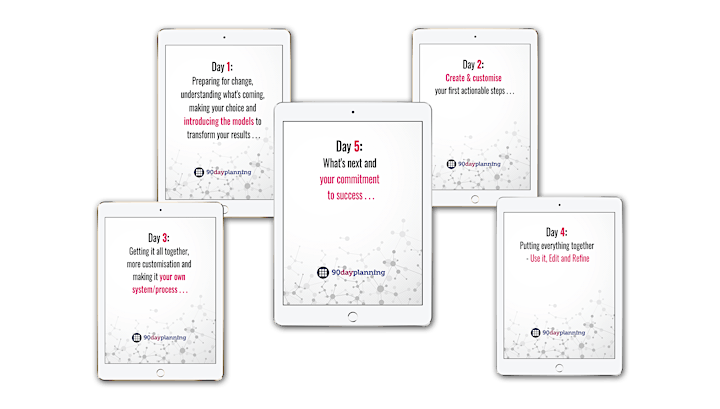 5 short sessions to give you a BIG win...
in your business and your life!
Choose just ONE area you WILL IMPLEMENT in your business and life and by the end of the 5-days, you're going to be ready to unleash your genius and truly be unshakeable!
TIME -
Default Diary
Create yours, to save time, be in control and manage your focus better. Get it up and running and working for you. Create some time for you and more consistency. Get clear on what REALLY has to happen in your business and where it fits in your week/month.
GOALS -
Stairway to Heaven
Create yours, get clarity around your timeframe, your outline plan and what goes where on the timeline from NOW to FUTURE. Giving you a visual plan you can create to suit you and share with others if you choose to!
MONEY -
Checklist For Control
Even if the bookkeeper is YOU - this will simplify things, save you time and mean you're in control of your finances - with a one page plan for a full year of financials. You'll know ahead of time what is due and when. Puts you in the driving seat with your accountant/bookkeeper - THEY need this too, trust me.
+ BONUS Training LIVE On
Monday 6th June @ 2PM - 3PM (UK Time)
+ Free Business Support & Resources
Just Give Me 5-Days If You're Ready To Go From...
Confusion to Control
Chaos to Calm
Overwhelm to Focussed
​Unclear to Clarity of Your Next Step
​Scattered to Success
​Overcome your self-sabotaging habits, create change and become unshakeable...
Join now below!