Description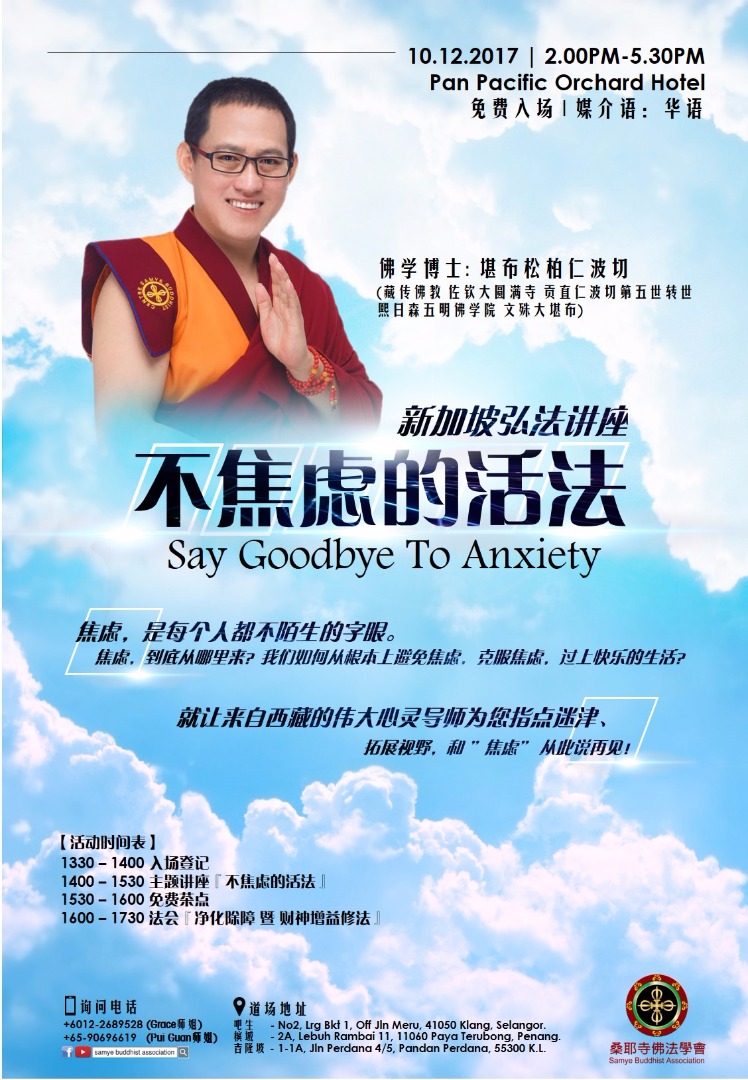 佛学博士:堪布松柏仁波切
(藏传佛教 佐钦大圆满寺 贡直仁波切第五世转世 熙日森五明佛学院 文殊大堪布)
✨新加坡弘法講座【不焦虑的活法 Say Goodbye to Anxiety !】✨
焦虑,是每个人都不陌生的字眼。
今天,在繁忙的生活中,压力、疲劳、挫折、迷茫,容易使我们陷于焦虑,身心疲惫。我们生活在一个越来越没有安全感的世界,担心工作,担心健康,担心老无所依。我们的焦虑似乎总是有理由,我们的焦虑又似乎总是没来由。焦虑,到底从哪里来?我们如何从根本上避免焦虑,克服焦虑,过上快乐的生活?
焦虑并不可怕,关键是怎么对待。就让来自西藏的伟大心灵导师为您指点迷津、拓展视野,让焦虑和烦躁等负面情绪一扫而空,和 "焦虑" 从此说再见!
Am I worrying too much? How can I get rid of anxiety attacks? Being able to say goodbye to anxiety is something that we aspire towards in our daily life. But how can we actually make it?
This will be an invaluable dharma talk that you should not missed in Singapore! A talk that explains why people experience anxiety and simple steps that can be used to deal with daily anxiety attacks!
Grab your ticket for super limited seats now!