SBI invites you to join us to discuss pressures on our Health & Care system and the role of Innovation in bridging funding gaps.
About this event
South Bank Innovation invites you to join us for three consecutive evenings of conversation, opinion, and debate.
South Bank Innovation connects businesses to academia and facilities with the aim of providing solutions to global issues. We specialise in Health Tech, Clean Tech, Food Tech and Economic Regeneration through training and education.
To reflect our expertise, we're holding a three-day virtual summit to provide audiences with deeper contexts about global and regional issues: The wealth divide between London and surrounding regions; Pressures on the health & social care service; and the fight against climate change.
Day 2, Wednesday 1 December 2021, discusses "Innovation, Health and Wealth – can technology enable a fairer healthcare system for all?"
Chair: Professor Nicola Thomas, LSBU
Professor Nicola Thomas has over thirty years experience in clinical practice, education, quality improvement and research. She has a BSc (Hons) in Nursing, a Masters Degree in Education and a Doctorate in Professional Practice from City University London. She started at LSBU in March 2013 in the School of Health and Social Care, where she teaches kidney care to undergraduate and post-graduate students, and also research methods to Masters and Doctoral students. She is Director of Post-Graduate Research and a member of the School's Research Ethics Committee.
Over many years she has undertaken teaching, quality improvement and project work for the NHS, Higher Education and third sector. She has a particular interest in the management of early kidney disease in primary care, especially self-management and shared decision making.
Professor Thomas has an honorary nurse consultant post at Barts Health NHS Trust where she is involved in educating patients and staff within the East London Community Kidney Service. She has spent many years working within three national quality quality improvement projects managed by Kidney Research UK and has expertise in Improvement Science methods. She is also has a special interest in user (patient) involvement in health care research and education.
Keynote: Hassan Chaudhury, Global Digital Health Specialist – Healthcare UK, Department of International Trade, and Director, Vita Healthcare
Hassan's background is in leading, implementing and evaluating system change in health and care across social work, informatics, NHS commissioning and public health. He later co-founded an award-winning start-up in real world health analytics, which served more than half of the top 100 global life science firms. He held CIO and Chief Commercial Officer positions before its sale to CorEvitas and his exit in 2019.
He now holds a prestigious role as the Global Digital Health Specialist for Healthcare UK, which is a joint initiative of Department of Health and Social Care, NHS England and the Department for International Trade (DIT) where he supports other nations and health systems to adopt technology to drive towards higher efficiency and better outcomes.
Hassan is advisor to a range of healthtech scale-ups and is also Commercial Consultant for Great Ormond Street Hospital for Children, a mentor at SimDH at London South Bank, KQ Labs at The Francis Crick Institute and the NHS Innovation Accelerator, an Editorial Board member of the International Journal of Digital Health, a member of both the HIMSS Innovation Committee and The Institution of Engineering and Technology (IET) Healthcare Sector Exec Committee, co-Chair of the Diversity Interest Group of the PM Society and holds an Honorary Research post at Imperial College London
Panel Members:
Sarah Bruce-White, Partnerships & Programmes Lead – MedCity
Sarah drives MedCity's Investment Hub activities, helping life sciences SME's with commercial strategy and raising investment, connecting entrepreneurs with early-stage seed and Series A finance through a range of activities.
With a strong commercial background in the start-up environment- having launched medical device companies internationally and successfully bought new products to market, Sarah's expertise encompasses successfully raising investment, developing teams, market access, IP, clinical trials, evidence generation, regulatory knowledge and distribution networks. Passionate about using this expertise to help companies and the ecosystem grow.
MedCity is the cluster organisation for the world-leading health and life sciences sector in London and the Greater South East of England. They were set up in 2014 by the Mayor of London and the region's Academic Health Science Centres to drive growth and investment in the sector for the health and wealth of the population.
Tim Andrews , Co-Founder and Chief Operating Officer - ORCHA
Orcha enable safe adoption of digital health technologies, which are unregulated in many places around the world. Orcha is a global leader in providing access to trusted technologies, and have been part of the NHS' Innovation Accelerator.
Tim is the co-founder of ORCHA and Chief Operating Officer, as well as spokesperson on regulation, security and accreditation in the world of digital health. Amongst many senior roles he has held, Tim is former Managing Director of the NHS Cheshire & Merseyside CSU. Tim is also a coach and mentor for the NHS England Clinical Entrepreneur Programme.
Adrian Signell - Creator Fund
Adrian is a Student Investment Partner at Creator Fund and a current PhD student at King's College London in virology and genetics. At Creator Fund, he focuses on the life sciences, biotech and healthcare sectors, and recently led the fund's investment in a startup creating mutation-proof vaccines. In the past he has worked with the NHS to develop COVID-19 testing and currently holds a governance role at King's College London.
Creator Fund invests in Deep Tech startups coming out of Europe's leading universities. We have trained teams of PhD students across 28 universities to find innovation early inside laboratories and classrooms, and we then support student and academic founders to scale.
Creator Fund is backed by Eric Schmidt's Schmidt Futures and Founders Factory, as well as 45+ LPs. We invest in transformative technology and founders with deep domain expertise. Life science and healthcare make up a significant portion of Creator Fund's portfolio, including companies using blood tests to diagnose stroke, hardware to allow the brain to control machines, and software to monitor AI-based medical imaging.
About South Bank Innovation
South Bank Innovation's Digital Health Accelerator, SimDH, which helps healthtech start-ups to fast-track development of new-to-market technology, products, processes and services.
SBI also supports the Health Systems Innovation Lab. The Lab brings clinicians, managers, professionals and citizens within a safe space for open thinking, exploring and implementing system changes that are underpinned by powerful data.
SBI Summit is a three-day event - check out day one (Levelling Up UK) and day three (Net Zero Futures) for more content!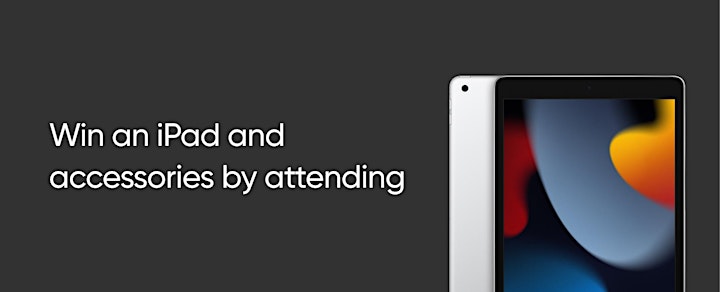 Goody Box and Prize Draw:
This summit was originally planned as an in-person event. Due to rising levels of COVID-19 we decided to move this event online. As such, we have decided to recycle our catering budget into goody boxes for attendees to enjoy at home during the event!
To receive your goody box, please ensure you leave your shipping address during check-out. Goody-boxes are limited to 50 attendees a day to avoid waste and can only be delivered within Mainland UK.
Sign-ups received past Thursday 25th November are unlikely to receive a box due logistical limits.
At the end of our SBI Summit, to thank you all for attending, we will be holding a prize draw. One of you will win the prize, which will be an iPad, Apple Pencil and iPad Case total worth £429.40 pounds.
You will be automatically entered by attending a summit event and have a chance to win a prize at our event. The draw will be at the end of the final day of our SBI Summit, on Thursday 2 December 2021.
We will identify a winner by using an email generator. See the T&Cs here.
Good luck!
Organiser of SBI Summit: Innovation, Health and Wealth
We aim to increase access to knowledge and strengthen London's local economy by providing a range of business and R&D services to local enterprises. With projects covering a range of business stages and sectors, our support ensures you can access industry-leading research and development, removing barriers to your growth.
Join us for webinars and workshops, events and networking, or to access facilities, equipment and expertise: www.sbi.business