Carmarthenshire Meadows Group's autumn and winter talks continue with 2 presentations on invertebrates associated with grassland/hedgerows.
About this Event
Research has shown that many pollinating insects have experienced a decline in recent years, with wild bees (bumblebees and solitary bees) showing among the most severe declines of any UK pollinator. To be able to effectively prevent further declines and extinctions among wild bees, and to restore sustainable populations in our countryside, more detailed data on the distribution and conservation status of our species is required.
The Searching for Scabious project, run by Buglife, and funded by the People's Postcode Lottery, aims to improve our understanding of the distribution and conservation status of some of Wales' rarest and most threatened solitary bees – the Large Scabious Mining Bee (Andrena hattorfiana) and its associated cuckoo, the Armed nomad bee (Nomada armata), and Small Scabious Mining Bee (Andrena marginata) and its cuckoo, the Silver-sided nomad bee (Nomada argentata). These species, all of which are associated with scabious-rich habitats, have declined either as a result of the loss of suitable grasslands supporting their food plants, or as a consequence of poor grassland management (e.g. overgrazing, poorly-timed grass cutting).
The Searching for Scabious project runs from 1st July 2020 to 31st November 2020. Through the project, targeted surveys will be undertaken at known and historic sites for these bees across south Wales, as well as at sites supporting suitable habitat. This will provide us with up-to-date species records and distributional data to inform management on the ground and improve the prospects of these threatened wild bees. Training workshops will also provide volunteers with the skills, knowledge and confidence to identify these bees, bringing them closer to the nature on their doorstep while making a valuable contribution to species conservation. Habitat management advice given to landowners will further help to improve the landscape for these rare bees, helping to restore and connect habitat, boosting populations.
The talk will be delivered by Liam Olds, of Buglife.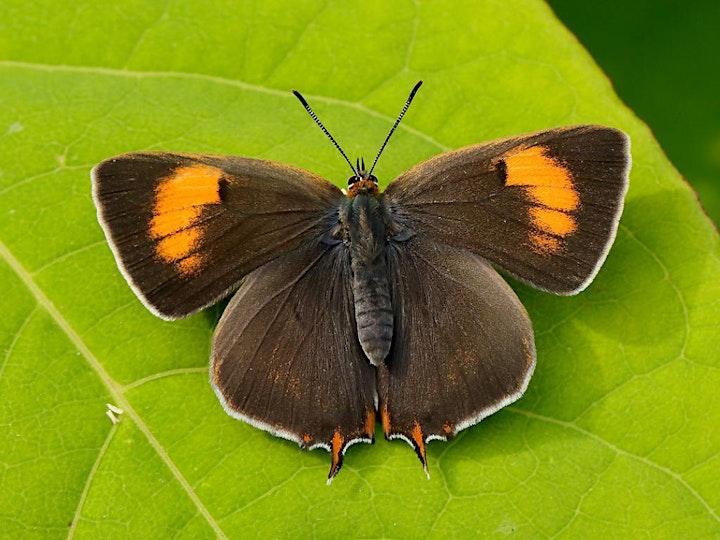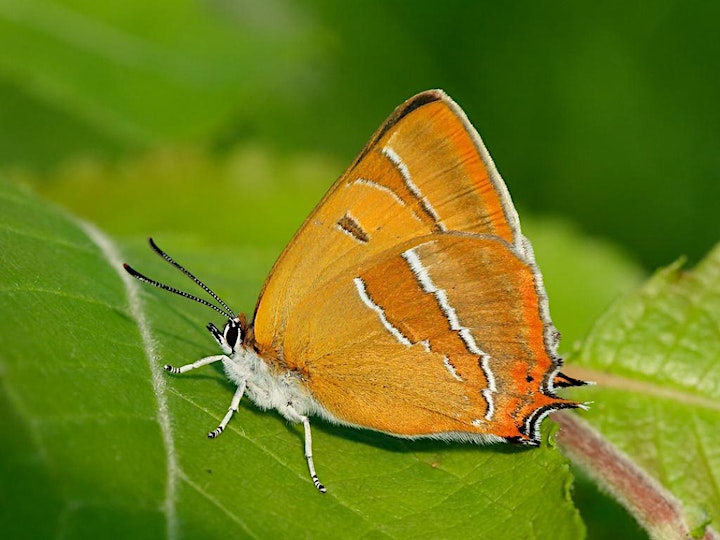 Brown Hairstreak butterflies are restricted in the UK to three main centres: south-west Wales, Devon/Somerset and Surrey/Sussex. Other smaller populations occur around Oxford and on Salisbury Plain. The butterfly often rests with its wings closed showing orange-brown underwings with two wavy white streaks and small tails. Uppersides are brown with an orange mark.
The females are most frequently seen as they disperse widely along hedgerows where they lay conspicuous white eggs on young Blackthorn shoots.
It is locally distributed in southern Britain and mid-west Ireland and has undergone a substantial decline due to hedgerow removal and annual flailing, which removes eggs. They have declined by 49% since the 1970s.
Richard Smith, of Butterfly Conservation, will show us how to search for Brown Hairstreak eggs on blckthorn during the winter.
This event will be delivered using Zoom, a popular video conferencing application similar to Skype; it's free and easy to use. You will be able to view and ask questions on the presentations from the safety and comfort of your own home. The talks will last about 1 hour, with another 30 minutes for questions and discussion.