About this Event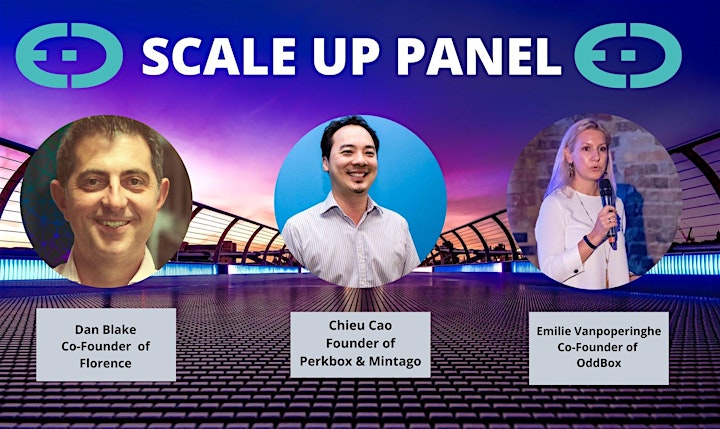 We are delighted to invite you to our Scale Up Panel from three stellar start-up founders.
All have been listed in Tech Nations as start-ups to watch. And they will be revealing the secrets on how to help your company enjoy great growth. Join us for the chance to hear about the scaling dos and don'ts, ask questions and expand your network!
Please note the ticket price also includes some delicious food and beer/wine for the evening.
Our panel:
1. Dan Blake — Entrepreneur, Start-up Coach & Board Member
After a 11-year career in banking with HSBC and Deutsche Bank, Dan Co-founded and manages Florence, an online marketplace for connecting independent nurses and care homes for ensuring shift efficiency and convenience. Florence has raised £9m from angel, seed and series A investment rounds and has grown a network of 10 000 nurses and 300 registered care homes across the UK.
2. Chieu Cao — Investor, Mentor & Serial Start-up Founder
With past experience at Amazon, Yahoo and Microsoft, Chieu co-funded Perkbox — a cloud-based HR technology platform designed to improve staff engagement and interaction between management and teams. Perkbox raised over £22m from VC, Angel and Series B investments over the years. In 2019, Chieu founded Mintago with the mission to help employees become financially happier and healthier with the help of their desktop and mobile app. Additionally, Chieu is an experienced mentor and investor, focusing on tech and social impact businesses.
3. Emilie Vanpoperinghe — Oddbox Co-Founder
Emilie is a Finance & Operations leader with more than 15 years experience in both private and charity sectors across France, India and UK. She has built, grown and led teams cross-functionally and cross-country for Fortune 500 organisations including 3M and BT. In 2016, Emilie co-founded Oddbox — London's first wonky fruit and veg box subscription scheme and serves over 8000 consumers in London.
Following the discussion, there will be a 30-minute networking session for you to connect with some of the best investors and startups.
AGENDA
6:00 – 6:30 pm || Arrive and Socialise
6:30 – 6:40 pm || Opening Remarks by Michael Blakeley
6:40 – 7:20 pm || Speaker Presentation (10-15 minutes each)
7:20 – 7:40 pm || Refreshment Break
7:40 – 8:30 pm || Round Robin Speed Networking – Elevator Pitch, ask for assistance from your peers and give back to others.
8:30 – 8:35 pm || Closing announcements
8:35 – 9:00 pm || Attendees are welcome to stay and continue conversations
At the Entrepreneurs Collective we focus on bringing together quality Founders, Angel Investors and VC's from across the start-up eco-system. Organised by lawyer, founder, investor and advisor - Michael Blakeley - our events bring together the UK's most impressive start-ups and seasoned investors. Join us for an exciting evening and make quality connections.
Please note that the network is for full-time Founders and Investors only. If you would like to attend you may register through Eventbrite for a ticket, however, this is subject to vetting. For any questions, please see our website or e-mail us.
Our Sponsors:
Studio Graphene is an agency that turns ideas into show-stopping designs, and designs into market-ready products.
Buzzacott is a Top 25 UK accountancy and HR consultancy firm with 100-year history, providing tailored expertise in audit, corporate, personal tax and VAT consulting
NC Partners is a specialist financial advisory and management company specialising in strategic investments.
Seven Legal works alongside founding teams on their journeys through funding, scaling and exiting high growth ventures with a focus on concise, pragmatic legal advice for each stage of a company's growth cycle.