Description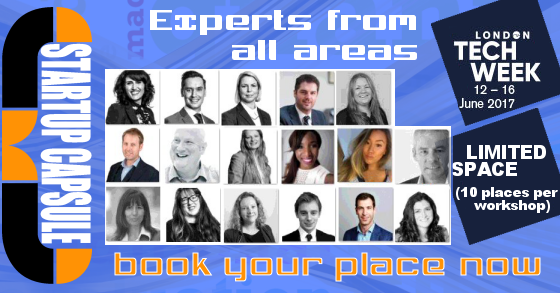 Book your interactive one hour work shop from the list below. Each one requires a min of 10 sign ups to be confirmed or we will merge them.
A lawyer & guest speaker share their knowledge and discuss your specific questions: offering you the true value of £800 worth of time & expertise, a real opportunity that should not be over looked.
Please note that these workshops have been specifically designed for those looking to Scale-up or expand their business or are seeking first or second round funding/investment.

Bring your business plan, legal documents, questions and ideas to the table to explore and progress to success. With bespoke advice.
Choose one or more of the workshops - brief listing below:
Monday 12th June:
10:00 Employment law know how & hire well for your business avoiding costly recruitment fees
12:30 Know your competition to maximize presence in the market place or attract investment
14:30 Should you be doing business with that company? Clever practices & top tips!
TUESDAY 13th June:
10:00 How to negotiate terms, jazz up & maximising your space to reduce costs
12:30 Key considerations when looking for investment or funding for your technology business.
14:30 Funding & alternative investments for your Business – understanding the options & associated risks
WEDNESDAY 14th June:
10:00 Re-branding can be costly: get your brand right and protect its value from the start
12:30 Plan now for tax efficiency, transparency with investors and to achieve your long-term goal
14:30 How to register, deal with infringement and capitalise on your IP
THURSDAY 15th June:
10:00 tba
12:30 tba
14:30 Entrepreneur Epiphanies: Great Ideas That Have Helped Tech Businesses Thrive
FRIDAY 16th June:
10:00 Specific for technology companies to understand all available option
12:30 International contracts; debt recovery and disputes overseas. Avoid pitfalls.
14:30 Wills, Trusts, Pre-nups, Tax Planning...
VISIT HERE FOR WORKSHOP DETAILS: http://www.startupcapsule.co.uk/tech-week/