About this Event
Develop a skillset that's in demand worldwide—and empower your enterprise to succeed in a disruptive marketplace—when you become a SAFe 5.0 Agilist (SA 5.0). During this two-day course, you'll learn the principles and practices of the Scaled Agile Framework® (SAFe), how to execute and release value through Agile Release Trains, and what it means to lead a Lean-Agile transformation at enterprise scale.
You will gain an understanding of the Lean-Agile mindset and why it's so effective in today's adapt-or-die marketplace. You'll also get practical advice on supporting Agile teams and programs, empowering a Lean Portfolio, building a continuous delivery pipeline and DevOps culture, and coordinating large solutions.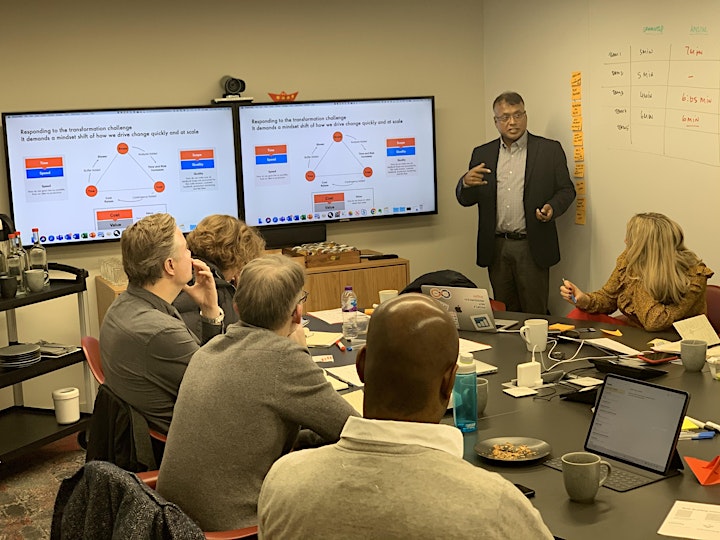 Training Topics:
Introducing the Scaled Agile Framework version 5.0 (SAFe 5.0)
Lean Portfolio Management
Organisational Agility
Continuous Learning Culture
Lean Agile Leadership
Team & Technical Agility
Agile Product Delivery
Enterprise Solution Delivery
Who Should Attend?
Executives and Leaders, Managers, Directors, CIOs, and VPs
Development, QA, and Infrastructure Management
Program and Project Managers
Product and Product Line Management
Portfolio Managers, PMO, and Process Leads
Enterprise, System, and Solution Architects
Prerequisites:
Prior to attending the course, students should familiarise themselves with the Scaled Agile Framework 5.0
Certification:
Attending this course prepares you to take the SAFe® Agilist (SA) exam in order to receive the SAFe® Agilist (SA) 5.0 certification.
Exam Details
Exam Name: SAFe 5.0 Agilist Exam
Exam Format: Multiple Choice, True/False
Exam Delivery: Web-based (single-browser), closed book, no outside assistance, timed
Exam Access: Candidates can access the exam within the SAFe Community Platform upon completion of the Leading SAFe course
Exam Duration: Once the exam begins, candidates have 90 minutes (1.5 hours) to complete the exam
Number of Questions: 45
Passing Score: 34 (76%)
Exam cost – First exam attempt is included as part of the course registration fee if the exam is taken within 30 days of course completion. Each retake attempt costs $50.
Retake policy – Second attempt on exam (first retake) can be done immediately after first attempt. Third attempt requires a 10-day wait. Fourth attempt requires a 30-day wait.
Exam Study Materials – can be viewed here on the Scaled Agile website.
Annual Renewal
Renewals are from the date of certification
Renewal fee: $100

What all is included?
The class registration includes:
Attendee workbook
Preparation and eligibility to take the SAFe® 5.0 Agilist exam
One year membership to the SAFe Community Platform
Course certificate of completion
For courses on our public schedule, refreshments before and during the course including lunch are provided.
Attendees must attend both days of the course in order to be eligible for the exam.
Scrum Education Units (SEUs)
Attendees may be eligible to apply for SEUs towards their CSP (Certified Scrum Professional) with the Scrum Alliance.
PMI Professional Development Units (PDUS)
Attendees may be eligible to apply for PDUs towards their continuing education requirements with PMILean Portfolio
Trainer Details
Rishi Raj Srivastav is a Sr. Program Director with an IT Consulting organisation with over two decades of extensive change experience, he has been an outcome focussed Business Transformation Consultant & Coach effective at helping clients transform themselves and their businesses to cope with disruptive shifts in the market and align their business strategy with the new reality.
Rishi is a SAFe, Scrum, Lean and Service Design practitioner with current & past experience in setting up and delivering large Agile programs in Financial Services and Retail domains.
For more details refer to Rishi's LinkedIn profile.
You can connect directly with Rishi above or if you have any questions about the training ask them at:
Email: info@8forwards.com
Phone: 07466982182