Description
An event helping businesses move to the next stage of growth
The independent Scale-Up Report on UK Economic Growth 2014 identified five key barriers that businesses must conquer if they are going to achieve their growth ambitions. Together with ICAEW and Scale Up Institute, Enterprise Nation will deliver this one day event that will help you as a business overcome these barriers:
Finding employees to hire who have the skills your business needs
Building your leadership capability
Accessing customers in other markets/home market
Accessing the right combination of finance
Navigating infrastructure
ScaleUp 2016 will hear from entrepreneurs like Tim Robinson, the man who drove the exponential growth of delivery solution Doddle; Simply Business managing director, Jason Stockwood who runs The Sunday Times Best Company to Work For and founder of Purplebricks.com, Michael Bruce, who will tell the story of starting and growing one of the UK's most successful online estate agencies.
There will also be a chance to hear from Enterprise Nation founder Emma Jones MBE, the government's SME crown representative.
Join us in Birmingham on 3 November to hear from top notch entrepreneurs and proven experts.
This event is powered by: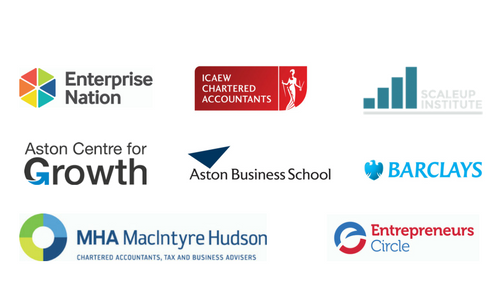 The line up:
09.00am: Registration


9.30am: Welcome from Enterprise Nation and ICAEW


9.40am: How to recruit the best staff and keep them - Jason Stockwood, CEO of Simply Business, 'The Sunday Times Best Company to Work For'
Jason believes technology and data are heradling a new era of insight into human productivity. Jason will discuss his ideas, and give examples of how Simply Business is focused on being the 'Best Place To Work' in the UK through the application of this thinking.
10.10am: How I made myself a leader
James Eder, founder, StudentBeans.com and founder of Causr
James Eder was a student at the University of Birmingham when he came up with his business idea. Setting up with his brother in 2005, James and Michael went on to build Studentbeans.com. Today they have over 50 employees. James will be sharing how he scaled his business and became a good leader, and how he's taking those learnings into his new business 'Causr'.
11.00am: Coffee


11.30am: Achieving 1,217% growth in a year; it's a Doddle!
Tim Robinson, chief executive, Doddle
Founded in the autumn of 2014 by Tim Robinson, the parcel collect and send service Doddle has done rather well. Over its 2015 peak trading period (the run-up to Christmas), it saw 1,217% growth from a year earlier and the number of MyDoddle members grew from 85,000 to 130,000. Tim will share his story of growth.
12.00pm: Show me the money!
Access to finance can be a route to growth. Hear from a panel of funders including Barclays Bank and national accounting firm, Macintyre Hudson, to explore your options and have your funding questions answered.
On the panel will be:
12.30pm: The 18 secrets that super successful business owners know and do that most business owners either don't know or don't do!
Nigel Botterill, serial entrepreneur
In this fast paced, high energy talk, serial entrepreneur Nigel Botterill, who has built eight separate million pound plus businesses from scratch in the last 10 years, will share surprising insights and techniques.


1.00pm: Lunch
2.00pm: Navigating infrastructure and building a business, one purple brick at a time
Michael Bruce, co-founder, Purplebricks.com
With a 445% increase in revenue, 120 employees and growing, Purplebricks has taken the property market by storm. The site enables users to book a property expert to come to their home, put their house on the market within 45 minutes. As well as recently launching in Australia, it aims to be the number one choice within the next five years for those selling their property. Hear from Michael on how he's built this business one brick at a time.
2.30pm: Go Global: take your business to the world
There is no better time to be exploring new trade opportunities. Hear from an expert panel on how you can expand your business to other regions of the world.
Panel with:

• Jane Matty, International Trade Adviser, Department for International Trade, Birmingham Team
• Steve Parker, ICD International Company Development Ltd
• Niamh Barker, MD, The Travelwrap Company Ltd, Enterprise Nation member and alumni of GS10Ksb
-Robbie Beak of Ammba Digital
Facilitated by Emma Jones, small business export ambassador

3.00pm: Accessing customers by building a brand
Hugh Duffie, co-founder, Sandows

In just three years, Hugh Duffie has gone from coffee shop customer to scaling the UK's first independent, bottled cold brew coffee brand. Now stocked in Fortnum & Mason, Selfridges and Wholefoods and also running their own Brewery, Sandows is growing fast. Hugh credits much of their success to a community who've helped him develop his brand from the word go. He'll be sharing his top tips for scaling a brand with help from your customers.
4.00pm: Keynote stage closing remarks
Irene Graham, CEO, Scaleup Institute
4.10pm: Break out workshops
All participants will have the choice of attending one of three interactive workshops enabling you to create an individual plan for growing your business. When purchasing your ticket, please tick the workshop you would like to attend:
How to find a more effective brand position and get noticed
Consumers now have more brands and messages fighting for their attention than ever before. To capture the attention of your customers, your brand needs to stand head and shoulders above the rest. Having worked with the likes of RBS, Adidas, Natwest and Argos, Naeem Alvi now works as a brand strategy consultant for smaller UK businesses that want to accelerate their growth. Over the course of this workshop Naeem will tell you how to find a more competitive position for your brand, and provide a workbook for you to take away and craft a more effective brand for your business.
How to excel your sales strategy
Voted one of the UK's top 10 Business Advisers, Alison Edgar is a sales expert and specialises in advising businesses on how to grow their sales. Alison's workshop will ensure you walk away with a plan of how to grow your business in the next 12 months.
Alison will be joined by 22 year old entrepreneur Simon Crowther who was a finalist in the 2016 Great British Entrepreneur Awards. Simon Crowther established Flood Protection Solutions Ltd in 2012 to become the Sole UK Distributor of the Water-Gate barrier. In 2015 he launched Skyrocket Solutions Ltd to help engineering, technical and manufacturing firms use social media marketing to increase their business exposure.
Equity Funding- what is it and how do I get it
Equity funding isn't what you think. What sort of person are you talking to when you seek the finance and what are they looking for?
Iain is a partner in Smith and Williamson and advises clients on Fundraisings, Sales and Acquisitions. In the last 18 months Iain has sold Wessex Garages, raised finance to build a car dealership in Wolverhampton, advised a financial services business on a fundraising, advised a shareholder on the sale of Local World, raised capital for a sports memorabilia business and acted for a Large European Corporate on targeting and acquiring 5 businesses.
5.00pm: Event Close
Cancellation policy
For a full refund, cancellations must be made at least 48 hours prior to the event.
About Enterprise Nation
Enterprise Nation is a small business network and business support provider with more 70,000 members. Its aim is to help people turn their good ideas into great businesses – through expert advice, events, acceleration, networking and inspiring books.
---
Please note, in the event you are unable to attend this event due to cancellation from yourself or Enterprise Nation, we are unable to refund any associated costs such as hotel or travel.