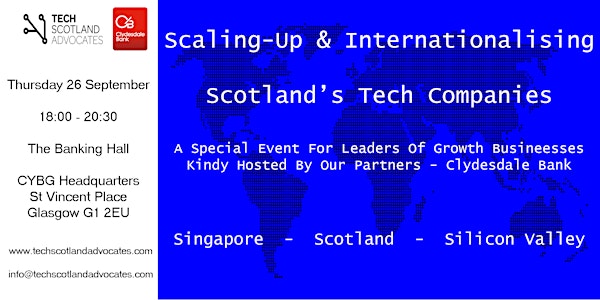 Scaling-Up and Internationalising Scotland's Tech Companies
Location
The Banking Hall, CYBG Headquarters
30 Saint Vincent Place
Glasgow
G1 2EU
United Kingdom
Sales Have Ended
Registrations are closed
Thank you for registering to attend 'Scaling-Up & Internationalising Scotland's Tech Companies' - We look forward to welcoming you on 26 September at The Banking Hall with our Partners Clydesdale Bank.
Comparing and contrasting how tech companies scale-up and internationalise in Silicon Valley, Singapore and Scotland
About this event
When it comes to encouraging entrepreneurs it's fair to say that Scotland is not short of advice and opportunities. In the past couple of decades the culture of big company dependency has been replaced by a thriving community of smaller firms, many run by incredibly talented individuals. Some have developed game-changing technology and services, and a few have helped transform the way we live. Yet it seems that not all is well in the land of entrepreneurialism.
The start-up scene in Scotland may be thriving, but the old chestnut of Scaling Up consistently remains an elusive and challenging conundrum. Despite the creation of a new industry in Scale-Up Summits, conferences, lectures and lessons in how to build and grow…we're still stuck in first gear.
The most recent ranking of high growth performance across the UK by the Scale-Up Institute, a private sector-led, not-for-profit organisation, reveals that Scotland has plunged 21 places to third from bottom. This is poor reward for a country that has come to think of itself as fertile territory for a new generation of technology pioneers and a leader in new ideas.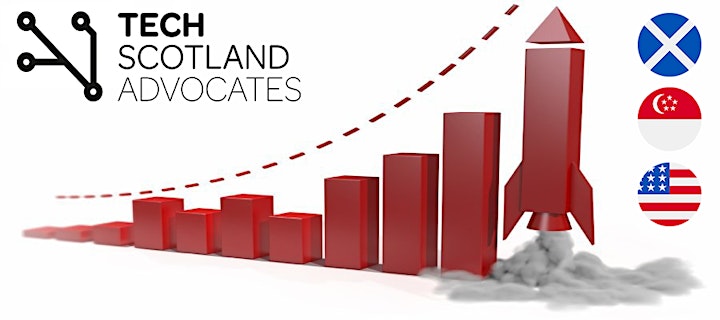 Kindly Hosted By Clydesdale Bank At Their Banking Hall Headquarters In Glasgow
Our Distinguished Panel Provide Unique & Powerful Perspectives:
SCOTLAND - Seonaidh MacDonald
Seonaidh is Chairman of EOLAS Advisory Ltd, (boardroom advisory firm), Chairman of The Lennox Partnership, (social enterprise organisation), and Chairman of Pufferfish Ltd, (digital visualization company). Until 2016 he served as CEO of mLED Ltd, a world leader in Augmented/Virtual Reality products, which he led through a hugely successful trade-sale to a global household name.
SINGAPORE - Scott Wightman
Scott has served as the British High Commissioner to Singapore until June 2019, and before that as the UK Ambassador to the Republic of Korea. He has also worked in the British Embassies in Beijing, Paris and Rome and was Director for the Asia Pacific region in the Foreign and Commonwealth Office from 2008 to 2010. Scott is the newly appointed Director for External Affairs with the Scottish Government, where his role will focus on enhancing Scotland's international relationships.
SILICON VALLEY - Tracey Ginn
Tracey heads up the USA practice at MBM Commercial, being an attorney and active member of the State Bar of California as a well as a solicitor. In addition to UK corporate investment and M+A work, Tracey's practice area includes advising on US market entry, corporate and commercial transactions, deal flow between UK/European businesses and US entities including investment rounds, joint ventures and the establishment, capital structure and shareholding arrangements of US entities and advising high growth/tech companies through all phases of growth and across a range of sectors including IT, life sciences, healthcare and e-commerce. Her key clients include UK businesses with US operations, SMEs and high growth technology companies. Having lived and worked in California for 14 years before joining MBM, Tracey retains strong links with her US clients and her US legal networks.
Scotland's leading women in business will interview our panellists in three fireside chats, ahead of Q&A from our guests.
Networking over refreshments and canapes will follow formal proceedings.
Images may be captured during events organised and/or hosted by Tech Scotland Advocates using film photography, digital photography, video or other medium. TSA reserves the right to use the images captured in any brochures, booklets, videos, websites or other media and publicity material produced by TSA.
TSA informs everyone taking part in a TSA event that they may be photographed, filmed, videoed or otherwise captured in image form.
Where possible and practical to do so, TSA will seek written consent to image capture. However, where this is not possible for practical reasons, unless express objections are received, individuals attending an event are deemed to have given their consent by attending or remaining at the event.