Part of the UK-Bangladesh Climate Partnership Forum virtual series
About this Event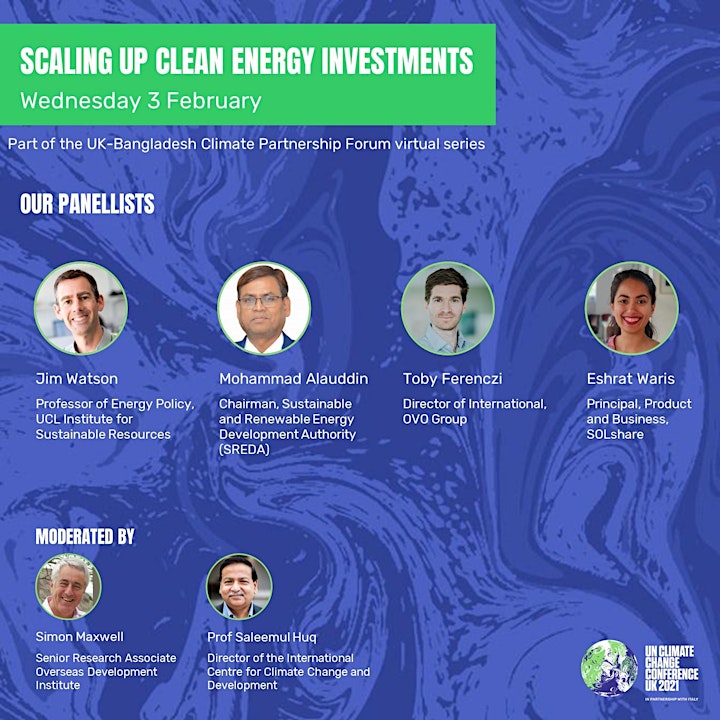 Bangladesh has the highest Off-Grid Solar PV Access Rate in the world which has been important in ensuring last mile energy access in rural areas. There has also been a rapid uptake of Solar Home Systems serving around 18 million people, and the Government of Bangladesh plans to deploy 50,000 solar pumps by 2025. Hydro, solar, wind, and other sources of renewable energy generation capacity are expected to grow at an average rate of 6.5 percent per year to 2041 and IFC estimates an investment opportunity of $3.2 billion in Bangladesh's renewable energy sector to 2030.
The UK recently announced an ambitious ten-point plan for a green industrial revolution which will mobilise £12 billion of government investment to create and support up to 250,000 highly-skilled green jobs in the UK, and spur over three times as much private sector investment by 2030. The UK has the world's largest offshore wind portfolio and with well over a decade of commercial deployment, UK companies are uniquely well placed to bring this learning to emerging markets.
A panel of experts from the UK and Bangladesh will give insights on clean energy development in both countries followed by a moderated discussion with questions from the audience.
This event is part of the UK-Bangladesh Climate Partnership Forum virtual series which is building momentum on the journey to COP26. Watch previous sessions and download resources.
If you are unable to attend this event but would like to receive updates about the series, sign up for updates
More details on speakers at the bottom of the page
Programme
Introduced by Robert Chatterton Dickson, British High Commissioner in Dhaka
Moderators
Professor Saleemul Huq and Simon Maxwell
Opening remarks
Ken O'Flaherty, UK government's Regional COP26 Ambassador for Asia-Pacific and South Asia
Mr Ahmad Kaikaus, Principal Secretary of the Prime Minister's Office Bangladesh
Case studies
Moving away from coal to cleaner power sources: the UK experience - Jim Watson, Professor of Energy Policy, UCL Institute for Sustainable Resources
Scaling up clean energy in Bangladesh - Mr. Mohammad Alauddin, Chairman SREDA (Sustainable and Renewable Energy Development Authority)
Increasing access to renewable electricity and smart home products that help households to save energy and lighten their carbon footprints in the UK - Toby Ferenczi, Director of International, OVO Group.
The solar power industry in Bangaldesh: innovative approaches and what next? - Eshrat Waris, Principal, Product and Business, SolShare
About the UK-Bangladesh Climate Partnership Forum virtual series
This virtual series creates an opportunity to advance the climate agenda in the journey towards COP26 and beyond by bringing together experts and leaders from Bangladesh and the UK.
It will help to identify innovative ideas, partnerships and initiatives between Bangladesh and the UK, and further strengthen collaboration between the two countries by catalysing climate action and building a community of practice.
Each event will be structured around one of four key COP26 themes: adaptation and resilience, nature, clean energy and finance, and will feature a select panel of experts from Bangladesh and the UK, providing an opportunity to share knowledge and experience on tackling climate change.
COP26
The UK will host the 26th UN Climate Change Conference of the Parties (COP26) in Glasgow in November 2021. The climate talks will be the biggest international summit the UK has ever hosted; bringing together over 30,000 delegates including heads of state, climate experts and campaigners to agree coordinated action to tackle climate change. In its role as president of the Climate Vulnerable Forum, Bangladesh will be representing more 1.2 billion people living in 48 of the world's most climate vulnerable countries at COP26.
Speaker profiles
Jim Watson is Professor of Energy Policy and Research Director at the Institute of Sustainable Resources, University College London (UCL). He was previously Research Director and Director of the UK Energy Research Centre from 2013 to 2019, and Director of the Sussex Energy Group, University of Sussex from 2008 to 2013. He has over 20 years' research experience on climate change, energy and innovation policy. He frequently advises UK government departments and other organisations, and has been a Specialist Adviser with three UK Parliamentary committees. He also has extensive international experience, including over ten years working on energy scenarios and energy innovation policies in China and India and a period as a Visiting Scholar at the Kennedy School of Government, Harvard University. He is a judge for the Queens Awards (on sustainable development), an executive committee member of the Tyler Prize for Environmental Achievement, and chair of the technical advisory group to the World Bank Energy Management Assistance Programme (ESMAP).
Mohammad Alauddin is Chairman of Sustainable and Renewable Energy Development Authority (SREDA). As a career civil servant, he served in different ministries and divisions and in various capacities of field administration. Mr. Alauddin received his B.Sc. Ag. (Honours) degree from the Bangladesh Agricultural University and Masters in Public Affairs (MPA) with specialization in Governance and Public Policy from the Civil Service College, Dhaka (CSCD). He also worked as a part-time faculty at CSCD and at the Asian University of Bangladesh. He drives the initiatives of the International Renewable Energy Agency and International Solar Alliance in Bangladesh.
Toby Ferenczi is Director of International at OVO Energy.  OVO is one of the world's largest energy retailers providing power and gas to 7.8 million customers in the UK, France, Spain and Australia.  OVO is also a provider of software systems to utilities globally.  Toby has a PhD in solar energy from Imperial College London, and a BA and MSci in Physics from Cambridge University. His previous roles have included working as COO and MD of VCharge, and CEO of Hanergy Solar UK. During his time at Hanergy, Toby launched a partnership with IKEA, making it possible to buy PV through its stores in four countries. He also has experience in working for General Electric in renewable energy.
Eshrat Waris is a Principal at SOLshare, a peer to peer energy trading startup serving off-grid rural communities. SOLshare interconnects standalone solar home systems and unlocks untapped clean energy to power local economic development. Previously she led the team at BRAC that deployed technology products to empower field staff with actionable insights and address youth labour market gaps. She pursued her graduate studies from Johns Hopkins School of Advanced International Studies.
Prof. Saleemul Huq is the Director of the International Centre for Climate Change and Development (ICCCAD) at Independent University, Bangladesh (IUB) since 2009 and Senior Fellow at the International Institute for Environment & Development (IIED) in London. He is also Senior Advisor on Locally Led Action, Global Centre on Adaptation (GCA) and Advisor of Climate Change Programme at BRAC. Before that Prof.Huq was the Director of the Climate Change Programme at IIED and founding Executive Director at the Bangladesh Centre for Advanced Studies (BCAS). He has worked extensively in the inter-linkages between climate change (both mitigation as well as adaptation) and sustainable development, from the perspective of the developing countries, with special emphasis on least developed countries (LDCs). He has published numerous articles in scientific and popular journals, was a lead author of the chapter on Adaptation and Sustainable Development in the third assessment report of the Intergovernmental Panel on Climate Change (IPCC), and was one of the coordinating lead authors of 'Inter-relationships between adaptation and mitigation' in the IPCC's Fourth Assessment Report (2007). He has been named among the "World's 100 Most Influential People in Climate Policy for 2019" for making a positive difference by The Apolitical, a London-based public servants' networking group.
Simon Maxwell is an economist who began his career working in Kenya and India for the UN Development Programme, and then in Bolivia for the UK aid programme. He was a Fellow of the Institute of Development Studies in Sussex from 1981-1997, and was Director of the Overseas Development Institute from 1997-2009. Since 2009, he has been Executive Chair of the Climate and Development Knowledge Network (2010-17), and Specialist Adviser to the International Development Select Committee of the UK House of Commons (2010-17). He is currently on the Steering Committee of the annual UN Environment Emissions Gap Report. Simon is a past President of the Development Studies Association of the UK and Ireland. In 2007, he was awarded a CBE for services to international development. He writes extensively on development policy. In January 2016, Simon delivered the Anniversary Lecture of the Centre for Policy Dialogue in Dhaka, on the topic of 'Climate Compatible Development: Pathway or Pipedream'. For further information, see www.simonmaxwell.net.