Description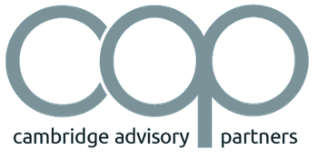 Scaling Up? Yes, You Can
Cambridge Advisory Partners (CAP) are delighted to invite you to a breakfast event on Friday December 15th at 8.30am.
At this event, our CEO and Founding Partner, Stephen Warburton will share his insights on the challenges that businesses face when accelerating growth…from the strategic to operational whilst optimising profitability.
"I am often asked questions with a common thread from entrepreneurs and business decision makers relating to concerns such as "no one can do it as well as me", "how can I protect the fruits of my labour", and "how can I make best use of my time?"
As well as answers to these; here is what you can also expect from this complimentary session: I will help you to do the 'can-can' with "the Devil", understand what my "unique contribution" test can do for your business and how you can seize the day… today. I look forward to meeting you"

You can with CAP
For aspirational small to medium businesses with leaders committed to inspire, CAP has developed a limited membership programme which we call CAN (Cambridge Advancement Network). This annual subscription service provides highly experienced consultancy, communities of interest and advice which is often inaccessible to companies at this stage of their development. And on a favourable commercial terms.
Features include 1:1 coaching, workshops, masterclasses, peer discussions, behavioural and personality tools (such as motivational maps), bespoke planning and business reviews…all underpinned by a dedicated personal relationship manager. This manifests as having C-level executives on your team without the commercial restrictions this talent normally attracts. So, you might say 'you can have your cake and eat it'.
An introduction to Stephen
Based out of Cambridge, Stephen is passionate in his support of high growth companies, drawing on a wealth of relevant experience stretching back to before the "Dot Com" boom. With over 25 years working across Commercial Finance and Consulting, Stephen has been involved in many high-profile assignments including: large scale Business Transformation; IPOs and Fund Raises; Cost Reduction; Risk Management & Governance; Investigations; Pricing and Commercial Strategy; and Programme Delivery and Assurance.
As a partner within the "Big 4", Stephen dedicated his career to working with Start Up and Growth companies; leading FTSE and Fortune 500 Telecoms and High-Tech companies; and building Professional Service practices. He is now focused on leading the uniquely positioned Cambridge Advisory Partners (CAP) to bring accessible partner-led services to this very important market.
If you can't make the event but want to know more, get in contact with Chris or Nicola on 01223 782 675