About this Event
Atomic Research is a new way to organise UX knowledge in an infinitely powerful manner. We have Daniel Pidcock, a leading UX Designer and the founder of Glean.ly (a start-up product gaining international attention), joining us to share his insights and knowledge to help you all rapidly scale your UX research and design efforts within your organisation.
Come join us at the SquareClub to find out, tickets will be limited due to venue capacity, so book soon to ensure you secure your place. We ask for a small £10 cash contribution to help with the running of the events, which you can pay on the door.
In the meantime check out Daniel speaking at the UX Brighton conference in 2018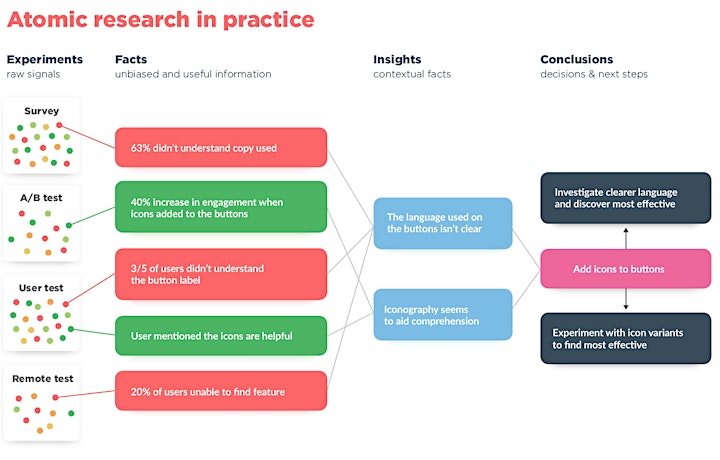 Experiments — "We did this…"
The experiments from which we have sourced our facts.
Facts — "…and we found out this…"
From experiments we can glean facts. Facts make no assumptions, they should never reflect your opinion only what was discovered or the sentiment of the users.
For example: 3 in 5 users didn't understand the button label.
Insights — "…which makes us think this…"
This is where you can interpret the facts you have discovered. One or more fact can connect to create an insight. Even if they come from other experiments. Some facts might disprove an insight.
For example: The language used on the buttons isn't clear.
Conclusions — "…so we'll do that."
Conclusions are your recommendations for how to use the valuable insights you have gleaned from the facts. The more insights connecting to the conclusions, the more evidence you have to its value. This helps when prioritising work.
For example: Let's add icons to the buttons.