Description
ARE YOU LOOKING TO SCALE YOUR BUSINESS?
After hugely successful events in the North, E2E's #ScaleUp2Success events series is coming to LEEDS to host a unique large scale reception designed to inspire, teach and provide an opportunity to build meaningful connections with like-minded entrepreneurs.
E2E and our expert panel are on a mission to help the entrepreneurs behind Leed's scaling businesses overcome their barriers to growth and take it to the next level!
If you are a business Founder, CEO or Chairman looking to scale we would be delighted if you would like to join us.


How will you benefit from attending?
You will have the opportunity to connect with our inspirational speakers and an entrepreneurial community of Founders, CEOs, Chairman and Investors from Leeds and the surrounding areas.



You will have exclusive access to E2E's ecosystem of support by becoming an E2E member for FREE, meaning invitations to our exclusive events, access to our £50m financing facility for SMEs and many more corporate services at discounted rates.



At the event you will find a delicious range of drinks + canapés. Our special guest, Eminent Wines, will also be presenting a selection of wines, champagne and spirits created bespoke for their clients.



Dress Code: Smart Casual
Early Bird Tickets: £25 + VAT
E2E Members: £10.00 + VAT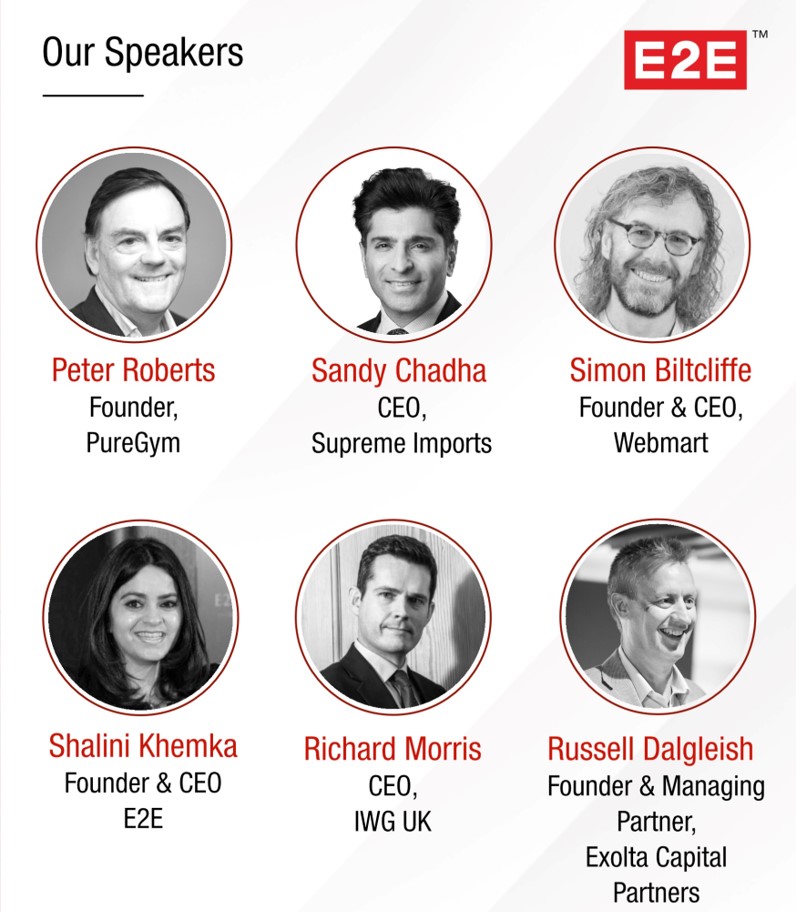 Peter Roberts - Founder, Pure Gym
Peter wanted to start a business which was disruptive by removing the barriers to gym entry, and so created Pure Gym; a gym chain with no contracts, low monthly fees, and flexible 24 hour opening. Peter set in place an experienced management team and raised initial investment through Private EIS funds, to allow the first two gyms to open in Manchester and Leeds in November 2009.
Since then Pure Gym has been revolutionising the gym industry and has over 220 gyms nationwide. The aggressive expansion has been helped by the acquisition of Pure Gym Ltd by CCMP Capital Advisors, a deal which Peter oversaw in May 2013. Pure Gym is now the UK's largest operator with nearly 1,000,000 members.

Peter finished at PureGym 2018, after the sale to Leonard Green and Partners for over £600m. He is now concentrating on mentoring 12 young entrepreneurial companies in many different sectors.


Sandy Chadha - CEO, Supreme Imports
Supreme Imports has grown into the largest distributor of batteries, lighting and vaping in Europe with over 20% UK market share of batteries. We are official distributors for some of the world's leading battery brands such as Duracell, Energizer, and Panasonic and European licencees for battery brands such as JCB and Philips.

Over time the business has evolved from humble beginnings to an international presence today. They sell over 300 million batteries and 65 million light bulbs each year into 34 countries and now have over 6000 active customers supplying into 50,000 retail points.



Simon Biltcliffe - Founder & CEO, Webmart
Simon is the creative and rebellious soul behind Marketing Services Agency Webmart. An ambitious student of economics and politics with a natural bent for brand development, he set up Webmart in 1996 with £10k of his own money and has never looked back, forming the UKs foremost (only?!) Marxist-capitalist business. With a goal of 'doing good while doing well' and building relationships of trust between customers and suppliers, he also loves undertaking massive physical challenges including ice marathons and completing the notorious Marathon des Sables.
You will be welcomed by Shalini Khemka, E2E's Founder and CEO and Member of the Mayor of London's Business Advisory Board, Richard Morris, CEO of IWG UK (formally Regus UK), the world's largest serviced office supplier and our host for the evening, Russell Dalgleish, Serial Entrepreneur, Investor, Board Advisor, Strategist and Chairman.
09/09/19 *E2E ANNOUNCEMENT*
GIFT BAGS
Gift bags in collaboration with Spaces and E2E's entrepreneurial community will be shared with all attendees.
COCKTAIL BAR BY ZEST MIXOLOGY
Zest Mixology, based in Leeds, will be providing an engaging cocktail mixologist, elegant pop up bar and a set number of themed cocktails on the night for every guest, as well as showcasing their 'Live Gin Essence Distillation'.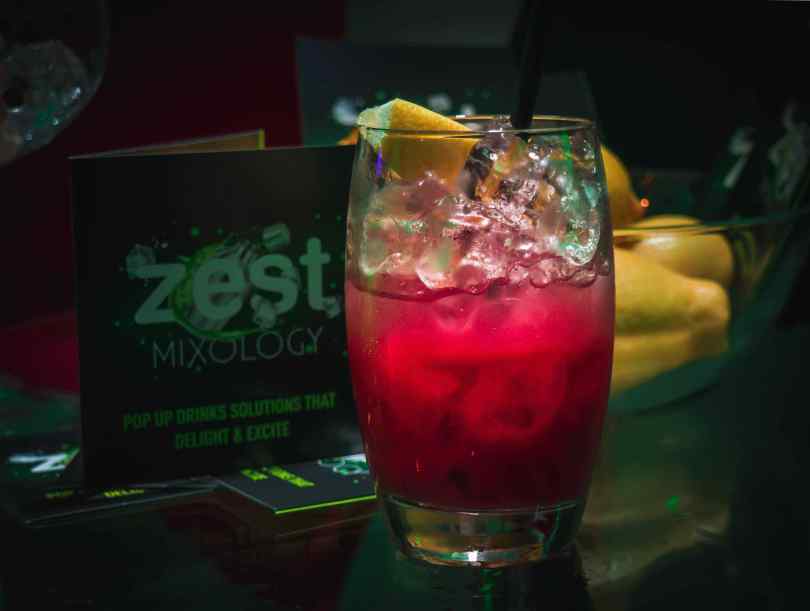 Murdo Macleod, the founder of Zest Mixology will be sharing a few words on the E2E stage about his entrepreneurial journey and company mantra of impressive services that 'excite and delight' at business events & decedent private parties.
16/08/19 *E2E ANNOUNCEMENT*


We will also be inviting onto the E2E stage our Special Guest and Wine Expert:
Jerome Jacober, Founder & CEO - Eminent Wines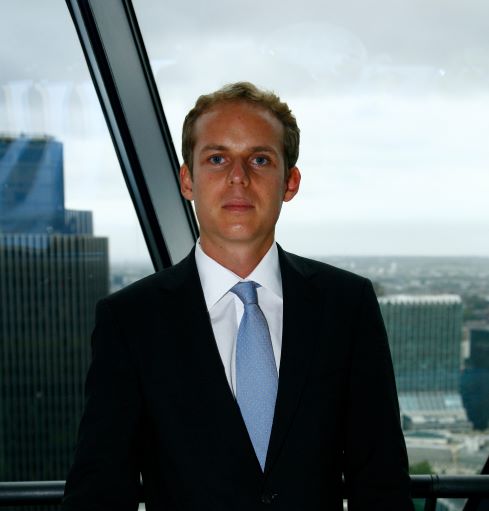 Jerome spent a lifetime surrounded by fine wine and champagne. At 28 he brought his favourite Provencal wines to the UK market and then some of France's most respected vineyards, supplying Harrods, Selfridges and other leading stores and working with some of the world's leading chefs, including Joel Robuchon, Pierre Gagnaire and Alain Ducasse.
Jerome's latest venture specialises in creating bespoke wines and spirits for prestigious companies. His team looks after all the steps of the creation, from the blending, vinification, ageing and designing/manufacturing of the beverages and its packaging.


Follow us on social media via the links below for the latest updates.

Twitter | LinkedIn | Facebook | Instagram

Also, visit our website: https://www.e2exchange.com/
Disclaimer: Please note that event timings and dates are subject to change. Our event is designed for founders of growing businesses and business leaders. We try where possible to keep exclusivity. Should E2E deem your position as not suitable for our event, one of our team will remove you from our attendee list and you will be notified. Overt selling will be frowned upon.