It's our first gathering of the year! We've got an amazing lineup so let's start as we mean to go on...what kinda party?
About this event
It's our first gathering of the year! We've got an amazing lineup so let's start as we mean to go on…it's the Scallywag Party club night
It's January, it's cold and wet but we extend you a very warm welcome indeed to the fourth instalment of our monthly Scallywag Party live music and club night! Let's cosy up with awesome live music, laughter, tomfoolery, togetherness and GOOD TIMES a plenty! Our previous parties have been really popular and the feedback is that it is 'exactly what everyone needs', so don't deny yourself one of life's pleasures and get your ticket nice and early and come party with us!
The team behind the Scallywag Party Festival proudly present a monthly club night of live music from some of our favourite festival acts, DJs til late, walkabout performers, face painting and loads more…
We're cramming as many scallywag party festival vibes as possible into a club night that has grown into something very special indeed. Continue the journey with us this winter and keep the fire burning through til we can dance in the fields again next summer at the Scallywag Party Festival 2022!
Tickets - https://www.eventbrite.co.uk/e/scallywag-party-night-part-4-tickets-224789319907
- - - - - PART FOUR - - - - -
*PLANETMAN* - Infectious world grooves, reggae, ska, funk, rock, afrobeat and beyond. Backed for one night only by Duncan Disorderly and other members of the Scallywags, it's going to be unique show not to be missed!
*PROFESSOR ELEMENTAL* - Brighton's very own international chap hop superstar. A wild combination of music and comedy, beats and rhymes, improvisation and intelligence.
*SOUTHWESTSIIDE* - Big band with a funk, rock, ska, reggae twist on old school hip hop party classics.
*CHICKEN SHED ZEPPELIN* - Thigh slappin', knees up, deep south, hillbilly, bluegrass, old time party starters.
*DJ NICK MAXWELL* - At Glastonbury and Boomtown, Nick's party sets are legendary. Cutting up the dirtiest funk, blazing the finest hip hop and rinsing out the grimiest jungle in town. Don't miss this!
PLUS DJ's AND MORE ACTS TO BE ANNOUNCED....
Get all the updates by joining the facebook event https://www.facebook.com/events/395594452353546
Doors at 8pm, First act 8.15pm, live music until 1am, DJ's and shenanigans until 3am. Don't miss this!
Limited Early Bird Tickets go on sale for just £10 plus booking then £15 after. More on the door if we don't sell out in advance.
UNDER 18's - The venue license allows 14-17 year olds accompanied with adult but only until 10pm.
COVID - Under review but all COVID related entry requirements are due to be lifted before our event. At present proof of double jab or negative lateral flow test required on entry, let's party safely! See here for more details https://www.gov.uk/guidance/carrying-out-mandatory-covid-19-status-checks-at-your-venue-or-event
TICKET RETURNS - We only offer Covid related refunds. All refunds must be requested by midnight the day before the event with screenshot of a dated positive test confirmation. Please email scallywagpartyuk@gmail.com
COME JOIN THE PARTY!
--------------------
BUT WHAT IS THE SCALLYWAG PARTY??
If you're yet to have the pleasure of hanging out in a field with us at one of our previous festivals or events then expect awesome live music, laughter, smiles, chilled days, magic nights, tomfoolery and togetherness. Our next 3 day festival is near Tunbridge Wells, just an hour by car from Brighton, on 22-25th July 2022.
Our music policy is always eclectic and always good time invoking. Expect Power Folk, Reggae, Afrobeat, Gypsy, Dub, Electronica and everything in between. There will be some acts you will know and some acts you will not, but in true Scallywag Party style, expect to be entertained, enlivened and enlightened!
For more info and to join in the action go here https://www.facebook.com/events/471560640437538 or visit https://www.scallywagparty.com
SCALLYWAG PARTY 2022 - BARGAIN £88 EARLYBIRD WEEKEND FESTIVAL TICKETS HERE https://www.eventbrite.co.uk/e/scallywag-party-2022-tickets-90768058707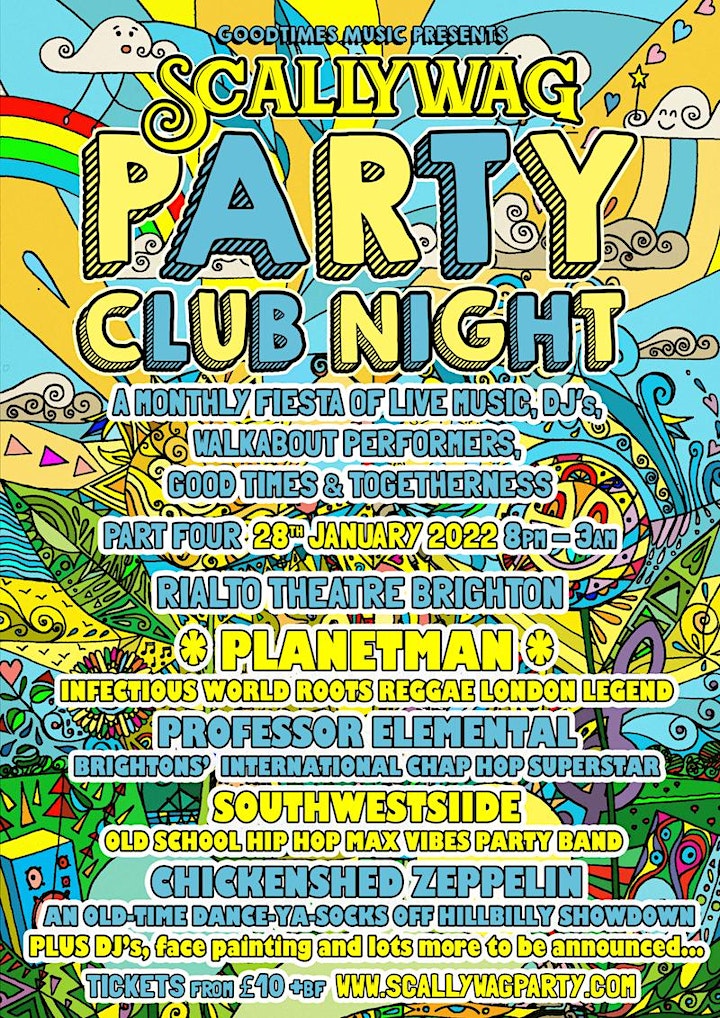 Organiser of Scallywag Party Night (Part 4)