Description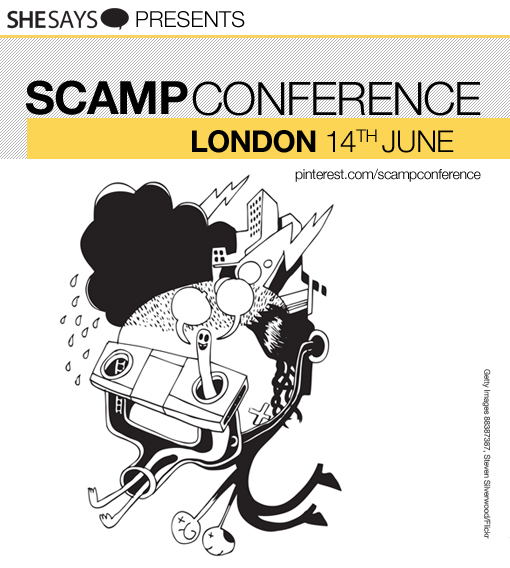 SCAMP is a playground where inspiration and actions collide.
WHEN: JUNE 14 - GOOGLE CAMPUS
Isn't it exciting to witness gems of ideas before they become big?
SCAMP 2012 is a conference where nothing is quite like it seems. Two years ago in London we put on a conference about ideas-in-progress, prototypes, experiments and innovation. The feedback was fantastic so we brought SCAMP back in 2012 for the third time. This year we're pushing the boundaries further with a new crop of speakers, ideas and interactions to spark serendipity and unexpected relevance. Come find some new inspiration.
Get all the details here: http://pinterest.com/scampconference/
LONDON SPEAKERS
Abil Abrar - @adilabrar - Founder of The Amazings & Sidekick Studios
Anna Rafferty - @raffers - MD of Penguin Digital
Clare Reddington - @clarered - Founder of Pervausive Media Studio
Dana Al-Salem - Founder of Fanshake
Dave Birss - @davebirss - GetAdditive.com
Greta Corke - @gclondon - UX Director at LBi London
Jon Robb - @johnrobb77 - Louder than war
Jonny Robb - @jonnyrobb - To the Laser Cave
Karen Palmer - Director, Visual Artist & Freerunner Karen Palmer
Katie Bell - StarDoll
Katz Kiely - @katzy - Digital Engagement Strategist
Liri Andersson - @liriandersson - This Fluid World
Mel McVeigh - @melmcveigh - Opposite Day Studios
Micha Schwing - GettyImages

Nange Magro - @thenangelina - Digital Designer
Nicole Yershon - @nicoleyershon - Ogilvy Labs
Oli Shaw - @olishaw
Rebecca Denton - @rebeccasbrain - Executive Producer
Rosie Alimonos - PixelStories
Pat Cadigan - @cadigan Non-fiction author
Patricia McDonald - @patsmc
Salena Godden - @salenagodden - The Book Club Boutique
Sophie Greenville - Whatif? Innovation
Willow Tyrer - @vvillovv Designer at Penguin Books
WHAT TO EXPECT

Expect a full day camp filled with talks, experiments, interactive activities and collaborative formats. SCAMP is definitely not your average conference.
And we will be hosting a late birthday, early summer party / BBQ. So please stay, network, meet other amazing people.


WHO SHOULD COME?
SCAMP is curated for people who are looking for inspiration beyond the usual creative industry bubble. We welcome innovators from all across the creative, media and communication spaces: cross-platform specialists, publishers, artists, curators, strategists, creative technologists, UX evangelists, writers, designers… if you're a thinker, maker or doer, you belong at SCAMP.
Entrepreneurs, starter-uppers and freelance creatives – SCAMP is a great networking opportunity. If you're looking for more industry connections, come find them here.
GIRLS AND BOYS WELCOME!
So join us! Go on. We dare you!
ON THE DAY
This conference is a full day event. Be prepared listen, think, make, do and network.
We provide lunch, snacks and drinks throughout the day. Once the conference ends the afterparty starts – expect a BBQ, a bar and a rooftop celebration.



WHAT MAKES SCAMP DIFFERENT?
We've grown a little tired of conferences where 80% of more of the speakers are men and as few as 20% (sometimes even less!) are women. So we're reversing the trend.
SCAMP is a conference where 80% of the speakers are women and 20% are men. But it's not about that. There's no talking about gender or making a point of percentages. It's about discovering the best ideas out there – and putting on a wicked day for everyone who attends.


GET INVOLVED
We love volunteers. We need help with events, PR and generally spreading the SheSays word. Please get in touch if you want to help out.


LIVE IN NEW YORK?
SCAMP is in New York this year too. June 15th. ADC. Check out the speaker list here.


WHO'S BEHIND IT
SCAMP is a creation of SheSays (
weareshesays.com
) - an award-winning global organization for women creatives. This us why our speaker list is 80% women, 20% men. But we don't make a big deal about that fact. It should just be a given that there is a more equal balance of female speakers at events. We just want to celebrate what amazing women are working on and shout about it wherever and whenever we can.
And this whole thing wouldn't have happened without the help of our sponsors:
GLOBAL SPONSORS
LOCAL SPONSORS
The fine print (Terms and conditions)
We understand that sometimes you buy a ticket and then realise you can't make it. To ensure fairness for all.
Conference tickets cancelled 14 days before the conference will get a full refund.
Conference tickets cancelled 7 days before the conference date with get a 50% refund.
Conference tickets cancelled within 7 days of conference date will NOT receive a refund.
Organiser of SCAMP London 2012