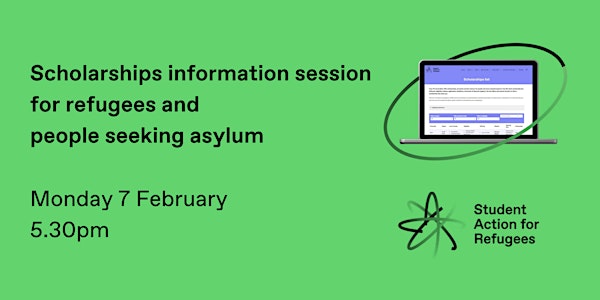 Scholarships information session for refugees and people seeking asylum
Join STAR (Student Action for Refugees) to find out how to apply for university scholarships for refugees and people seeking asylum
About this event
Are you a refugee or seeking asylum in the UK, and applying to university this year? You may need financial support to help cover your living costs. Many universities offer scholarships and bursaries that can help - book your place on this information session to find out more.
STAR campaigns for and supports the creation of scholarships to improve access to university for people who are seeking asylum or from a refugee background. Now, 75 UK universities offer scholarships for applicants who are seeking asylum or have refugee status, humanitarian protection or limited leave to remain. You can see a full list on the STAR website.
What will the session cover?
An introduction to university scholarships and how to apply. It will include:
An overview of Sanctuary Scholarships and student finance
How to apply for university scholarships
Key tips for your scholarship application
Insights from university staff who administer scholarships
What if I need more support?
We will be running two free follow-up online mentoring sessions on 21st February and 7th March where you will have the opportunity to speak to a current student about your application. Spaces are limited and we'll share details of how to register your interest during this information session. Here's what previous attendees have said:
"The STAR volunteers were absolutely amazing... I learnt more about writing personal statements and about the reference letters. This workshop was very useful and informative."
"I would like to take this opportunity to thank you, because I started uni in September 2021. I was also fortunate to be awarded an asylum seeker scholarship. This was made possible by you and your organisation for working tirelessly."
Sign me up! How do I attend?
This information session will take place on Zoom. Register for your free place, and you will receive full details about how to access the event by email. If you have limited internet access, you can also dial in to the Zoom meeting from a mobile phone.
STAR (Student Action for Refugees) is the national network of students building a society where refugees are welcomed. Find out more and read about access to university on our website.