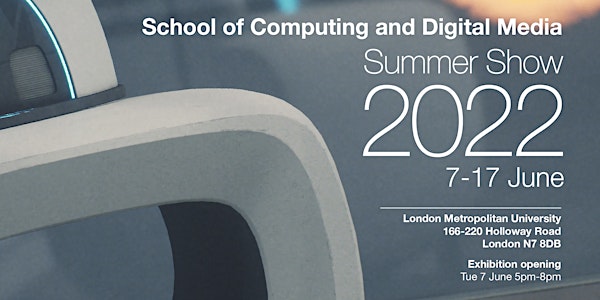 School of Computing and Digital Media Summer Show 2022 opening
Location
London Metropolitan University
166-220 Holloway Road
London
N7 8DB
United Kingdom
Sales Have Ended
Registrations are closed
If you didnlt get a ticket in time, just turn up on the night.
Join London Met's fabulously talented media and computing students at the opening of our 2022 Summer Show
About this event
Students from the School of Computing and Digital Media will showcase their fabulous talents with spectacular events between 7 June to 17 June 2022.
This ticket is for the opening night of our exhibition which will see students show off their work from across the disciplines of computing, mathematics and media in TMG-63,72,83 & 96. Watch students bring robots to life, learn about Data Science, Cyber Security and Computer Programming, and listen to performances from our Music Technology graduates.
You'll have the chance to immerse yourself in films made on our TV and Film Production course, several of which have been recognised this year by the Royal Television Society.
You'll also be able to listen to Journalism podcasts and TV programmes, learn about our News Weeks and read student magazines, which received prizes at the recent Student Publication Association Awards.
And you'll have the opportunity to marvel at the digital designs and toys produced by students from our Digital Media and Games degrees.
At the opening event you'll have the opportunity to talk to current and graduating students, staff and alumni to learn about all the hard work they have put into making this year's Summer Show our best yet.
For internal use only:
XX000 / XX017 / XX011 / XX023 / XX050 / XX051