Description
A course to help fulfil The Great Commission
Christian Life Training Institute (CLTI) is a church-based Bible school at Christian Life Fellowship have put together over 4 weekends throughout 2017 of biblical teaching and practical training to empower Christians to develop, build confidence and understanding in fulfilling The Great Commission.
Matthew 28-19-20 reads:
"Go therefore and make disciples of all nations, baptizing them in the name of the Father and of the Son and of the Holy Spirit, teaching them to observe all that I have commanded you. And behold, I am with you always, to the end of the age."
Our Lord and Saviour Jesus Christ instructed us to continue the work of spreading the Gospel to all nations. The task may be daunting and we may not know where to start, but God is providing the tools required and seasoned teachers to help with starting your evangelistic ministry.
What is covered?
The course topics covers 11 areas of evangelism selected for students to begin their programme. Course topics are covered on weekends (Friday & Saturdays) and includes practical training to put into practice the material covered.
The following will be covered in the course:
What is the Gospel?

How to share your faith

Different expression of Evangelistic ministry/prophetic

The office of an Evangelist

Healing Evangelism

Creating your own Evangelistic pulpit

Street Evangelism

Conducting open air outreach

Growing confidence as a soul winner

Developing a soul winning culture in a local church

Building an evangelism team
The following ministers will be speaking on this course:
Joseph Boadu (Senior Minister – Christian Life Fellowship)

Tim Grant (International Evangelist – Spearhead Ministries)

David Lynn (Canada based Street Evangelist – Christ Forgiveness Ministries)

Steve Gurnett (Full time evangelist – CBCF Ministries)
And other in house ministers at Christian Life Fellowship.
When and Where?
The course will run over 4 weekends in the Deptford area with practical being carried out in the Deptford\Greenwich area.
Course Timetable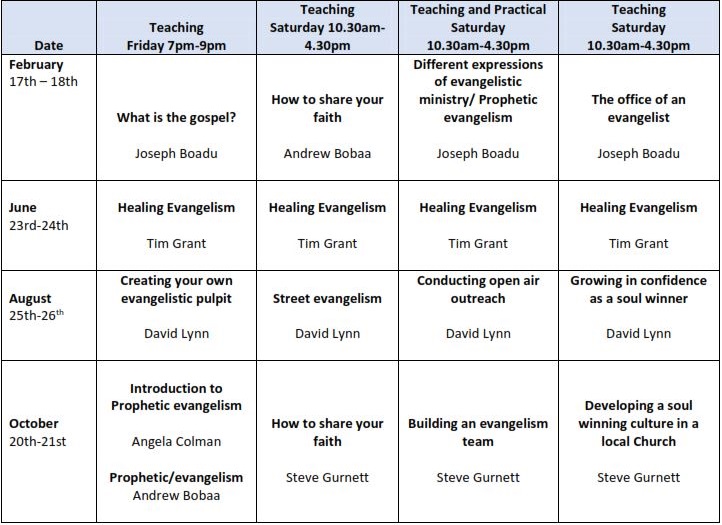 Location
Deptford Lounge
9 Giffin Street
Deptford, London
SE8 4RJ
Parking information
Free parking available on Berthon Street (SE8 3EB) and Creekside (SE8 3DZ)
Free parking available on Friendly Street (SE8 4DR) and Harton Street (SE8 4DQ)
Paid parking available on Frankham Street (SE8 4RN) closer to the The Albany (£1.40 per hour for up to four or six hours).