Description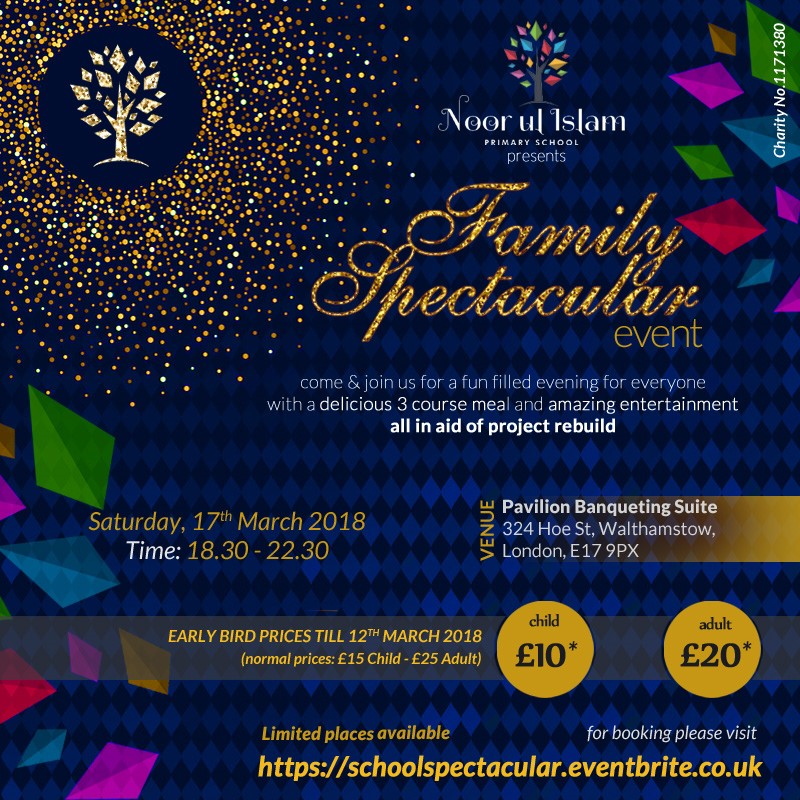 Noor Ul Islam Primary School has organised a Spectacular Family Fundraising Dinner in aid of Project Rebuild - Inspired by the Prophet's Mosque (PBUH).
The event will be hosted by Rahim Jung.
The entertainment confirmed for the evening will be:
❖ Noor Ul Islam Primary School Production of Charlie and the Chocolate Factory
❖ Inspitational talk by Ustadh Asim Khan
❖ Beautiful Quran recitation
❖ Nasheed Performance by Omar Esa
❖ Karate Demonstration from 313 Fitness
❖ Spoken Words by Shabbir Hassan
❖ SamSam the Bubble Show
❖ Karate Demonstration by Noor Ul Islam
This ticketed family entertainment event includes a delicious 3 course meal.
We are currently raising money through different projects and events for Project Rebuild which is a purpose-built Masjid and Community centre.
PLEASE NOTE
Tickets are non-refundable.
For table bookings, please select "10" in the quanity section.
Sisters Section will be fully segregated. No boys over the age of 8 will be allowed in the Sisters section.
Admission by prepaid bookings only. All visitors including children will need a ticket. Only children 2 years old and below, seated with an adult will be admitted without a ticket.
If you have any special requirements please contact event organiser at nailah@noorulislam.org.uk