How to Accelerate Progress in Phonics. An introduction to Monster Phonics
About this event
Uplevel phonics teaching skills and knowledge to improve engagement and accelerate progress.
This training will provide teachers and LSAs with multi-sensory teaching methods to implement straight into the classroom. Learn more about the Monster Phonics approach.
Monster Phonics have organised a series of free webinars for teachers to help accelerate children's phonics learning. There are three webinars in total, focusing on:
1. How to accelerate progress in phonics
2. Engaging children in the classroom
3. Improving results, including helping parents at home
We plan to run a number of these webinars over the coming weeks to help transition from home learning to teaching back into school and accelerating results. We are aware that many children will need to catch-up after missing time at school.
We hope that by sharing this training, we can make greater gains over the coming months.
To get the most out of this training, we recommend that you take a free trial of the Monster Phonics programme. This expires automatically after 15 days.
"The improved results in schools using Monster Phonics are significant. I would urge any school and any teacher seeking to better help all children to start using Monster Phonics today."
Ros Wilson, Creator of Big Writing
Email info@monsterphonics.com if your school would like to host free phonics training.
If you are a parent, please register for our Parent Webinar, designed to help you to accelerate progress for your child.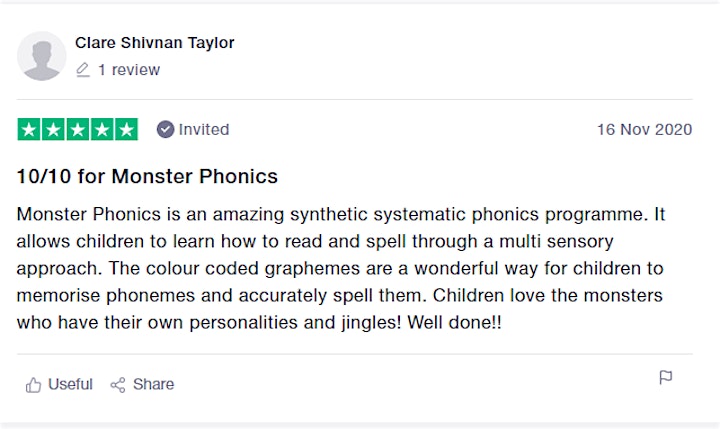 How does Monster Phonics accelerate learning?
This video gives an overview of how to teach a Monster Phonics lesson. It demonstrates how engagement and learning are improved through this approach.
Monster Phonics accelerates learning which is particularly important at this time. Sign-up for a free trial at Monster Phonics Free Trial
MEET OUR MONSTER PHONICS TRAINERS
Laura Aulsberry is an EYFS teacher and Year Group Leader and Holly Palmer is a Year Group Leader. Both teach at an 'outstanding' Model Monster Phonics School.
Dan Cawley is a KS1 teacher at a Model Monster Phonics School rated 'outstanding' by Ofsted.