Will Lawton and the Alchemists - 'intricate riffs hung on fluid, free-flowing musical structures' Hazir - A Middle Eastern Spectacular!
About this event
Will Lawton and The Alchemists
The raw songs crafted by singer-songwriter Will Lawton are transformed into a myriad of colours by the Alchemists. This eclectic mix of musicians blend jazz, folk, drum and bass and a smattering of indie to deliver a powerful, soulful and unique live experience. The band have recently released two albums, 'Fossils of the Mind' and 'Abbey House Session'.
"There is something of the jazz approach at the core of the sound of Will Lawton and the Alchemists - interesting timings and intricate riffs hung on fluid, free-flowing musical structures - but there richly textured and layer music contains much more besides. Indie melodics, rock weight and progressive meanderings all add poise and power. They could be your best new find of the year" - Swindon Shuffle 2019
This band features Will Lawton (piano and vocals), Weasel Howlett (drums), Buddy Fonzarelli (upright bass), Ami Kaelyn (guitar and vocals) and Harki Popli (tabla).
https://www.willlawtonmusic.co.uk/the-alchemists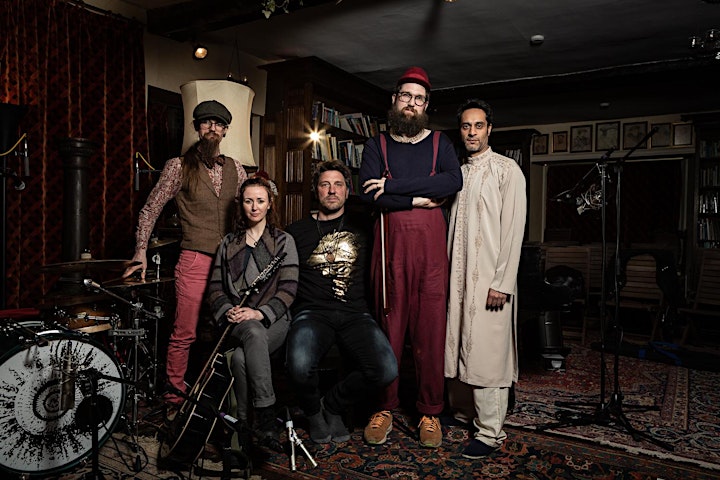 Hazir Ensemble will be bringing their new show Chalguh Chengi to Schtumm.
'Chalguh Chengi' (from the Turkish: 'spirit of live music and dance') is a new collaboration between the Hazir ensemble and dancer Anna Kemper, developed and produced with support from Arts Council England. The show is a vibrant, colourful and accessible exploration of some of the myriad popular, folk and classical music, songs and dance styles rooted in the traditions of the Middle East and Turkey.
The six accomplished and seasoned multi-instrumentalists of Hazir (Turkish/Urdu: 'Ready, Willing, Available') will introduce the evocative sounds of a rich array of acoustic instruments;
Lulu Austin – Violin
Elvin Herrick – Middle Eastern Percussion
Simon Leach - Oud, Saz, Zurna, Percussion
Jo Levine - Piano Accordion, Voice, Percussion
Tom Parry – Clarinet, Percussion
Sevilay Turlington - Voice, Percussion
Anna has been performing Turkish and Middle Eastern dance for over 2 decades across the UK, Europe and USA, with some of the greatest artists of Middle Eastern music and dance, including Turkish fusion band Oojami, bellydance superstar Sonia Ochoa and the Baladi Blues Ensemble. Commissions from London and local authorities include teaching and performing within community and outreach organisations including the London Olympics.
@ChalguhChengi (Facebook and Instagram)
More about Hazir:
www.hazir.co.uk
More about Anna Kemper:
www.smallworldbellydance.com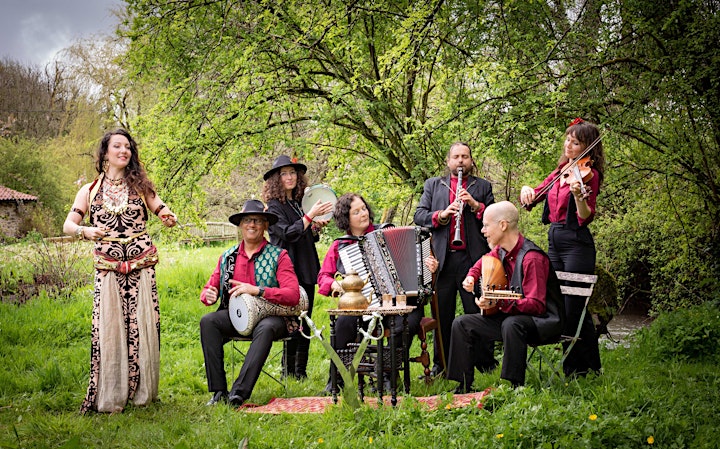 The Venue: The Steve Hall Arena - a safe and socially distanced Live Music outdoor arena in the beautiful Wiltshire countryside near Bath hosted by The Queens Head, Box. Events may be postponed or delayed if there are electrical storms in the area. A little bit of rain won't stop us so you are advised to check the weather and dress appropriately. Parking is available at The Selwyn Hall Car Park - a short walk from the venue.
Tickets £10 (+Eventbrite Fees) 100% of the ticket price goes directly to the musicians on the night. The venue makes what it can from drink sales and the Schtumm.... team work entirely voluntary to enable Grassroots music to grow.
Coronavirus live music rules may change so please check www.schtumm.co.uk for any updates regarding group bookings, social distancing and other protocols.
Organiser of Schtumm.... Presents Will Lawton & The Alchemists + Hazir
All of the ticket fee goes to the artists on the night apart from EventBrite fees of course! If you cannot find tickets for the event you want then they may be directly from the artist so please ask them!
The venue is doing the best it can to be in line with new social distancing and government legislation. Please make sure you check the venue's guidelines and details ahead of your visit.