Free international event open to postgraduate students, postdoctoral/young researchers in various research fields of Electrochemistry
About this event
Introduction
This international event is aimed at providing doctoral students, post-doctoral and young researchers working in electrochemistry and electrochemical engineering to showcase their work, discuss and connect with fellow researchers, with a focus on networking in our interactive poster sessions.
Speakers from the industry will showcase technologies, market and pitch new techniques in our online exhibition space, this will be relevant to all people working in this sector. Therefore, the conference will be beneficial for early and mid-career researchers and members from industry.
Main themes of this event
Application of electrochemistry in industry
Corrosion Science and Engineering
Electrochemical storage systems (Batteries and Fuel Cells)
Advanced electrochemical detection techniques (Semiconductors and Sensors)
Confirmed Key Note speakers
Professor Roger Newman - University of Toronto (Films/Electrochemistry)
Professor Paul Shearing - University College London (Batteries)
Dr. Ayman El Zoka- Max Plank Institute (Corrosion)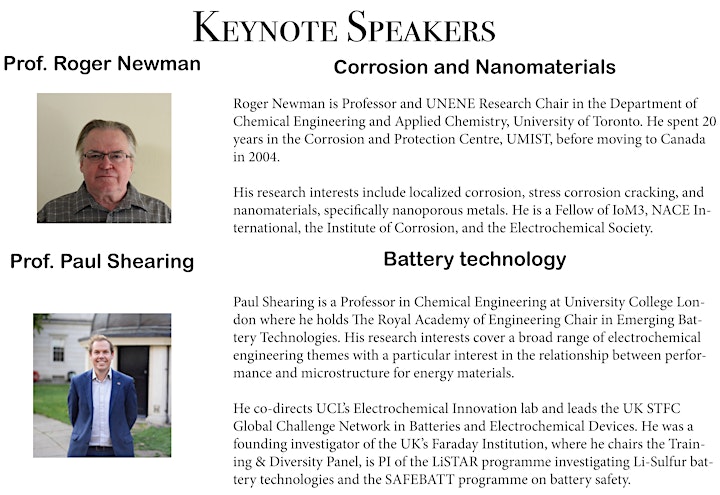 Event structure
There are opportunities to present your work with an oral presentation, though slots for this will be limited. However we have also provided the opportunity to present with interactive posters on our online platform Acadiate, where there will be many open submission slots. Here you can network, comment, meet and discuss your work, as well as present videos alongside your poster. The poster session showcases will be available for commenting and discussion for 90 days from when the conference opens!
Joining instructions for the event will be emailed in advance, the online event and interactive poster sessions will be run on acadiate.com.
Organisation committee and sponsors
The event is organised by the Engelberg Research group, as an affiliation of the Materials Performance Centre, Corrosion at the University Manchester in the Department of Materials in the United Kingdom.
The event has been organised on behalf of SCI the Society of Chemical Industry. It is a global network of innovators, formed in 1881 by prominent scientists, inventors, and entrepreneurs, who went on to form the products, processes and companies that propelled society forward.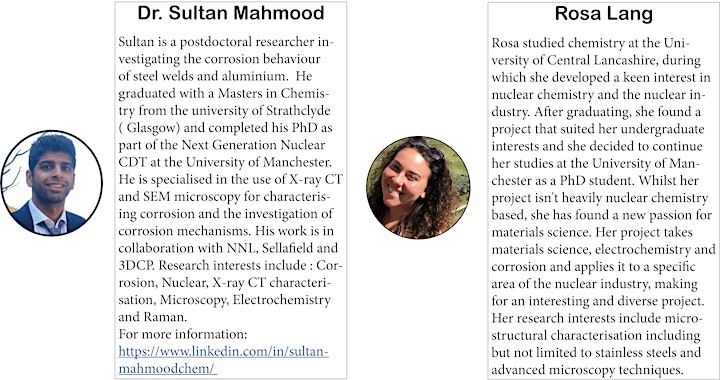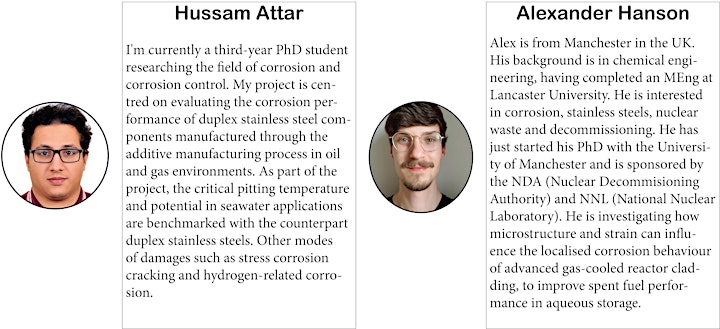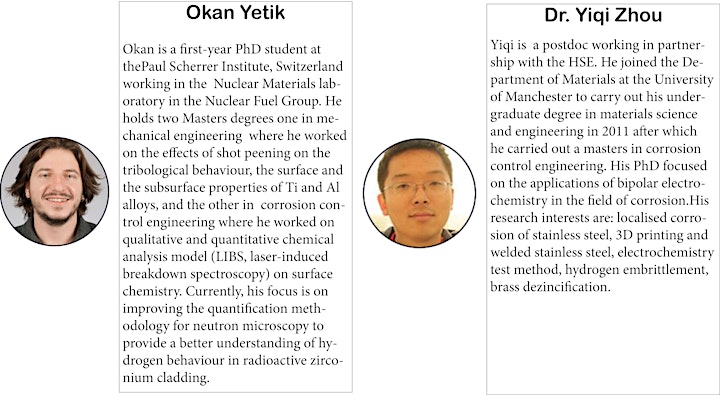 The event is sponsored by The Royal Society of Chemistry, The International Society of Electrochemistry, The Henry Royce Institute, Alvatek, Gamry, MetroOhm electrochemistry and Acadiate. Our sponsors will also be provided their own customisable panels in the Virtual exhibition, where they can add content of their choice (presentations, videos and posters) and utilise all the above features with the addition of branding, social media, and website links.
Photo credits
"Apollo Fuel Cell Number 1" by jurvetson is licensed under CC BY 2.0 (top right photo)
"rust" by malkovitch is licensed under CC BY-NC 2.0 (bottom right photo)

Organiser of SCI Electrochemistry Postgraduate Conference 2021