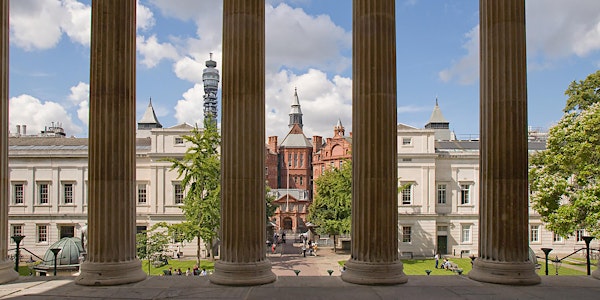 Science Centre Lectures UCL
Talks are aimed at sixth form students and teachers, but frequently attended by members of the public, teachers, academics and undergrads.
About this event
The Science Centre Lectures at UCL are back. We will be hosting virtual online lectures so we hope many more of you can join us for our early evening discussions on a huge range of science related topics. You will have to provide your own biscuits and water, but everything you know and love about the long running lecture series will be back.
The Science Centre was first established in 1987 by Dr Sadiq Kadifachi and it was incorporated into UCL in 1997. Videos of past lectures can be viewed in our archive, see https://www.ucl.ac.uk/physics-astronomy/outreach/science-centre-lectures. The Science Centre Lectures are free lectures on a range of scientific subjects for sixth form students and their teachers. They are held on Friday evenings throughout the academic year.
UCL Science Centre lectures for Schools
Summer Term 2022
All lectures are held on Fridays, on-line by Zoom, at 6.30 p.m.
This week:
Radiocarbon Dating in Archaeology
Dr. Lorena Becerra-Valdivia
Dr Becerra-Valdivia is an archaeological scientist and radiocarbon dating expert, with MSc (2015) and DPhil (2019) degrees from the Research Laboratory for Archaeology and the History of Art, School of Archaeology, University of Oxford. Her research involves the construction of reliable, high-resolution chronologies using radiocarbon dating and Bayesian age modelling techniques, and focuses on the interface between past human occupations, ecology, and climate.
Past projects include the establishment of timelines for hominin (modern humans and Neanderthals) dynamics during the Middle to Upper Palaeolithic Transition in the Zagros Mountains, and the initial arrival of humans to the Americas around the Last Glacial Maximum. She's previously worked at the W.M. Keck Carbon Cycle Accelerator Mass Spectrometer (University of California, Irvine) and Chronos 14Carbon Cycle (University of New South Wales, Sydney) radiocarbon dating facilities.
She is currently a member of HERCA, an AHRC-FAPESP funded project researching human-environment relationships in pre-Columbian Amazonia. Her primary aim within HERCA is to produce/manage radiocarbon data for the creation of highly resolved human occupation and palaeo-environmental sequences. The integration of these results will help us better understand the relationship between humans, ecological and climatic changes in pre-Columbian Amazonia.
The talk will provide the basics of radiocarbon dating and, through case studies, explain how archaeological scientists use this method to better understand our ancient past (from Neanderthals to modern humans).
6 May.
Holograms of the fast and frustrated : Electrons & Lasers.
Ms. Abbie Bray. Ph.D Research Student.
UCL Department of Physics & Astronomy.
13 May.
Viruses.
Dr. Robert W. Janes.
School of Biological and Chemical Sciences.
Queen Mary University of London.
20 May.
The Science of NetZero CO2 emission in Todays's Climate.
Mr. Sean McQuaid.
ERCE Evolution.
27 May.
The Atomic Structure of Diamond - not just a girl's best friend?
Professor Katherine Holt.
UCL Department of Chemistry.
3 June . No Lecture, Schools Half Term.
10 June.
The Discovery of Blood Circulation
Professor Andrew Gregory
UCL Department of Science & Technology Studies.
17 June.
Big and Small: from Planets to Proteins?
Mx Affelia Wibisono.Mullard Space Science Laboratory.
Miss Alex Holmes.Light Laboratories,
University of Leeds.
24 June. UCL- your universe lecture.
1 July .
Dr. Lorena Becerra-Valdivia.
Radiocarbon Dating in Archaeology.
Oxford Radiocarbon Dating Unit,
University of Oxford.