Science & Spirituality: Creation & Human History According to Sacred Script...
Description
Join us for an evening of exploration as we welcome renowned speakers, Dr Seyed Azmayesh and Jay Lakhani, to discuss creation and human history according to the sacred scriptures.
Both experts in their field, the discussion promises to uncover fascinating scientific insights, often overlooked or under appreciated, buried within sacred scriptures. During the evening the speakers will touch on interesting, entertaining and thought provoking issues discussed within sacred scriptures that have gone unnoticed by most religious scholars throughout history.
Tickets cost only £5 and all profit will go to charity.
Arrive early to get a good seat!
AGENDA
---
18.30: Arrival & Registration
19.00: Welcoming Remarks
19.10: Presentation by Jay Lakhani
19.30: Presentation by Dr Azmayesh
19.40: Q&A session & open discussion
20.30: Event Ends
SPEAKERS
---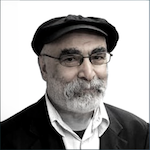 Dr. Azmayesh is a researcher, author, and a double-doctorate holder in the fields of Theology and Comparative Science of Islam and Christianity. He is a jurist-scholar, with over 40 years of experience as a Quran expert. He is known for his extensive research in the fields of Islam, Gnosticism and Christianity, and for his advocacy for Human Rights.

Jay Lakhani Studied Quantum Mechanics under Sir Roger Penrose and is the first Hindu tutor at Eton College. He has explored in his TED talks entitled: 'Challenging the paradigm of Materialism' and 'Spiritual Humanism' the cutting edge discoveries of science which point to a reality that can best be described as spiritual rather than material in nature.
---