s2i is hosting a launch party to celebrate our first round of funding and realisation of our dream to BRING RESEARCH INNOVATION TO THE WORLD
About this event
ARTIFICIAL INTELLIGENCE - DATA SCIENCE - MACHINE LEARNING
science2innovation was founded in early 2019 by Kris Jack (Data Scientist) and Beatrice Zatorska (Tech Commercialisation Specialist). s2i is a product of the Antler incubator fund based in London.
BRINGING RESEARCH INNOVATION TO THE WORLD - from academia to industry is our mission.
s2i is the central platform for academics to find opportunities in industry.
discover new applications for your research in industry
find specialist job opportunities with top industry professionals
transform the way you showcase your research
make a global impact by unleashing the potential of your research
JOIN US at the launch party in central London where we will be joined by researchers, innovators and leaders in the data science community.
Co-founders, Kris and Beatrice will share a brief glimpse into how s2i plans to transform the way academia and industry interact, prosper and make lasting societal changes to benefit the world. What is a Blitz(card) - come and find out!
No party would be complete without drinks, nibbles, music and panoramic views of London.
Space is limited. Register for your ticket now. ID required at the door.
Signup for free on science2innovation.com - write your first Blitz(card) to be part of our drawing to have your research illustrated by a leading animator in the tech space.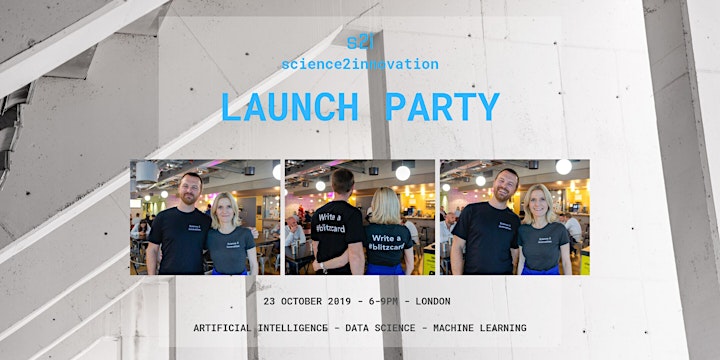 Organiser of science2innovation Launch - Blitz(card) Bash