Description
Learn how to use ancient wisdom and evidence-based approaches from clinical psychology to make changes that last in 2018.
Usually, when trying to make a change, we think willpower is the answer.
If we just try harder and be more disciplined, it'll work this time.
But very often, it doesn't.
A 2016 study found that 80% of New Year's Resolutions fail by the second week in February.
Whether we want to give up smoking, start exercising, or commit to a new behaviour, often we find our best efforts fall to the wayside, and after a few weeks, we're right back where we started.
Worse still, now we feel guilty that we've 'failed' which can make us feel less motivated to try again in the future.
Could it be that most of us are just lazy and irresponsible? Or might it be that we don't understand how our brains really work and the actual science of changing behaviour? Might our common sense about behaviour change be wrong?
A growing body of research indicates that if we want to make changes that last, willpower is not the answer.
Rather, there are evidence-based approaches from clinical psychology that are being used every day to help people drop extreme addictions and develop new empowering habits.
So for your New Years' resolution this year, what if you tried a different approach? One that was evidence-based and scientifically proven to make changes that last – even in extreme cases?
Might you also get a different result?
On Sunday 28th January 2018, three of the UK's leading experts on behaviour change will present lectures on the science of changing behaviour using evidence based approaches from:
Cognitive Behavioural Therapy & Stoic Philosophy (Tim LeBon, M.A Oxon Accredited psychotherapist)
Clinical Psychology (Dr Paul Chadwick, Clinical Psychologist & Senior Teaching Fellow at UCL)
Compassion Focused Therapy (Dr Chris Irons, PhD, Clinical Psychologist, & Compassion Focused Therapist.)
For a full breakdown of lectures and speakers, please click here.
---
Format
The format will be similar to a TED event, but with in-depth lectures and focused on behaviour change.
10:00am – 12:00pm: Session 1
12:00 - 1:00pm: Lunch break
1:00pm - 3:00pm: Session 2
3:00pm - 3:15pm: Afternoon break
3:15pm - 5:00pm: Session 3
Testimonials from Previous Attendees


TWU Guarantee
The Weekend University seeks to guarantee an excellent learning experience. If you are not fully satisfied with the day, you will receive 100% of your money back.
Refund Policy
We offer a full refund if you cancel within 7 days of the course date.
For cancellations in the week leading up to the course, tickets are transferable but non-refundable.
---
Event Partners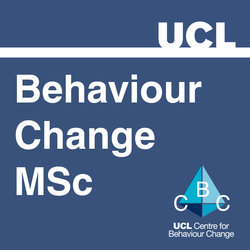 Changing human behaviour is at the heart of solving global problems central to wellbeing, social cohesion and environmental sustainability. Government and public bodies, charities and companies routinely seek to integrate behaviour change within their policies and practices.
The Centre for Behaviour Change (CBC) at UCL has launched an exciting new MSc programme in Behaviour Change to train a new generation to work in this emerging field. Available as full-time, part-time, or flexible modes of study from September 2017 and taught by world-leading experts in behaviour change at UCL's central London campus, this innovative and exciting programme offers the opportunity for graduates from all disciplines to learn about cutting-edge research and the principles behind successfully changing behaviour to address global problems.
Learn more: http://www.ucl.ac.uk/behaviour-change/study/msc-behavior-change