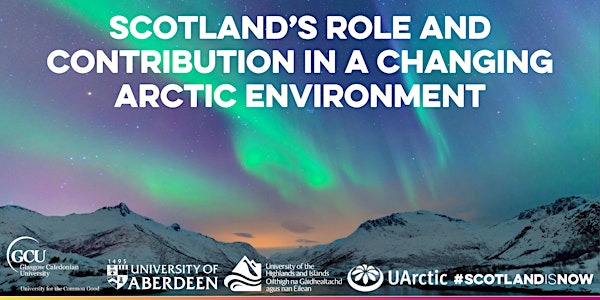 Scotland-Arctic Network Series: Geophysical Changes and Eroding Coastlines
This network series invites Scottish researchers to meet online and discuss expertise and opportunities for Scottish research in the Arctic
About this event
This is the eighth event in a network series titled "Scotland's Role and Contribution in a Changing Arctic Environment" - and invites those interested in geophysical change and eroding coastline research to attend
Researchers from Scotland-based institutions are invited to attend this event to listen, brainstorm, discuss, and network to further Scottish research and collaboration in the Arctic within the fields of geophysical change (including climate change) and eroding coastlines. Arctic-based researchers wanting to work more closely with Scottish institutions are also encouraged to join. This event is suited to researchers from physical and natural sciences, and multidisciplinary backgrounds, studying the physical changes to Arctic environment and coastlines.
This event is chaired by Professor Finlo Cottier, Scottish Association for Marine Science (SAMS) and the Arctic University of Norway (UiT).
Attendees will hear a few short presentations from Scotland-based researchers and a UArctic thematic lead showcasing the current state of geophysical change and eroding coastline research in the Arctic. This will be followed by discussion on the extent of Scottish expertise in this field, the opportunities and barriers for future research, lessons we can learn from Arctic institutions, and how this field of research may benefit the lives, wellbeing, and resilience of people in Scotland and the Arctic.
Speakers include:
Professor Mark Inall, Director of Scottish Alliance for Geoscience, Environment and Society (SAGES), Scottish Association for Marine Science (SAMS) & University of the Highlands and Islands
Dr Tom Cowton, Lecturer in Physical Geography at School of Geography and Sustainable Development, University of St Andrews
Dr Robyn Tuerena, Lecturer in Nutrient Biogeochemistry and Co-lead the Ocean Systems at at the Scottish Association for Marine Science (SAMS)
Professor Ilan Kelman, Lead of UArctic Thematic Network on Natural Hazards, Institute for Risk & Disaster Reduction, University College London
This event will contribute towards a consolidated, and publicly available, online report on research challenges and opportunities, Scotland's role and contribution, and recommendations on mechanisms for coordinating Arctic research in Scotland and furthering educational links.
About the network series
Over the years, strong educational and research links have been established between Scotland and the Arctic. The scope of Arctic research in Scotland extends beyond natural and physical sciences to the humanities and social sciences, with politics, law, environment, energy development and economics gaining increasing prominence in recent years. Yet, despite the many research strengths of Scotland-based institutions, much of the Scottish research community remains fragmented.
This series of network events aims to lay the foundation for consolidating Scottish expertise on Arctic matters and building a network for more consistent involvement of Scottish institutions in Arctic research and international forums.
A series of 9 themed network events will be held between late February and March 2021 and concluded with 2 consolidation events to reflect on the discussions and begin the initial steps of establishing a Scotland-wide network dedicated to Arctic research.
Learn more and sign up to other network events by clicking here
The network series is being organised by Glasgow Caledonian University in partnership with the University of Highlands Islands, University of Aberdeen, and the University of the Arctic (UArctic). These events and establishment of a Scotland-Arctic research network are being supported by the Scottish Government.