About this Event
Scotland has been a land of many revivals, a place where God has moved in power on many occasions and in remarkable ways over the centuries. So many of these stories have been forgotten.
Doug McMurry and Tom Lennie have a long-standing and burning passion to re-discover and tell the stories of how God has visited churches and communities in power. Tom focusses on Scotland's story, and Doug on how God has used Scotland as a fire-starter in many other lands!
In a time when our land is desperately in need of spiritual awakening, it is so important that we, His people, take time to remind ourselves and give thanks for all that God has done for us in the past, so we can be stirred up in our longing, in our faith and in our prayers for Him to DO IT AGAIN!
This is a day to do just that!
Our Speakers
Doug McMurry is a Christian writer, speaker and presbyterian pastor who is currently director, together with his wife Carla, of 'The Clearing Where Eagles Fly' - a prayer and retreat centre in Virginia, US. Doug has spent years discovering stories of how God has moved in power in world history. His ancestors are from Scotland - a land which he hopes to show has had and, in God's mercy, still has a very important destiny as God's matchstick for the world!
Tom Lennie, a loved and respected member of Holy Trinity Church, has long held a passionate interest in the history of Christian revivals worldwide and is the author to date of three meticulously researched books on Scottish revival history: Glory in the Glen, Land of many Revivals and Scotland Ablaze. He has written many articles and reviews for journals, magazines and websites and is also the author of Rousay Remembered.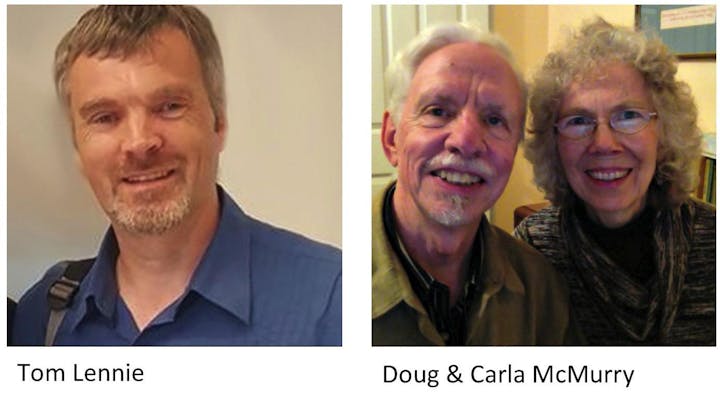 Programme
The day will be a mixture of worship, talks and prayer. There will be a break of around an hour for lunch - please bring your own packed lunch! Coffee, tea and nibbles will be provided. There is no cost for attending, but there will be an opportunity to give a freewill offering to bless our speakers.