Description

Canning House is the UK's leading forum for informed comment, contacts and debate on Latin American politics, economy and business.
Canning House is pleased to present a conference to discuss trade, investment and business opportunities in Latin America for companies based in Scotland. This event is being held in partnership with Canning House member, The Scotch Whisky Association.
A key outcome of the conference will be to share of information and to forge meaningful connections to move towards growing trade between the regions. Don't miss this unique opportunity to learn more about new markets in Latin America.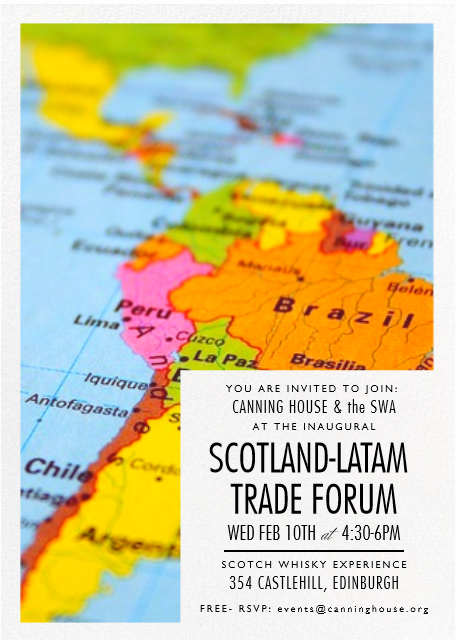 Scotland – Latin America Trade Forum 2016
16:00: Registration
16:30 Welcome
** David Frost, CEO of the SWA
16:35 Opening remarks:
** HE Nestor Osorio Londoño, Colombian Ambassador to the UK, former Permanent Representative of Colombia to the World Trade Organization
16.45: Overview of the Latin American market – opportunities and challenges
** Edward Leek, Head of Brazil and Latin America business practice in UK, KPMG LLP
** Jeronimo Mohar, UK Director, Grupo Atalaya (leading LatAm risk and security consultancy)
** Nestor Osorio, Colombian Ambassador to the UK
** Rob Capurro, CEO, Canning House
17:20: What support is available for UK companies doing business in Latin America and what more needs to be done?
** Andrés Espinosa Aceves, Deputy Trade and Investment Commissioner, PROMEXICO, Ministry of Economy, Mexican Embassy to United Kingdom
** Francisco Mena, Ecuador Trade Commissioner in the United Kingdom and Director of the Latin American Trade and Investment Association (LATIA)
** Mauricio Munguia, Latin America Desk Director & Chris Lynch, Trade Finance Director for Scotland -Santander Corporate and Commercial Banking
** Peter Smith, Industry Affairs Director, Diageo plc
18:00 – 19:30: Drinks Reception
** We are delighted that Fiona Hyslop MSP, Cabinet Secretary for Culture, Europe and External Affairs and Paul Lewis, Managing Director of Scottish Development International will join us at the Reception to meet delegates.
FREE TO ATTEND BUT RSVP ESSENTIAL: