About this Event
In the conference, You will learn insights into the major property investment strategies like Rental Properties, House with Multiple Occupants (HMO) , Holiday Lets, Commercial to Residential Conversions projects. Also you will learn property tax and property investment financing from the experts.
Limited tickets left, selling quickly.
With over 100 years of combined property investment experience among conference speakers, you will not only get a chance to learn above property investment but also meet and network with one of the most experienced Scotland based property investment experts/professionals and like-minded people on the day.
Lunch is included in ticket price. Car parking available on venue.
Click here to view or download Conference Program (pdf version)
Find the latest updates about the event on facebook

What you will learn at Conference ?
Speaker : Charlie Inness - Property Investment Manager
- An overview of Brexit and its effect on the UK wide market and at regional level
- What Brexit mean for the Scottish market and possible long-term effects
- What opportunities do exists and possible strategies for the future
Speaker: Taimur Malik - Holiday Let Expert
- The Key benefits of investing in Scottish Holiday-Let market
- Key factors to consider when investing in Holiday-Let market
- Common challenges in Holiday Let Investments
- The future of Holiday-lets/Short-term lets in Scotland
Speaker: Phil McLean, Andrew Marshall - Holiday Let - Planning Consultants
- The planning process can appear complex and daunting, especially in newly emerging markets such as holiday letting, which does not neatly fit into the existing system.
- We will provide clarity over planning issues associated with holiday letting including potential future legislative changes.
- We will offer guidance on navigating the system and tips on how to ensure holiday letting investments benefit from secure planning status.
Speaker: John Davidson - HMO Expert
- Why HMOs given all the legislation around them
- Understand the principals & rules of HMO
- The four main types of tenants that let HMO
- How to identify a suitable HMO property
- HMO Application process to get successful grant of license
- Understanding the important aspects of management
Speaker: Patrick Brannock - Commercial Property Conversion Expert
What attendees will learn at the conference?
- Why invest in commercial property investment?
- How to grow your commercial property portfolio quicker?
- How to assess / evaluate commercial property?
- How to find commercial tenants?
Speaker: Alison Hunter - Commercial Finance Broker
- A greater understanding of aspects of commercial funding and the market.
- What to think about when looking for funding.
- How to assess a potential project from a lenders point of view.
- The future of commercial funding
Speaker: Nigel Wigglesworth - Senior Tax Advisor
- A review of current hot topics, which all property investors should know.
- A review of the new restrictions on tax relief for mortgage interest, and planning for this.
- Learn the tax benefits of furnished holiday letting business which will include capital allowances, common pitfalls about VAT and LBTT to be aware of, and the possibility of reclaims.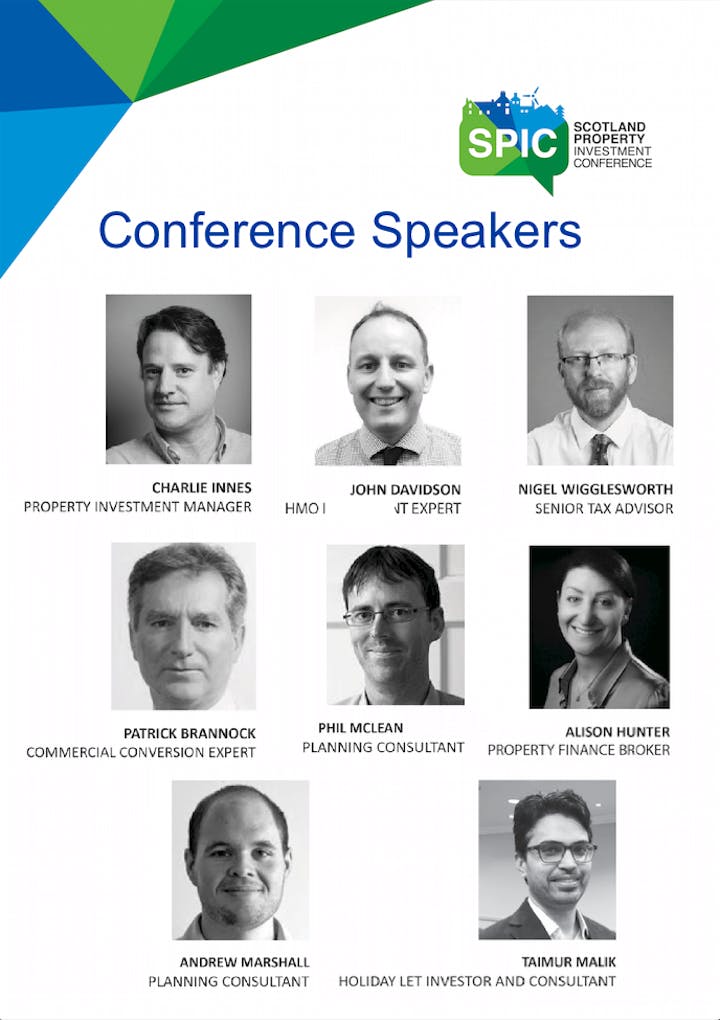 Conference Programme
8:30am – Registration, Refreshments and Networking
9.30am – Welcome and Introduction
Taimur Malik, Host
9.40am – Brexit and Future of Scottish Property Investment
Charlie Inness, Property Investment Manager
10.25am – Holiday lets - Investment Strategy and Planning Matters
Taimur Malik, Holiday Apartments Investor
Andrew Marshall, Planning Consultant
Phil McLean, Planning Consultant
11:35am – Break and Refreshments
11:55am – HMO (House with Multiple Occupants) - Investment Strategy
John Davidson, HMO Properties Investor and lettings
12:50pm – Lunch
1:50pm – Commercial Conversions - Investment Strategy
Patrick Brannock, Commericial Conversion Expert
2:35pm – Property Investment Financing
Alison Hunter, Commercial Finance Broker
3:20pm – Break and Refreshments
3.45pm – Managing Property Investment Tax Matters
Nigel Wigglesworth, Senior Tax Advisor
4:30pm – RockTrust,
Andrew Stephenson, Development Co-coordinator RockTrust
4:45pm - Closing Remarks
The conference is not only to help you with your property investment journey but also to help less privileged members of our communities in their life journies too. We are proud to be part of this initiative through RockTrust Charity.
Part of the proceeds from the event goes to Charity "RockTrust" which is working to prevent youth homelessness and to support young people to have better futures in Scotland.
Speakers Introductions
1 - Charlie Innes
Property Investment Manager, Glenham Property Ltd
Charlie has worked in the property sector for nearly 25 years and in that time he has gained experience in most aspects of the property business from residential lettings and property management to development, commercial property and estate management.
His true passion lies in property investment. He was instrumental in setting up the first investment advice and sourcing service in Scotland and over the years has secured millions of pounds of assets that have generated significant returns for his clients.
He is also an investor himself and has a portfolio of properties in Scotland.
2- Phil McLean, Andrew Marshall
Planning Consultants
Phil and Andrew work at Geddes Consulting, a leading multi-disciplinary consultancy delivering a wide range of services to its private clients, developers and house builders.
They are experts in planning matters including achieving planning permissions for all scales of project. They also both have experience of working for local planning authorities.
Phil and Andrew have recently advised on a number of holiday-let properties in Edinburgh and Glasgow, including securing planning consents at appeal.
3- John Davidson
HMO Investment Expert, Southside Lettings
John started buying residential and commercial property in 2004 for himself and worked for 5 years at Lidl (2002-2008) acquiring their sites in Scotland and NE England and responsible for 14 of their open stores.
He continues to invest and manages over 300 HMOs in Edinburgh and has acquired a portfolio of 29 HMOs for himself and adds 2-3 per year on top of his non-HMO residential property, commercial property and owns and runs a letting agency, which he started in 2009.
John also helps young people in business and is a Trustee on the Board for Canongate Youth, a charity providing support, recreation and training opportunities for young people.
4- Patrick Brannock
Commercial Conversion Expert
Patrick has over 30 years of experience working with major commercial contractors. Now developing their own projects of commercial to residential as well as having project managed for others and also running our own portfolio of Holiday Lets and Buy to Lets.
5- Alison Hunter
Commercial Finance Advisor, ASSC Finance
Alison is an experienced business finance broker based in Scotland and she works to help SMEs and investors to obtain commercial finance, business finance and property finance throughout Scotland.
6- Nigel Wigglesworth
Senior Tax Advisor
Nigel is a Chartered Tax Adviser and Associate at Cowan & Partners Ltd. He has been providing tax advice to property investors for 20 years. Over the years, he has regularly lectured on tax.
7- Taimur Malik
Holiday Let Investor and Advisor, Chartered MSCI
Taimur has over 10 years of experience working in the investment management industry. He currently holds and operates holiday-let portfolio in Edinburgh. He helps clients to invest in a holiday let market which is one of the high cash flow investment strategy.
He is especially interested in helping clients in developing risk management of the holiday lets to future proof their businesses including Holiday Let planning permissions.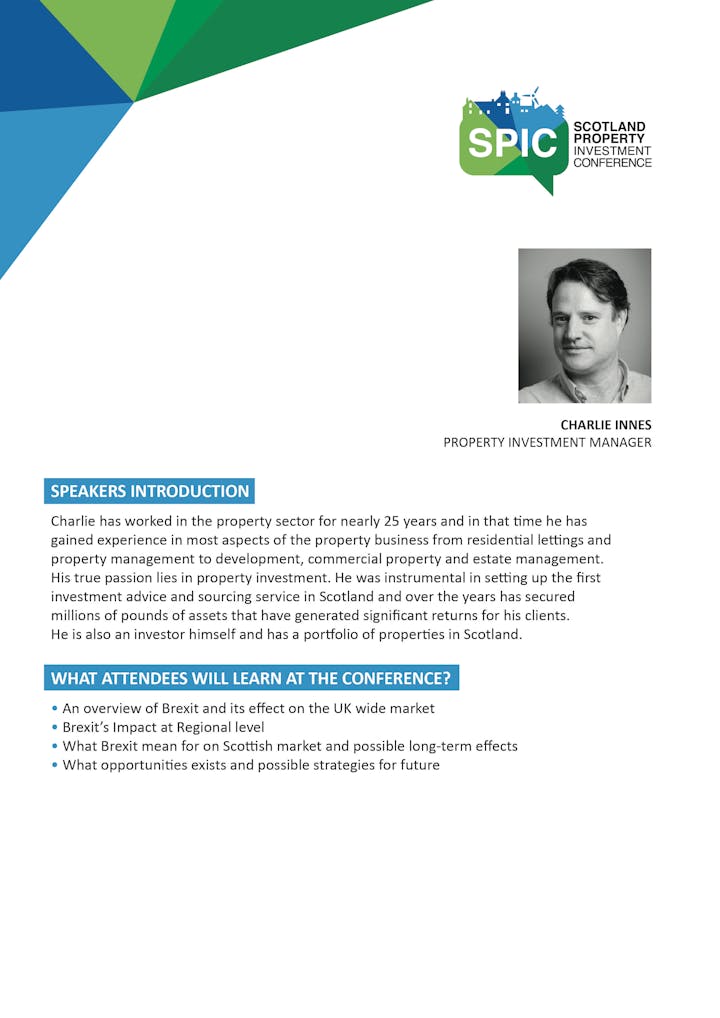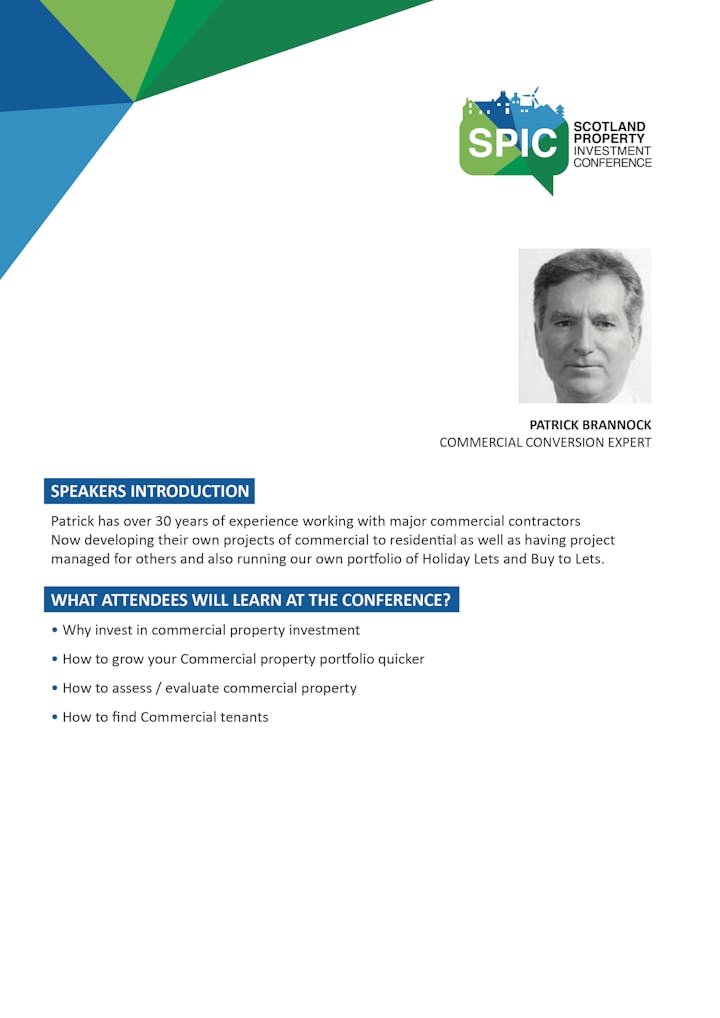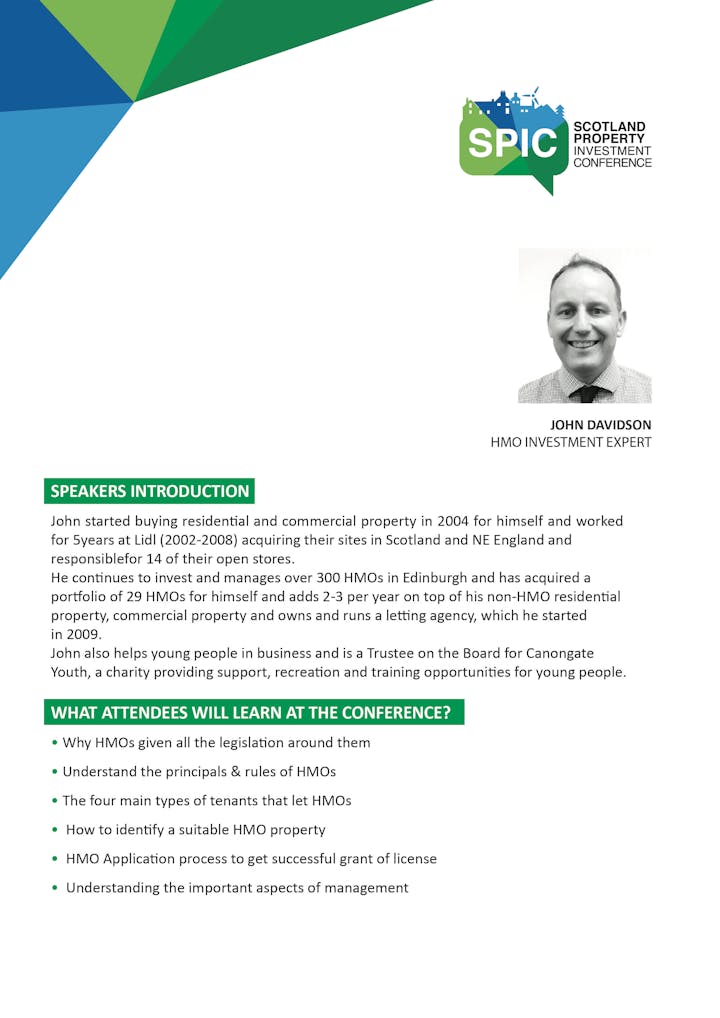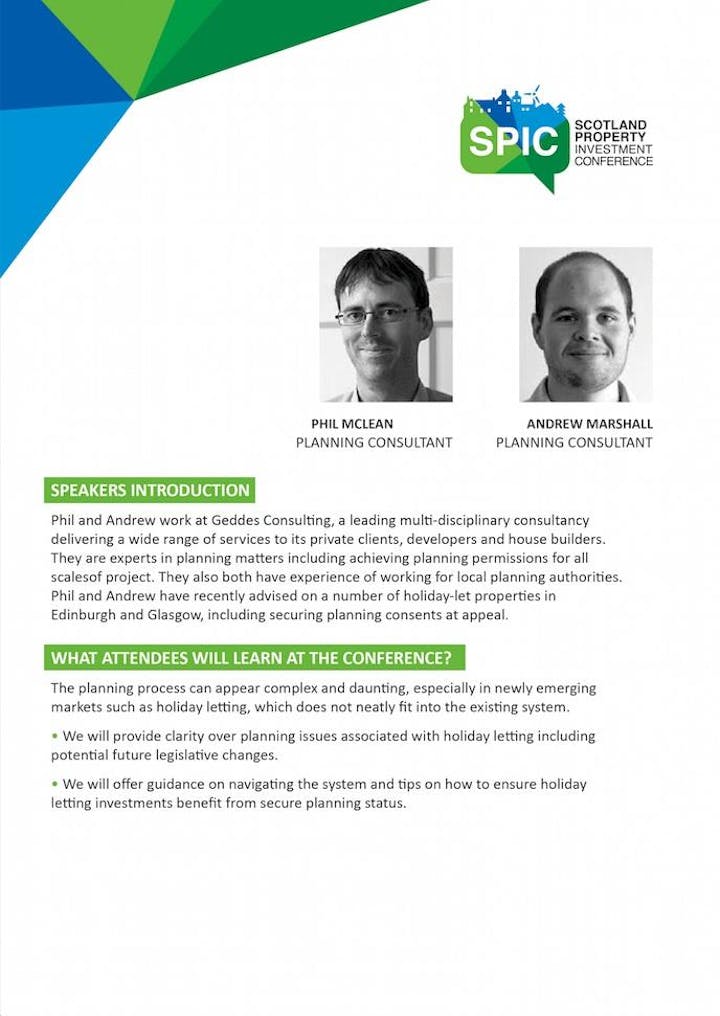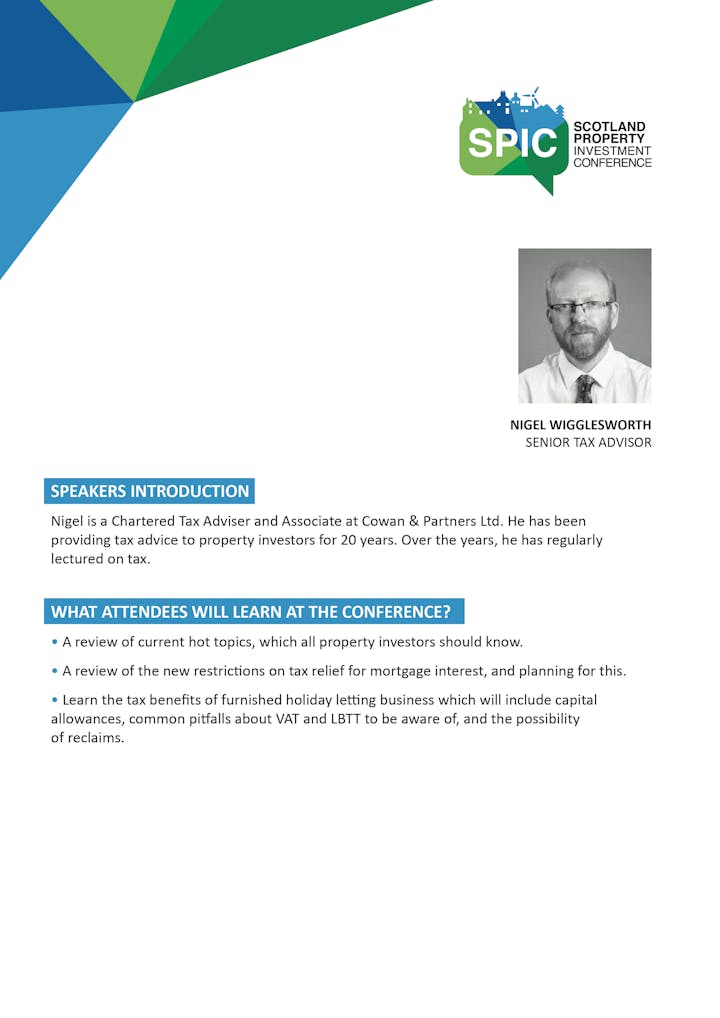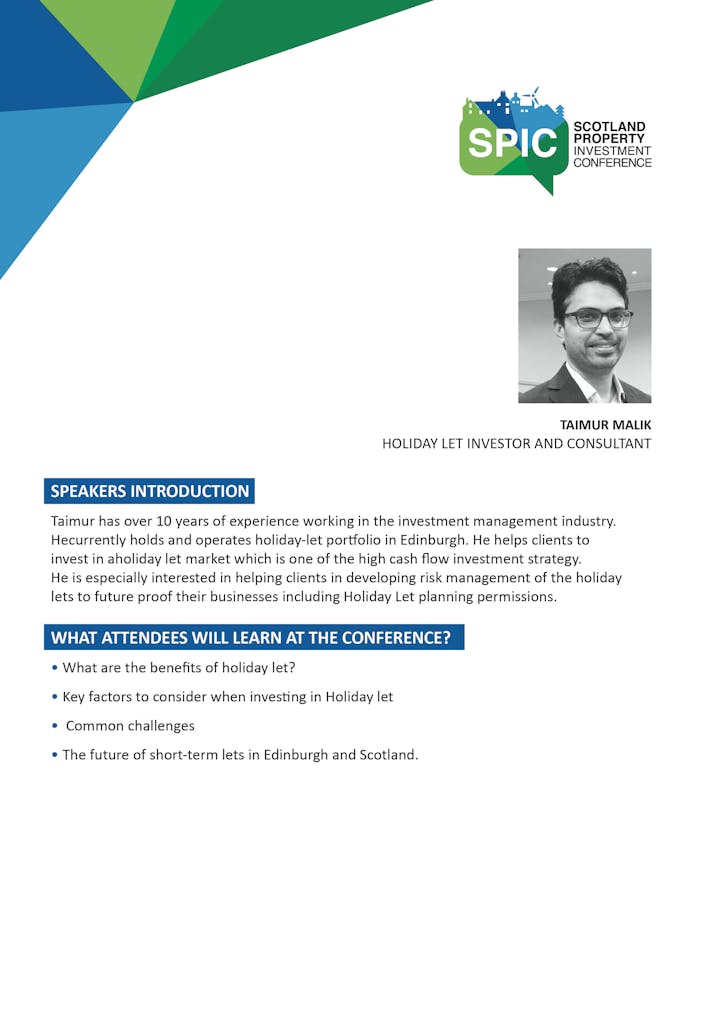 #SPIConference #realestateinvestment #propertyinvestment #training #investment #propertyeducation