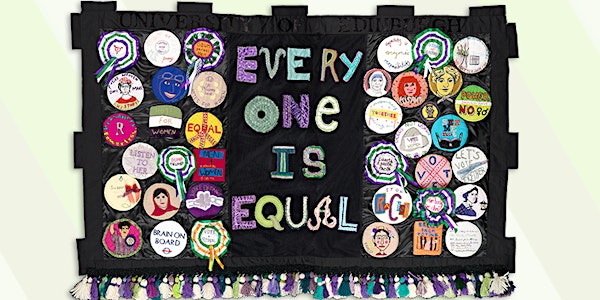 Scotland's suffragettes: a St. Andrew's Day Wikipedia editathon for Vote100
Location
Digital Scholarship Centre,
Centre for Research Collections, 6th floor
30 George Square
Edinburgh
EH8 9LJ
United Kingdom
Description
Join us to celebrate the lives & contributions of the Scottish suffragettes and all the incredible women missing from Wikipedia!
This free event, open to all, comes complete with a tea and cake break and accompanies a new exhibition at the University's Centre for Research Collections. It is part of 2018's celebration of one hundred years since the Representation of the People Act (1918) came into force and women were finally given the right to vote.

This St. Andrew's Day event in the brand new Digital Scholarship centre on the 6th floor of the University of Edinburgh Main Library is an opportunity to see archival material about Scotland's suffragettes and a chance to learn about & celebrate the role these notable women have played in the campaign for Votes for Women through researching, writing & illustrating Wikipedia articles & timelines (full training is provided).
Come help us to surface knowledge about the contributions of the Scottish suffragettes missing from Wikipedia.

Wikipedia is the 5th most visited website in the world and the first point of information for many so surfacing knowledge there can make a huge impact. Yet, as of 9 October 2018, only about 17.67% of the English Wikipedia's biographies are about women.
Not impressed?
No prior knowledge is required. You'll learn how to edit Wikipedia and participate in an open knowledge community. Participants will be supported to develop articles of their choice.
NB: Please bring a laptop along to the event or email me at ewan.mcandrew@ed.ac.uk if you require to borrow one for the event. Requests for laptops need to be put in at least 24-48 hrs before the event.

Programme for Friday 30 November

1:30pm - 1:35pm: Housekeeping.
1.35pm - 1.50pm: Welcome from Rachel Hosker,

Deputy Head of Special Collections, Archives Manager at The University of Edinburgh.

1:50pm – 2:45pm: Crash course in Wikipedia editing.
2:45pm – 3:15pm:Break for tea and cakes.
3:15pm - 5:15pm: EDIT!
5:15pm - 5.30pm: Publish and close.
Then you can check how long it takes for your new page to appear in Google's top ten results!
Suggested pages to edit/create will be provided but you will be supported to edit on any topic or person you wish to. No experience necessary.
Open to all. Everyone is welcome.
Come along to learn about how Wikipedia works and create new role models for young and old alike!
NB: Please also create a Wikipedia account ahead of the event. This takes 2 minutes to do and asks you just to create a username and password but it is important it is done ahead of time.
NB: Want to host a 'Women in Red' event local to your part of the university? Drop me an email: ewan.mcandrew@ed.ac.uk