Scottish ARGs Online Regional Meeting on Saturday 30th October 2021
About this event
We are delighted to present the Scottish ARGs regional meeting for 2021 on Saturday October 30th. This online meeting will provide an opportunity for volunteers, NGOs, academic researchers and statutory agencies to network and catch up on the latest news and research findings from reptile and amphibian conservation projects from right across the country. The one day meeting will feature a series of presentations in the morning, followed by an afternoon workshop focussing on the proposed repeat of the NatureScot 1994 Scottish National Adder Survey with Nature Scot and ARC. We will be hearing from a number of our ARGs around the country including: Clyde ARG, Fife ARG, TayARG, CentARG, The Cairngorms and the Highland Amphibian and Reptile Project (HARP), as well as student research projects from the University of Glasgow and the University of Dundee, and our NGO partners including Froglife and Amphibian and Reptile Conservation.
So, why not book your free ticket through Eventbrite- and join us all on 30th October for a great day sharing news and views, and celebrating Scottish herpetofauna conservation.
Photo: Toad rescue by the TayARG Citizen Science 'Pooling Together' project by Lucy Briscoe
Our Zoom meeting is generously supported by NHBS and The Garfield Weston Foundation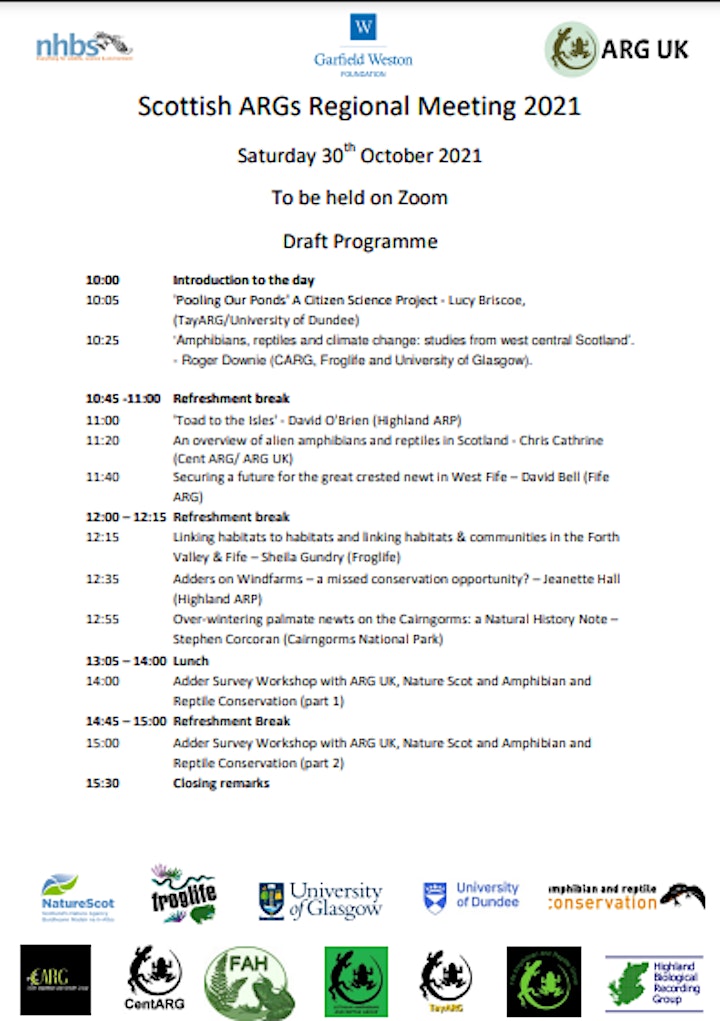 Organiser of Scottish ARGs Regional Meeting
Amphibian and Reptile Groups of UK (ARG UK) is a registered charity (number 1165504) committed to the conservation of native amphibians and reptiles and their natural environment by supporting the development of a network of independent volunteer amphibian and reptile groups (ARGs).
For more information contact: angela.julian@arguk.org, www.arguk.org